Love Chunibyo & Other Delusions Season 3 - What We Know So Far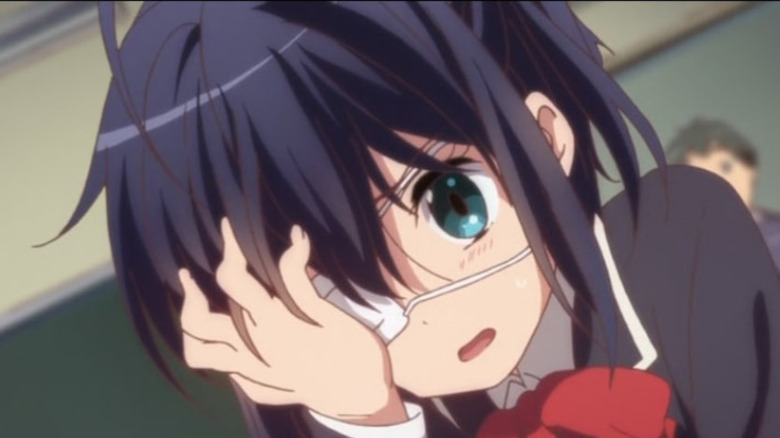 Tokyo MX/Anime Network
Speculation has been simmering for some time now about when — or whether — "Love, Chunibyo & Other Delusions" will return for a third season. It's been almost ten years since the very first installment of the romantic-comedy anime made a splash in 2012. Since then we've seen further fantastical escapades from leading couple Yūta and Rikka in a second season and a feature-length film, but the fans are once again hungry for more.
The tale charts the budding couple's oddball romance, as they navigate life as "Chunibyo." The term describes a dreamer whose fantasies of supernatural powers cause distress in their daily life — to the point that it's considered a serious delusional condition. Sometimes dubbed "eighth-grade syndrome," the predicament of these Walter Mitty characters sees them cling to childish fantasies long after they should have come of age per social expectations.
With no official confirmation from Kyoto Studios, details of a potential third season are thin on the ground. Are fans' hopes as delusional as their cherished characters? Here's everything we know so far.
What's the release date for Love, Chunibyo & Other Delusions Season 3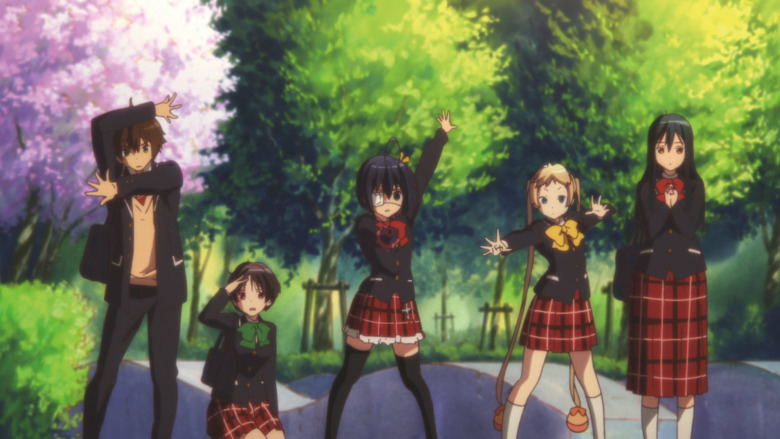 Tokyo MX/Anime Network
Internet rumors have long swirled that news of a new season could be coming before 2021 is out. In 2020, TheCinemaholic expressed doubt about whether Season 3 was in the cards, but over a year later the rumor mill is still turning elsewhere online, so fans' hopes have not been quashed just yet.
The first season in 2012 was swiftly followed by a one-off special in June 2013, but it took until 2014 for a true Season 2 to arrive. The sophomore season wrapped in March of that same year, and fans endured an agonizing four-year wait before the feature-length follow-up — "Chunibyo & Other Delusions: Take On Me" – which debuted in 2018.
"Take On Me" earned an audience score of 78% on Rotten Tomatoes. That kind of fan enthusiasm could feasibly justify a third season. Maybe this will tempt Kyoto Studios to satisfy the cravings of "Chunibyo" fans — but with nothing official out there yet, and the precedent of a four-year wait for the movie, we'd wager it won't be until the end of 2021 at the earliest.
What's the plot of Love, Chunibyo & Other Delusions Season 3?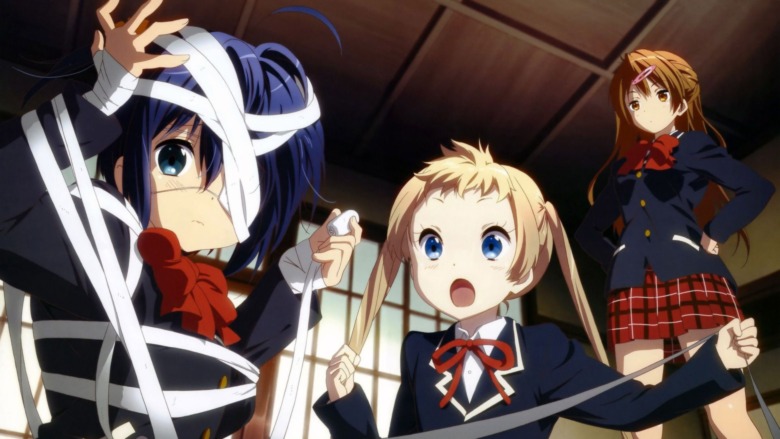 Tokyo MX/Anime Network
The beloved anime is based on a light novel series of the same name, illustrated by Nozomi Ōsaka and penned by Torako. Despite its success, "Love, Chunibyo & Other Delusions" is so far the only work the author has produced.
The potential for more of these captivating fantasies – and the struggles of recovering protagonist Yūta Togashi and his full-blown Chunibyo love interest Rikka Takanashi — is certainly there. The 2018 film seemed to tie up a lot of loose ends, but as anyone who's ever been in (or fallen out of) love knows, the capacity for clashes and complications is endless. Add in the series' penchant for blending fantasy and reality, and it's not hard to imagine how the creative team might be able to concoct a few more stories that take us beyond the feature's finale. Maybe we could even hear more from the supporting cast, whose stories weren't so clearly filled out or neatly tied off?
Who's in the cast of Love, Chunibyo & Other Delusions Season 3?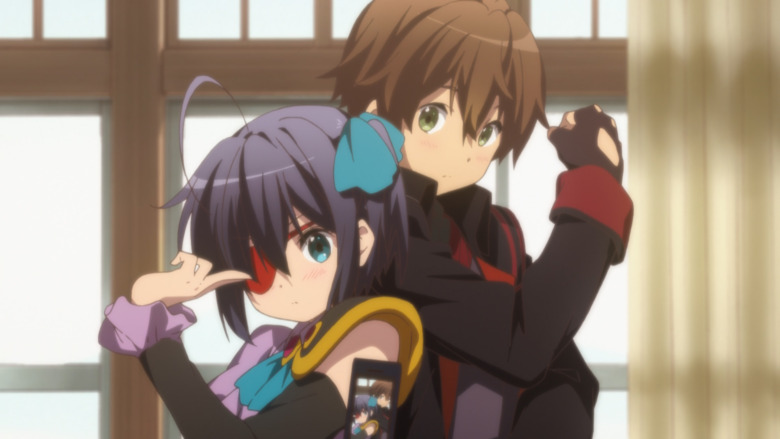 Tokyo MX/Anime Network
Even in the absence of official news, we can still speculate that central couple Yūta and Rikka will remain integral to a potential Season 3. That being the case, Jun Fukuyama and Maaya Uchida remain likely options to reprise their roles — after all, they've stuck with "Love, Chunibyo & Other Delusions" from its origins all the way through the most recent movie installment.
We could see more from their supporting cast of collaborators, too. Eri Sendai's Tōka Takanashi played a sizable role in the movie as Yūta's close confidante and councillor when things got rocky with Rikka, so she could have more to give. Likewise, the adorable Kumin Tsuyuri, played by Azumi Asakura, is always dependable for a laugh with her incurable enthusiasm for napping. Sumire Uesaka's Sanae and Chinatsu Akasaki's Shinka are both mainstays too — but with a cast remaining remarkably consistent across all 'Chunibyo' content so far, it could be the perfect time to change things up with new characters. 
Fans should keep their eyes peeled for official confirmation — but in the meantime, keep dreaming, Chunibyo.