Exclusive Clip: Tina Becomes A Plant-Sitter In New Bob's Burgers Episode
In the newest episode of "Bob's Burgers," Tina Belcher (voiced by Dan Mintz) will take on a task she never has before: plant-sitting. Sure, the eldest Belcher child has had a handful of jobs before — a former Blueberry Delivery Girl, a burger-flipper at her family's restaurant, and a respected hall monitor at Wagstaff School — but taking care of living things that are notoriously fickle is a whole new ballgame for Tina. 
The fresh installment, entitled "Bridge Over Troubled Rudy," will air on Sunday, May 2 at 9 PM ET/PT on Fox. For "Bob's Burgers" fans wanting a sneak peek of the episode before it airs, Looper has you covered with an exclusive clip. 
Shown above, the clip sees Tina, her younger sister Louise (Kristen Schaal), and her little brother Gene (Eugene Mirman) meeting up with Rudy Stieblitz (Brian Huskey) and his dad before they head out for two weeks. Rudy is going to his mom's house — and panicking about how many silk handkerchiefs he should pack in case there are any opportunities for him to show off his magic skills — while his dad is out of town. Mr. Stieblitz (also voiced by Brian Huskey) entrusts Tina with caring for his houseplants until he gets back, and though Tina puts on a brave face, underneath her cool façade, she's stressing big time.
Louise will kick the episode's action into overdrive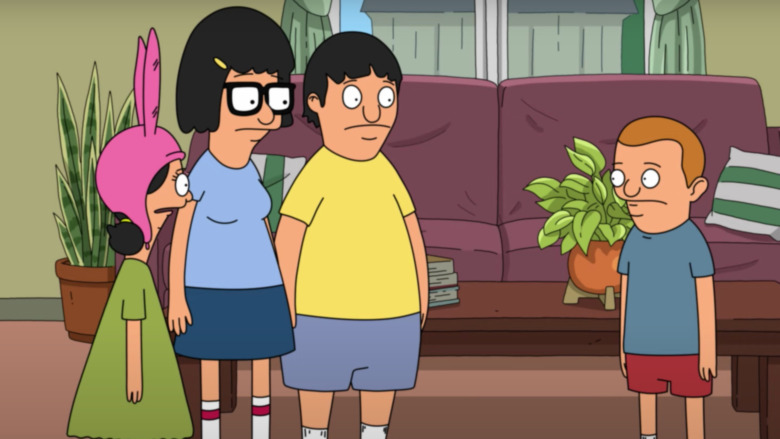 Fox
The other main plot of the upcoming episode of "Bob's Burgers" centers around Louise making a literally explosive discovery. She learns that Rudy owns a model bridge that can explode, and has a hard time suppressing her desire to detonate it right then and there. What follows is a "sort-of-kind-of-perilous journey" into which Louise ropes both Tina and Gene.
But the Belcher kids aren't the only ones having fun in "Bridge Over Troubled Rudy." Their parents Bob (H. Jon Benjamin) and Linda (John Roberts) will have their own kind of adventure in the episode, albeit one that's substantially more subdued in comparison. The pair partner up with It's Your Funeral Home & Crematorium owner Mort (Andy Kindler) to learn how to meditate. With all that's at stake for their kids — accidentally killing plants on Tina's end, and possibly causing injury and destruction on Louise's — Bob and Linda will need all the relaxation they can get. 
Tune into "Bob's Burgers" Season 11, Episode 19, "Bridge Over Troubled Rudy," this Sunday at 9 PM ET/PT on Fox.