The TV Movie Flops That Inspired James Gunn's Peacemaker Series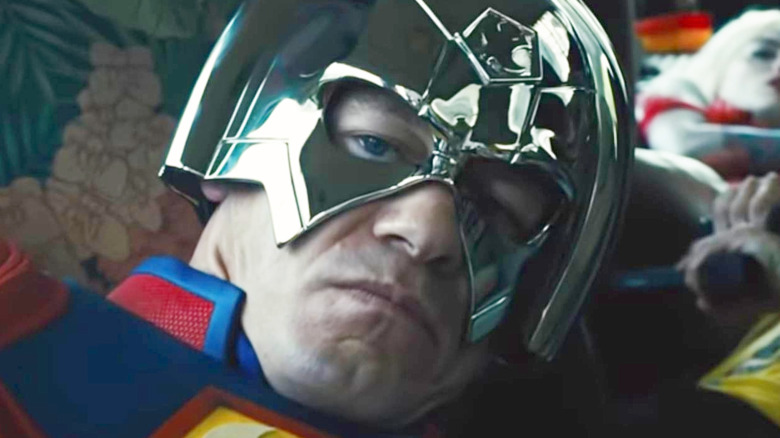 Warner Bros. Pictures
James Gunn's "The Suicide Squad" may still be a few months away, but hype for the supervillain team-up movie has been through the roof ever since its red-band trailer dropped back in March. Warner Bros. is likely banking on the upcoming movie being a success, seeing as how an HBO Max series centered on Peacemaker (John Cena) from "The Suicide Squad" is already in the works. Cena's presence in the trailers so far has been a major highlight, and seeing as how it appears as though he'll have plenty of screen time alongside Bloodsport (Idris Elba) and Harley Quinn (Margot Robbie), it's looks like Gunn's setting him up for big things moving forward. 
Gunn recently had the chance to talk about all things "Suicide Squad" in an interview with Den of Geek, and the conversation naturally led to Peacemaker's future in live-action DC properties. What may come as a surprise to fans is hearing what served as inspiration for the future Peacemaker series: It's actually related to the other comic book company Gunn has worked for. 
James Gunn looked to Captain America of the 1970s when creating the Peacemaker show
Universal Television
Long before Chris Evans donned the shield in the Marvel Cinematic Universe, Reb Brown played Steve Rogers in a pair of made-for-TV movies that aired on CBS. Both "Captain America" and "Captain America II: Death Too Soon" came out in 1979. "Death Too Soon" stars future "Lord of the Rings" and "Star Wars" actor Christopher Lee as the antagonist, Miguel. The TV movies don't necessarily bare much resemblance to the comic book version of the character outside of focusing on a guy on super-steroids who dresses like the American flag, but they were enough to inspire James Gunn's upcoming series — at least a little bit. 
As the director told Den of Geek, "I think that the actual inspiration for 'Peacemaker' was the s****y 1970s 'Captain America' TV shows that I loved when I was a child." 
It's appropriate source material considering how John Cena has described Peacemaker as a "douchey Captain America" who's dedicated to ensuring peace no matter how many people he has to kill. Taking such peaceful ideology and flipping it on its head was an attractive prospect to Gunn in this day and age, as he went on to explain, "I think Peacemaker exemplifies a lot of things about society that are going on politically, and what people's beliefs are about America and the world. So being able to tell those stories that are slightly more socially conscious in their essence, but also outlandish, he lends itself to that."
Evil Captain Americas are all the rage these days — and the MCU technically beat DC to the punch with the introduction of John Walker, aka U.S. Agent (Wyatt Russell), in "The Falcon and the Winter Soldier." Still, it's safe to say "Peacemaker" will be its own thing entirely, and without any restraints on HBO Max, things could get dark very quickly.