Victoria Season 4 - Will It Ever Happen?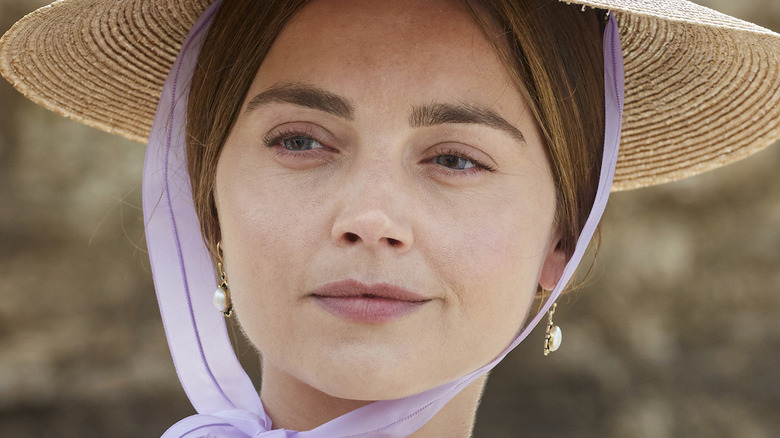 PBS
We may receive a commission on purchases made from links.
Historical drama series "Victoria" explores the complex life of the young Queen Victoria. Jenna Coleman, whom many will recognize from "Doctor Who" and Netflix's true crime series "The Serpent," stars as the titular royal. Based closely on the real queen's experiences, "Victoria" covers Victoria's early years as she takes control of unruly statesmen, falls in love with Prince Albert (Tom Hughes), and becomes a mother. The series particularly showcases the queen's efforts to balance her home life with her role as a monarch as things shift quickly in a growing Great Britain.
"Victoria" premiered its first season of eight episodes on August 28, 2016, with Season 2 following closely behind in 2017. Season 3 took a little longer to come out, with a premiere date of January 13, 2019 in the U.S. and March 24, 2019 in the U.K. After "Victoria" Season 3 was released, the show was slow-going in announcing anything about a possible fourth season. Will it ever happen? That's what we're here to find out.
Why isn't Victoria Season 4 happening yet?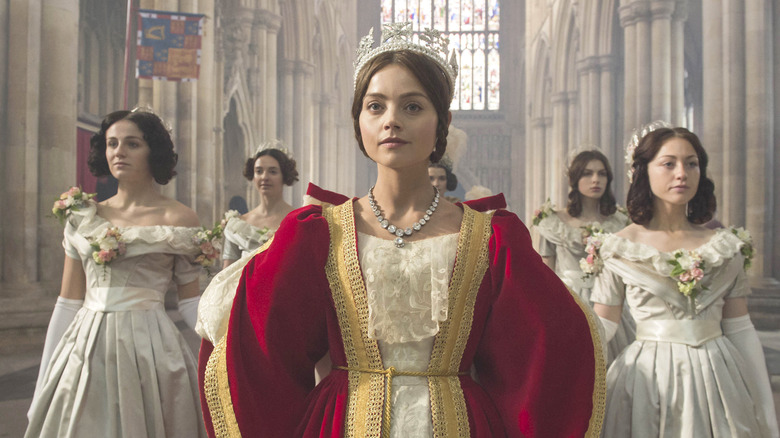 PBS
In January 2021, Jenna Coleman spoke with The Mirror about the future of "Victoria," stating, "We are in the process of discussing it at the moment and timelines. The problem is there's too much story ... Effectively I could play this part until I am well into my 60s." That might sound promising to fans, but it definitely presents a difficulty for the team behind "Victoria." Queen Victoria was the longest-reigning British monarch until Queen Elizabeth II surpassed her record in 2015, so there's a lot of story the show could cover over the years. It could approach things like "The Crown" does, by switching actors every two seasons as the characters age up, but that's an enormous amount of work the crew might not have the resources to pull off. 
Coleman's busy schedule presents more problems. Since "Victoria" Season 3 hit the small screen, she's worked on a variety of successful projects — many of which are poised to demand more of her time in the future. Perhaps most prominently, she wowed audiences as Johanna Constantine on "The Sandman," and is likely to appear on the series in the future. She's also slated to play main roles on upcoming projects "Wilderness" and "The War Rooms." Finding a space for "Victoria" among these bustling productions might be too much to ask.
What ITV has said regarding Victoria Season 4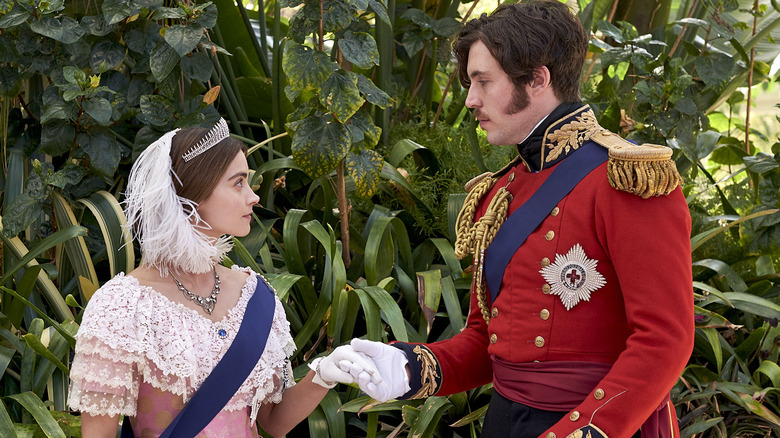 PBS
The last word we got on "Victoria" Season 4 came all the way back in July 2021, when a spokesperson for ITV told The Sun some disappointing news. "There are no plans presently to film Victoria, but that's not to say we won't revisit the series with the production team at a later date," they said. It's been years since that announcement, and since we still haven't heard anything about a possible resurrection, it looks like "Victoria" is dead. 
The Sun reported the series was canceled due to low ratings, as well as the rising fame of Jenna Coleman. "There are so many challenges facing bosses who've been weighing up a fourth series — not least the availability of their central star, who's now one of the country's most in-demand actors," an insider told the outlet. We're living in the era of the revival, so it's possible "Victoria" could come back in the future, but for now, it's officially off.
What could be explored in Victoria Season 4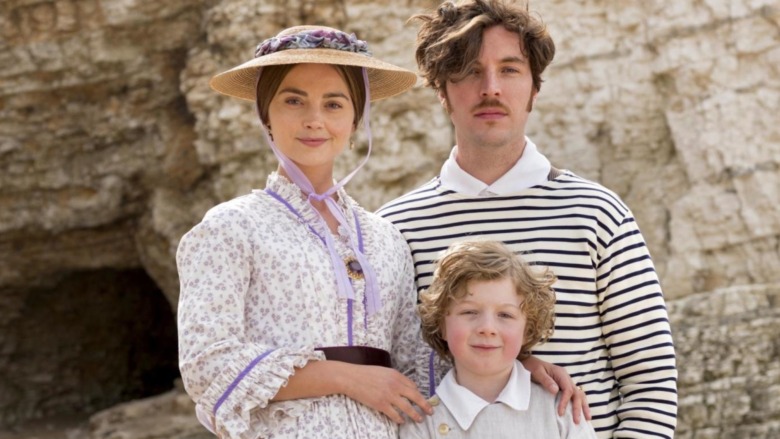 PBS
Season 3 of "Victoria" ends on a big cliffhanger when Prince Albert collapses right in front of the titular queen. It's also 1851, the year of the Great Exhibition, an event that Albert pioneers. Considering the real Prince Albert didn't die until 1861, there's still a lot left of his story to be told, should "Victoria" be given another go. Queen Victoria also goes on to have two more children, Prince Leopold and Princess Beatrice, and see the Crimean War begin in 1853. Season 4 would have no end of major events to cover.
In terms of personal affairs, Season 4 could take a deeper look at the issues Victoria and Albert face as a couple, such as their disagreements over how to raise the children. At the end of Season 3, the couple argues with Victoria's half-sister Feodora about who she's marrying her daughter to. With nine children of their own, it's a tough decision Victoria and Albert will have to face soon enough. Another key character, Lord Palmerston, decides to stay in London with his wife, as the politician dreams of becoming Prime Minister. That could certainly make waves.
Of course, it's also possible that "Victoria" may jump forward in time, as there are a lot of important events to cover over the course of Queen Victoria's long life. These guesses are just that — guesses.
Who would star in Victoria Season 4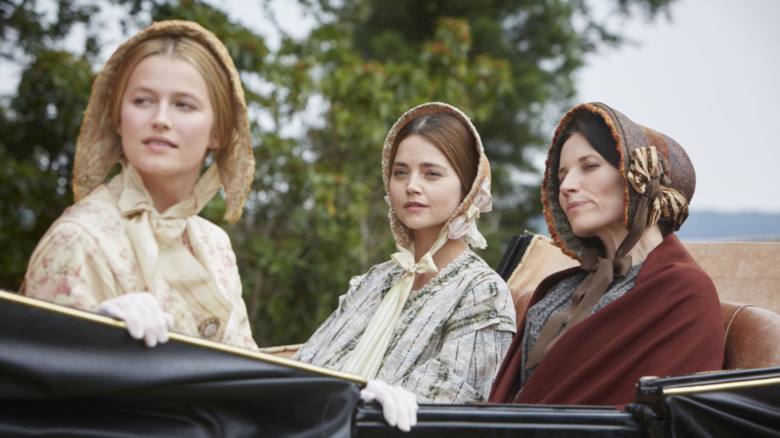 PBS
Aside from Jenna Coleman and Tom Hughes, "Victoria" has a huge cast of prominent British actors. Throughout Seasons 1 and 2, Rufus Sewell plays Lord Melbourne, a friend and longtime mentor of Victoria, while Catherine Flemming plays the queen's mother, the Duchess of Kent. Also in the supporting cast are Peter Bowles as the Duke of Wellington, Nell Hudson as Nancy Skerrett, Ferdinand Kingsley as Mr. Francatelli, and Jordan Waller as Lord Aldred Paget. If Season 4 was greenlit, we assume all would be back.
There are also a few key roles in Season 3 that stand a chance of showing up in new episodes. In the political sphere, there is Lord Palmerston (Laurence Fox), Lord John Russell (John Sessions), and Feargus O'Connor (Ben Cartwright) of the Chartist movement. There's also Princess Feodora (Kate Fleetwood), Victoria's maternal half-sister, Sophie, the Duchess of Monmouth (Lily Travers), and the footman who Sophie has an affair with, Joseph Weld (David Burnett). Season 4 would probably continue the stories of many of these characters while also bringing in a handful of new, influential people in Queen Victoria's life.
How likely are these actors to return? We can't say, really. Surely some of them would be down to make "Victoria" Season 4 happen, but a lot of them might be too busy. Sewell, for example, is wrapped up in shows like "The Diplomat" and "Kaleidoscope." So it goes with many other members of the cast: Time has marched on, and they've committed to other projects. Some might make room for "Victoria" if asked, but others might not.