The Actor Whose Career Tanked After The Fresh Prince Of Bel-Air Ended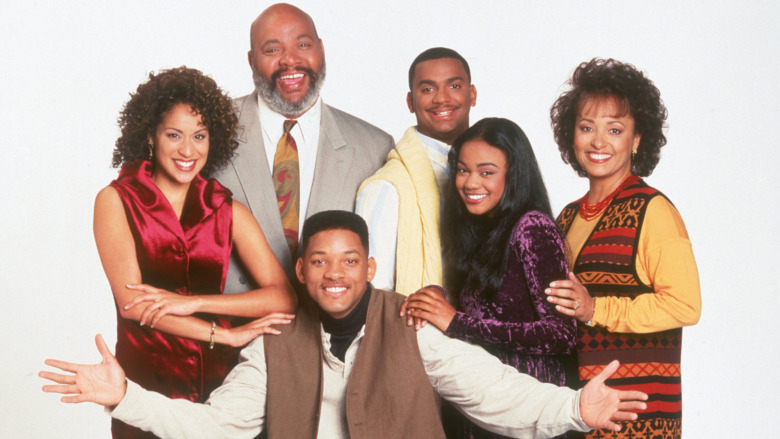 NBC
"The Fresh Prince of Bel-Air" was one of the biggest sitcoms of the '90s, and launched the acting career of rapper-turned-box-office-star Will Smith, who played a fictionalized version of himself. Fans loved following Will's antics as he moved from his home of West Philadelphia to the affluent Bel-Air neighborhood of Los Angeles with his well-to-do family. Now streaming on HBO Max, fans are able to once again rap along with the show's catchy theme song, and rediscover their love for Will and the Banks family.
One of the key sources of humor on "The Fresh Prince" is the contrast between Will and his straight-laced, rule-following cousin, Carlton. Played by Alfonso Ribeiro, Carlton has always been a fan favorite. His friendship with Will was often at the heart of the show, and is one of the elements fans remember best from the beloved series. That, and the dance so iconic it will forever be known as "The Carlton."
Yet for Ribeiro, his popular role on "The Fresh Prince" turned out to be both a blessing and a curse.
"They can't believe you're not that guy"
ABC
In a 2020 interview with The Ringer, Alfonso Ribeiro shared his complicated feelings towards his success playing Carlton Banks. "Imagine for a second you do a role so well that they tell you you're not allowed to do anything else ever again because they can't believe that you're not that guy," said Riberio.  He even shared that he has dealt with a lot of resentment for "that character and for that time on ['The Fresh Prince of Bel-Air']," as it really damaged his career.
While Ribeiro has not found the same level of fame as he did on "The Fresh Prince," he has gone on to snag other roles. Notably, he stared alongside rapper LL Cool J on the comedy "In the House."  
Outside of acting, Ribeiro has used his charm and talents to build a successful career as a host.  He's appeared on popular morning shows like "Today" and "Good Morning America," and has hosted the long running "America's Funniest Home Videos" since 2015. Ribiero even won Season 19 of "Dancing With the Stars" with partner Witney Carson (and a little help from The Carlton).
While we're happy to see Ribeiro finding success in other avenues, we'll always love him for his role as Tom Jones-loving Carlton Banks.