Why Shadow And Bone Has Avatar: The Last Airbender Fans Excited
Netflix
All signs point toward "Shadow and Bone" being yet another success for Netflix. The new live-action fantasy series made its debut on the streaming service last week, and three days later, still holds the number-one spot on Netflix's top 10 in the U.S. rankings. Online discussions around the series seem to indicate that "Shadow and Bone," which is based on the "Grishaverse" novels by Leigh Bardugo, is managing to accomplish the rare feat of pleasing both fans of the original source material and those unfamiliar with the property as well. That success isn't just a sign of how inviting Bardugo's fictional world is but also of how well the show's writers have done in adapting it for the Netflix platform.
Set in a war-torn world, the series follows an orphan mapmaker named Alina Starkov (Jessie Mei Li) who discovers she has a power that could save her country and begins training as part of an army of magic-users known as Grisha. It's the depiction of the Grisha and their magic in "Shadow and Bone" that has some Netflix viewers very excited about another high-profile adaptation in the works at the streaming service right now, too.
Shadow and Bone is giving Avatar fans hope for the live-action Netflix series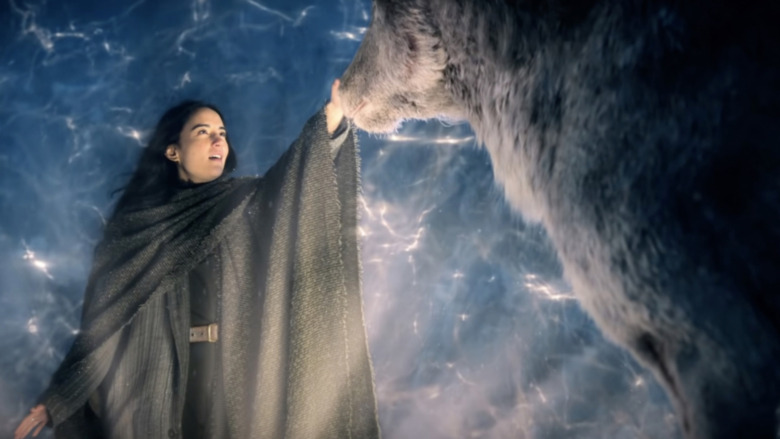 Netflix
In "Shadow and Bone," the Grisha are capable of performing a form of magic they call "small science," which allows them to manipulate the matter around them. While certain Grisha are capable of performing different kinds of magic, one section of the Grisha (known as the Etheralki) can manipulate the natural elements in a way that feels very reminiscent of the earth, water, fire, and air benders in "Avatar: The Last Airbender." It's not just the inclusion of bender-esque magic in "Shadow and Bone" that has "Last Airbender" fans excited, though.
What's exciting for "Airbender" fans about "Shadow and Bone" is just how well the Netflix series brings the Etheralki's elemental powers to life. The special effects look legitimately good in the series, which means that Netflix may manage to deliver similarly strong effects for the elemental bending that will be featured in its planned live-action "Avatar: The Last Airbender" show. At the very least, the effects in "Shadow and Bone" suggest that Netflix will make the "Avatar: The Last Airbender" bending look way better in live-action form than M. Night Shyamalan's 2010 film "The Last Airbender" did. Thank goodness.