The Character Everyone Forgets Carrie Fisher Played On Sex And The City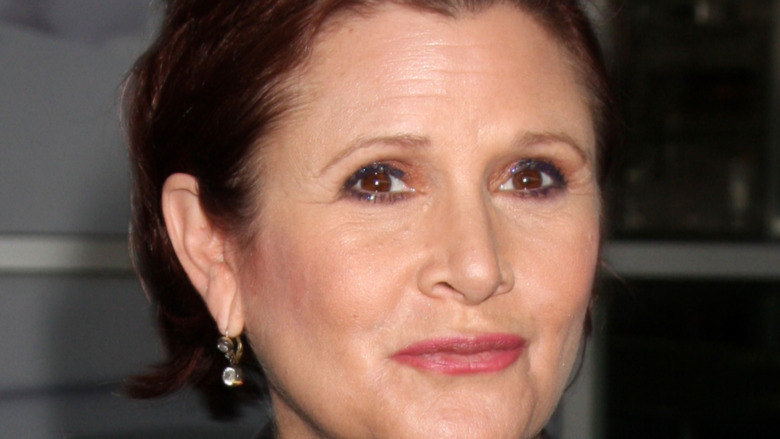 Shutterstock
Let's be real, Carrie Fisher didn't have to do anything else after her role as Leia Organa in the "Star Wars" franchise. With the unprecedented success of the George Lucas films, the late actress and writer was able to choose her projects carefully. She had impeccable comedic timing that couldn't be showcased in her serious role as Princess Leia but was evidenced through her roles in her friends' films. Fisher flexed her comedy chops in the Dan Aykroyd film "The Blues Brothers," alongside Chevy Chase in "Under The Rainbow," and the horror-comedy "The 'Burbs" to name a few. Fisher also ventured onto the small screen, popping in to do one-offs on shows like "Frasier", "30 Rock," and "Sex and the City."
The HBO hit had its share of cameos, including Sarah Michelle Gellar, David Duchovny, and Justin Theroux during its initial run. With so many actors eager to appear on one of the hottest shows of the '90s, it's easy to miss Carrie Fisher's appearance alongside Carrie Bradshaw (Sarah Jessica Parker).
Carrie, meet Carrie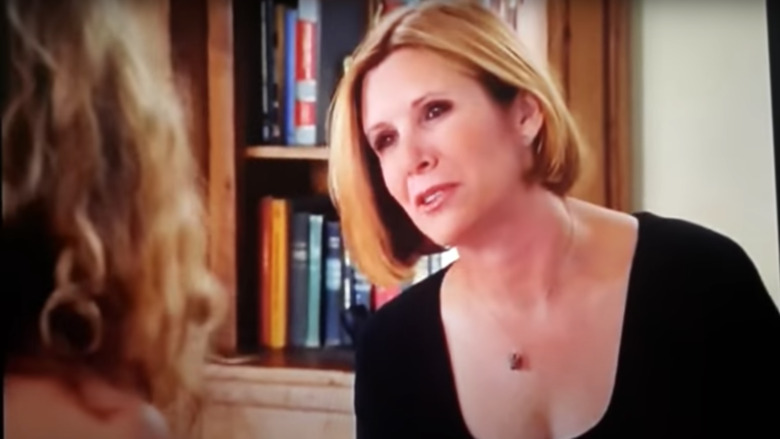 HBO
In Season 3, Episode 14 of the series, appropriately titled "Sex and Another City," the fabulous four travel to Los Angeles. After being rejected from an after-party, Carrie meets Keith Travers (Vince Vaughn), who gets her into the party and into bed on the premise that he's a Hollywood agent whose clients include Matt Damon. Carrie Fisher appears the morning after, shattering Keith's illusion. Turns out Keith is Carrie Fisher's personal assistant and the house they're frolicking in belongs to her, not Keith, who is clearly not a successful agent either. A naked Carrie Bradshaw introduces herself to Fisher, attempting to diffuse the awkward encounter by joking "I'm Carrie, you're Carrie," and pushing the fact that they're both writers. Carrie brushes her off, complaining that she has a child (a reference to a baby Billie Lourd) before Bradshaw sees her way out.
Seeing Carrie Fisher scold Vince Vaughn (who was already big from his role in "Swingers") provided a hilarious peek into life within the industry, but her later role as '70s feminist writer in "30 Rock" is often remembered as one of Carrie Fisher's funniest roles on screen.