This Is Where Jurassic Park Was Filmed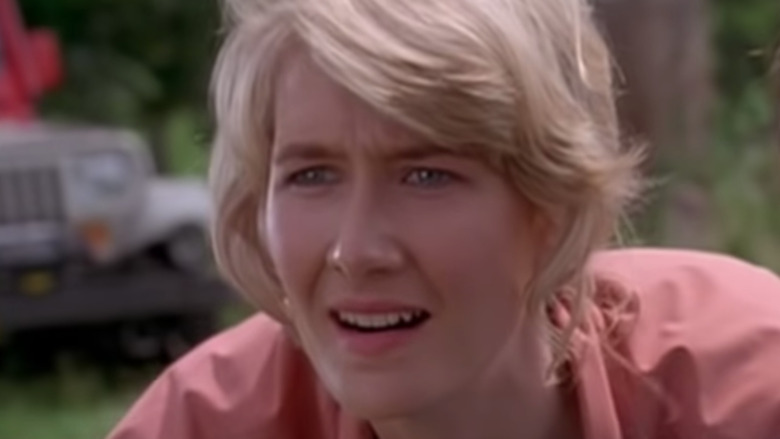 Universal Pictures
Let's be honest. When "Jurassic Park" came out in 1993, many of us would have happily gotten on the next plane to Isla Nublar. Sure, the park's escaped dinosaurs went on a deadly rampage, but what vacation isn't without its hiccups? The fictional island looked like paradise: lush green forests, beautiful waterfalls, and welcoming lagoons. Even during a torrential downpour, the Isla Nublar depicted on the screen showed a perfect tropical getaway. What many don't realize, however, is that we can reach "Isla Nublar" without a passport ... at least for those living in the States.
In the "Jurassic" universe, Isla Nublar is situated some 120 miles west of Costa Rica. Initially, Steven Spielberg and his team considered filming the movie's exterior shots in Costa Rica; they also considered the Dominican Republic. Both locations, however, were nixed due to logistical concerns. Instead, Spielberg opted for the smallest and oldest of Hawaii's four main islands.
Kauai had everything ... and more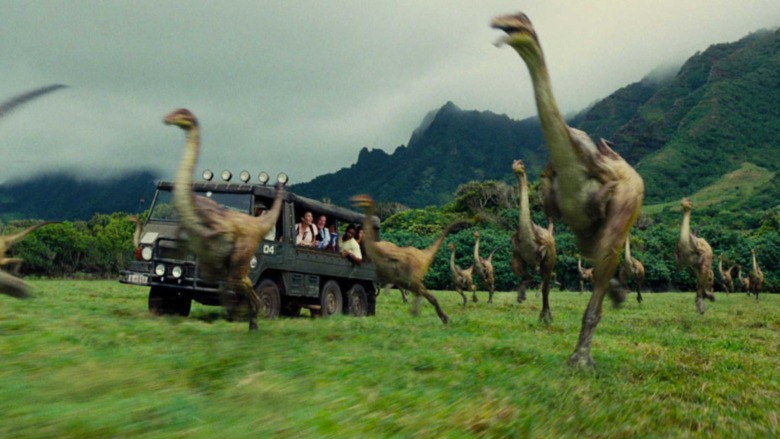 Universal Pictures
Home to one of the wettest spots on Earth, per Britannica.com, Kauai offered Spielberg the lush greens and geography he needed to realize Isla Nublar. The director was already familiar with the location as he used it in the opening sequence of "Raiders of the Lost Ark," via movie-locations.com. Several different areas of Kauai appear in the movie, including Hanapepe Valley (featured in the helicopter scenes), Puu Ka Ele Reservoir (used when the visitors meet a Brachiosaurus), and Olokele Valley (site of the electric fence that shocks Tim), also per movie-locations.com. While Kauai offered Spielberg the ideal location to film "Jurassic Park," the island also brought some unexpected twists.
As "Jurassic Park" was filming in 1992, Hurricane Iniki was forming in the Pacific ... and heading toward Kauai. Iniki, a Category 4 storm and the most powerful to ever hit Hawaii, struck Kauai on September 11. The storm forced the cast and crew into shelters as it raged outside. By the time it passed, Iniki had exacted over $3 billion in damage, leaving much of the island without power, according to CNN. Spielberg, ever the filmmaker, tasked a crew to capture a video of the storm. That footage of an unexpected storm wreaking chaos on a tropical island was used in the final cut of "Jurassic Park" to depict the storm that hit Isla Nublar, per NBC, turning the park into a nightmare.