The One Hour Photo Prop That Actually Belonged To Robin Williams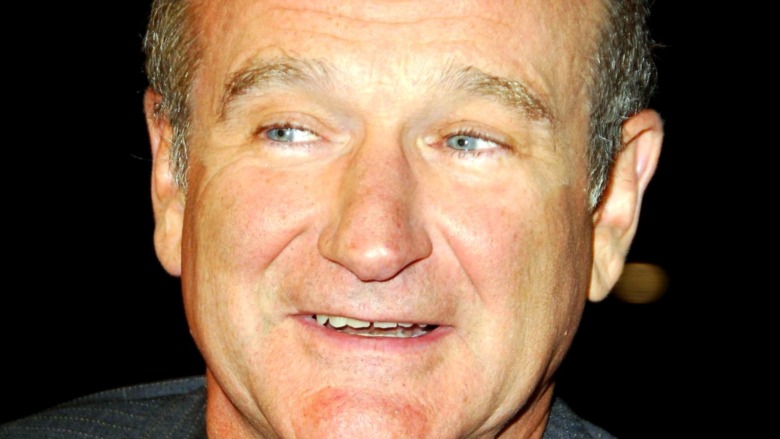 Shutterstock
From his groundbreaking, improvisational brand of stand-up comedy to the memorable characters he created in films like "Mrs. Doubtfire," "Aladdin" and "Jumanji," the late, great Robin Williams undoubtedly created an enduring legacy of laughter. However, he was equally adept at relating to his audience on a deeper, more emotional level with his dramatic work.
This may have been best evidenced by his turn as Dr. Sean Maguire in 1997's "Good Will Hunting." His performance as the Ben Affleck and Matt Damon-penned character netted him the biggest prize of his career — an Academy Award for Best Supporting Actor. Five years later, though, Williams took his dramatic work to disturbing new levels in the psychological thriller "One Hour Photo." Although it was a much smaller film at the time than the typical Williams-headlined release, it became a critical darling and a cult hit.
"One Hour Photo" currently holds a Certified Fresh score of 82% on Rotten Tomatoes, and Williams' haunting performance has been oft-cited as one of the movie's highlights. He injected the production with more than just his vulnerability and gravitas, though. One of his prized personal possessions actually made it onto the screen as a prop during multiple pivotal scenes.
Robin Williams' Neon Genesis Evangelion figure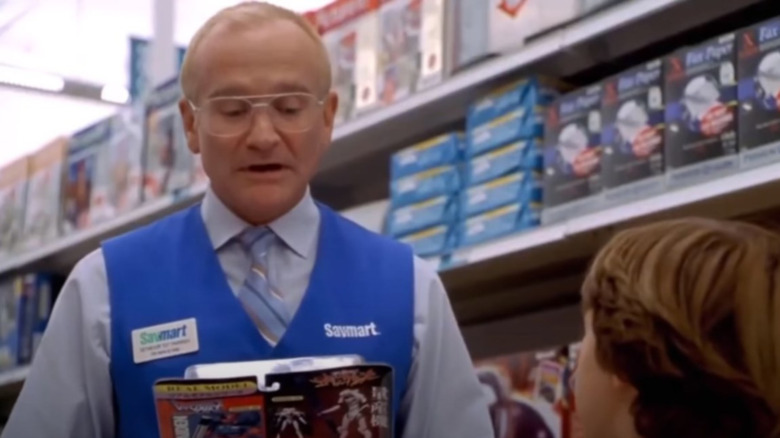 Fox
In "One Hour Photo," Williams played Sy Parrish, a lonely department-store photo technician who becomes obsessed with the Yorkin family, whose members are regular customers at his shop. As the film unfolds, Sy's desire to actually become part of the family escalates to the point that he confronts the father, Will Yorkin, upon learning he is having an extramarital affair. He then forces him to pose for lewd photos with his mistress.
Midway through the film, Sy encounters the Yorkins' son, Jake, at the department store. The young boy is holding an action figure from the anime series "Neon Genesis Evangelion" — something that Sy inquires about in an attempt to grow closer to him. "What do you have there?" Sy asks, to which Jake responds, "Evangelion." The boy goes on to offer his best synopsis of the character. In real life, Williams was well aware of the figure's significance. According to Film Facts on Twitter, he was reportedly a big fan of the series and the figure was said to be part of his own collection.
After Jake is told that he has to leave, Sy proceeds to take the figure from him. However, instead of putting it back, he buys it and then follows the child to soccer practice, where he attempts to give it to him. Ultimately, Jake doesn't accept the toy and Sy keeps it. Later in the film, Sy wakes up from a nightmare and sees the figure. It appears to spur him toward committing his later offenses.
Williams' love of anime was well-documented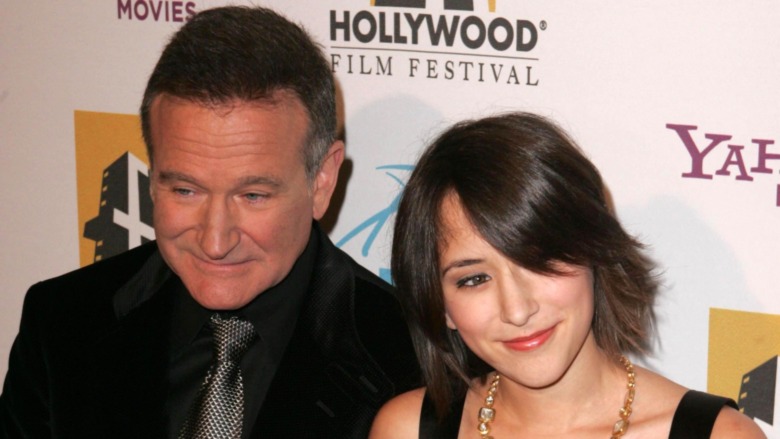 Shutterstock
For Williams' biggest fans, the fact that the "Neon Genesis Evangelion" figure was part of his personal collection should come as no surprise. The actor-comedian was a noted anime enthusiast. Williams sounded off on some of his favorite anime series during a Reddit AMA in 2013. When asked about some of the other shows that he liked, he namechecked a number of anime hits in rapid succession. "Oh god, 'Ghost in the Shell.' 'Akira'. 'Blood: The Last Vampire.' But mostly 'Ghost in the Shell,'" he wrote.
Williams later noted that he originally got hooked on anime as a result of  "a shop in San Francisco that sold [laser discs.]"
Even after his tragic and untimely death, tales of Williams' anime fandom continue to pop up. In 2018, his daughter Zelda Williams revealed that he had multiple storage units filled with anime figures. The massive collection was apparently filled with so many unboxed and unlabeled figures that she had to turn to fans to help identify them all, per Anime News Network.
Given that he named his daughter Zelda after the iconic Nintendo video game franchise of the same name, the fact that the comedy legend had such geeky obsessions stands to reason.