Ethan Hawke, Noomi Rapace To Star In Bank Heist Thriller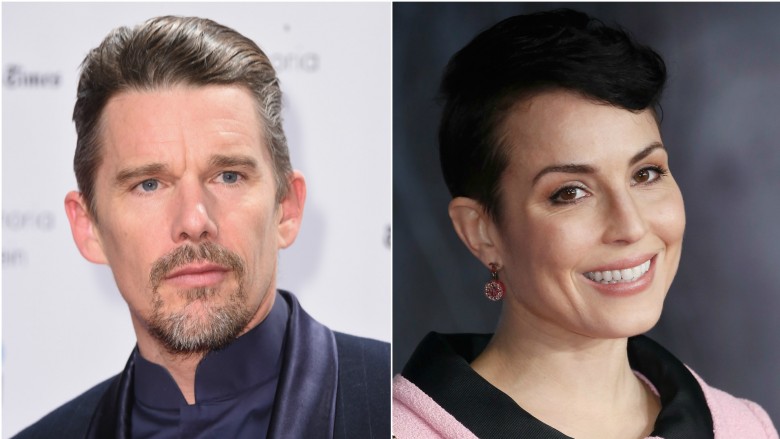 Getty Images
Ethan Hawke and Noomi Rapace will help bring a real-life thriller to the big screen.
Variety reports that the actors just signed on to star in Stockholm, based on a 1973 incident in Sweden in which hostages in a bank heist bonded with their captors and ended up turning on law enforcement. Famously chronicled in Daniel Lang's 1974 New Yorker article "The Bank Drama," the incident was responsible for the coinage of the term Stockholm Syndrome.
There is no word yet on who Hawke or Rapace will play in the film, which will be written and directed by Robert Budreau (Born to Be Blue).
"Stockholm will offer moviegoers a raw glimpse into intense events that transpired over four decades ago coining a psychological condition that still intrigues the world today," Jonathan Kier, president of international sales and distribution for the film's international seller Sierra/Affinity, said in a statement. "With Robert's creative direction coupled with Ethan and Noomi's tremendous talents, we are certain audiences around the globe will be captivated by this thrilling true story."
Production is set to begin in April, and Sierra/Affinity plans to market the film to potential buyers at the European Film Market next month in Berlin.
Hawke has a number of other films coming up, including the Vincent D'Onofrio-starring Western The Kid and the comic book adaptation Valerian and the City of a Thousand Planets. However, the actor previously came close to playing a much different comic book character which would have blocked off most of his time for the next few years: he was one of many actors who came close to playing Marvel's Doctor Strange.
Rapace is also set to appear in the upcoming Alien: Covenant, as well as CIA thriller Unlocked, Maria Callas biopic Callas and the David Ayer-directed sci-fi fantasy Netflix film Bright.