Arrow EP Teases Fastest Flash Crossover Yet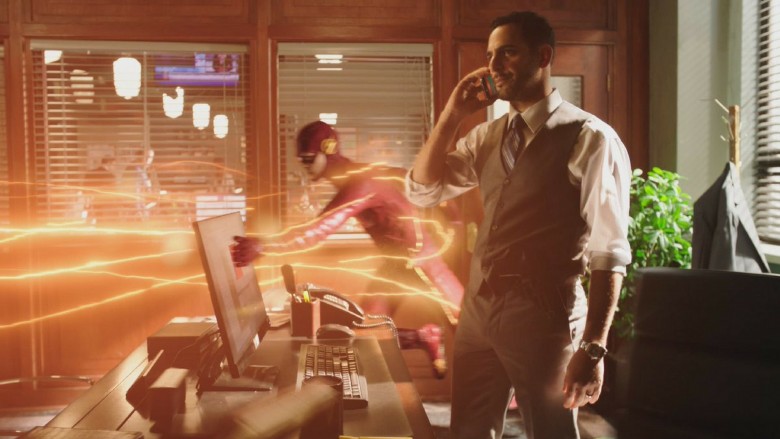 The Flash will be stopping by Arrow this week, but not for long.
Executive producer Marc Guggenheim posted a photo of what he calls the "fastest crossover" yet between the two shows on his Twitter Thursday evening. The pic shows Barry leaving a note on a computer, possibly in a police station. "#dontblink," Guggenheim captioned it.
Could this have to do with Barry's attempts to change the future in order to save Iris? Is it related to Oliver's ongoing fight with Prometheus? Or is it part of an attempt to free the wrongly jailed Diggle?
Guggenheim kept mum on the issue in an interview with Entertainment Weekly, although he did open up on a few other crossovers that DC fans can expect to see on the CW's superhero block soon.
"In the penultimate episode we're gonna have— I can't be specific about this, but it's one of the most fun things I think we've ever done on the show— a character from one of the other shows on Legends [of Tomorrow] in a way that you've never seen before, you may never see again, but will, I think, just send fans into squeals of joy," he said.
The episode's synopsis also doesn't offer many clues as to why Barry could be stopping by Star City.
"In his quest to take down Kovar, Oliver gets help from a surprising source– Talia al Ghul," it reads. "However, when she reveals what she wants from him in exchange, Oliver isn't sure he can accept her help. Felicity attempts to hack the NSA to help free Diggle but when her online efforts are flagged, she faces off against an unknown adversary. Meanwhile, Curtis tells the team about a female vigilante, Tina Boland, he uncovered online who has been wreaking havoc all over the country."
All will (hopefully) be answered when "Second Chances," the eleventh episode of Arrow's fifth season, airs. Keep your eyes peeled for Barry Allen on Feb. 1 at 8 p.m. on The CW, and, while you wait, see which plot holes in Arrow are still bothering us.