The Conjuring: The Devil Made Me Do It Trailer Has The Internet Totally Spooked
After a long wait and plenty of teasing, Warner Bros. has dropped the first trailer for "The Conjuring: The Devil Made Me Do It," the third installment in the main franchise, which has also spawned several films into its own universe including "Annabelle," "The Nun," and "The Curse of La Llorona." The new film follows the lovable Ed (Patrick Wilson) and Lorraine Warren (Vera Farmiga) as they investigate the alleged demonic possession of 11-year-old David Glatzel (played by Julian Hilliard), who is believed to have forced Arne Cheyenne Johnson (played by Ruairi O'Connor) to kill his landlord.
Based on a true story from a 1981 case, "The Devil Made Me Do It" looks to be one spooky ride in the "Conjuring" world. There are some ultra-creepy moments in the trailer, including one where David is laying on a water bed that has a demonic face protruding out from underneath the plastic. We also see more of Lorraine in the trailer than we do Ed, as she appears to get swept up into the investigation more than her husband. It almost looks as if Lorraine becomes possessed herself somehow, and finds herself on the brink of death.
It's an eerie trailer to say the least, with plenty of tense moments, creepy figures in the shadows, and several jump scares. Not surprisingly, the internet is losing it over the trailer, and many are suspecting that "The Devil Made Me Do It" might be the scariest "Conjuring" movie we've seen yet.
The Conjuring: The Devil Made Me Do It is freaking out fans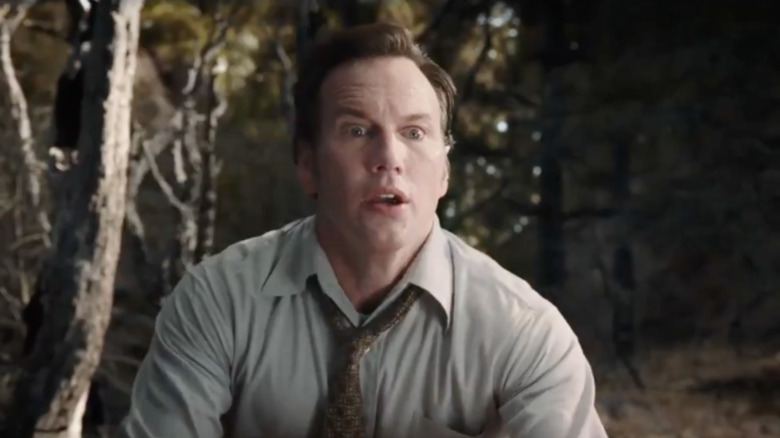 Warner Bros. Pictures
"Conjuring" fans on Twitter quickly began flooding the site with tweets about the creepy new trailer. "Who else got chills watching this trailer?" one fan tweeted. "That water bed scene just made my soul jump out," another added.
Fans of the franchise also began comparing the new "Conjuring" film to those in its catalog. "This looks like the scariest Conjuring movie yet! Reminds me of The Exorcist! Ed better save Lorraine from falling off that high cliff to death!" one Twitter user wrote, referencing the last scene in the trailer where Lorraine looks like she might meet her end.
It was all-out excitement from other fans, who couldn't contain their joy about seeing the Warrens on their screens again. "SCREAMING IN EVERY LANGUAGE," one fan tweeted. "MORE OF THE CONJURING CONTENT FINALLY," another wrote in excitement. "Can't wait I'm hyped for this," a third fan added.
"The Conjuring: The Devil Made Me Do It" hits theaters on June 4. The film will be available on HBO Max for 31 days from the theatrical release for no extra charge to subscribers.