Why George From Things Heard & Seen Looks So Familiar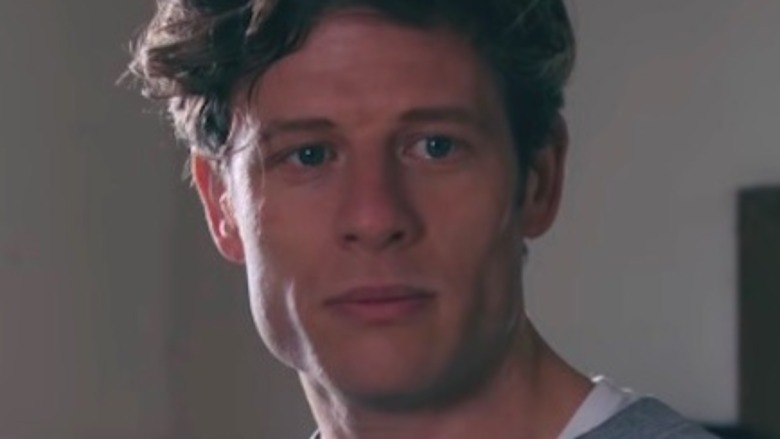 Netflix
Netflix's upcoming horror thriller film "Things Heard & Seen" is already generating a lot of buzz. The Amanda Seyfried-led film, which drops on Netflix on April 29, was written and directed by Shari Springer Berman and Robert Pulcini and is based on the book "All Things Cease to Appear" by Elizabeth Brundage. The story follows Catherine Clare (Seyfried), a woman from Manhattan who moves to the small (and fictional) town of Chosen, New York after her husband gets a new teaching job there. Though she's reluctant to leave the city, Catherine's still happy for her husband's new opportunity, and tries to make the most of her new home and takes it upon herself to learn about the town. However, she soon begins to experience strange occurrences and discovers that Chosen harbors many dark secrets.
Next to Seyfried in "Things Heard & Seen," James Norton plays George, Catherine's husband and the film's other most important character. Norton naturally has a lot of screen time in the movie, and many viewers will probably think that he looks strangely familiar. Wondering where you've seen him before? We've got you covered with a round-up of some of Norton's most notable roles.
James Norton had leading roles in shows like Happy Valley and War & Peace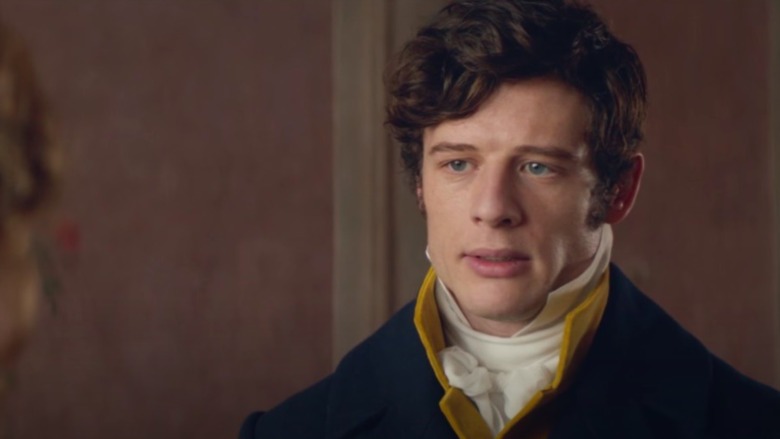 BBC
From 2014 to 2016, James Norton starred in the BBC One drama series "Happy Valley," which centers around police sergeant Catherine Cawood (Sarah Lancashire). Norton portrays Tommy Lee Royce, a drug offender, serial rapist, and, eventually, a murderer. He has a son, Ryan (Rhys Connah), as a result of one of the women he assaulted, Rebecca "Becky" Cawood, Catherine's daughter. After Tommy assaults Catherine's daughter Rebecca "Becky" Cawood, she gives birth to a son, Ryan (Rhys Connah). Becky takes her own life after Ryan is born, and Catherine begins taking care of him. Throughout the series, Tommy struggles with connecting to Ryan — and also continues to partake in his criminal ways, which only worsen as time goes on — while Catherine attempts to thwart any relationship between the father and son. 
In a change of pace from playing a hardened criminal, Norton took on the role of an aristocrat in BBC One's 2016 adaptation of Leo Tolstoy's novel "War & Peace." The story follows three young aristocrats in 1805 Russia, as the country's conflict with Napoleon-led France reaches its peak. Norton plays Andrei Bolkonsky, a young man from a noble family who finds high society silly and shallow. To try to make something more out of his life, Andrei leaves behind his pregnant wife Lise (Kate Phillips) to enlist in the military. After quitting the army, Andrei is full of regret for neglecting his wife, who dies in childbirth, but has his spirits lifted when he meets and falls for Natasha Rostova (Lily James). The couple faces hurdles, then the two reconcile, but there sadly isn't a happy ending for them.
James Norton's notable film roles include Hampstead and Flatliners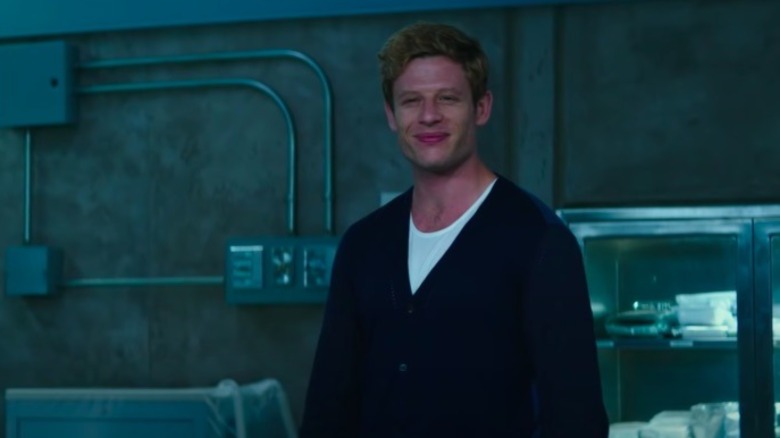 Sony Pictures
James Norton's career hasn't just been confined to television, as he's also appeared in a number of films. 
In 2017, he played a supporting role in "Hampstead," directed by Joel Hopkins, alongside Diane Keaton and Brendan Gleeson. Keaton plays widowed American Emily Walters living in England, who falls for Donald Horner (Gleeson), a man living illegally in Hampstead Heath parkland in London. Norton plays Emily's son Philip, a practical and logical young man who worries about his mother and her finances.
In "Flatliners," another 2017 release, Norton plays a medical student named Jamie. The film follows a group of medical students who, curious about what comes after death, begin experimenting on themselves — stopping their hearts for short periods of time in order to see what's waiting for them post-death. Jamie decides to partake in the experiment and "flatline" for his own near-death experience, but it ends up being quite traumatic. After his experiment, Jamie starts having random flashes of his past mistakes, including something heartbreaking that happened with his ex-girlfriend.
James Norton's next TV work was in the crime genre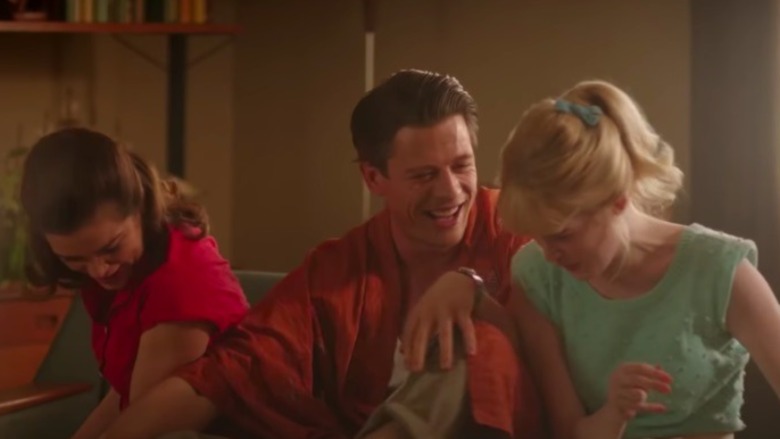 BBC One
In 2018, James Norton pivoted to the crime drama genre with the series "McMafia." He stars as Alex Godman, a man trying to distance himself from his father Dimitri (Aleksey Serebryakov), a Russian mafia boss. But Alex soon finds himself pulled into the criminal underworld, and begins dealing directly with Russian-Israeli businessman Semiyon Kleiman (David Strathairn). Over the course of the show's first (and currently only-aired sesason), Alex becomes more entangled in mafia business, causing him to become estranged from his family and his fiancée Rebecca (Juliet Rylance).
The following year, Norton appeared in the crime miniseries "The Trial of Christine Keeler," which series focuses on the Profumo political scandal of the 1960s, when the Secretary of State for War John Profumo had an extramarital affair with a 19-year-old named Christine Keeler. Norton portrays Stephen Ward, a practitioner of osteopathy (a type of alternative medicine focusing on physically manipulating the body's muscles and tissues) who's known for throwing sex parties specifically for his friends in political office. Ward is the one who introduces Keeler to Profumo. 
James Norton appeared in Mr Jones and Little Women
Sony Pictures
In 2019, James Norton took on the titular role in the biopic "Mr Jones." Set in 1933, the film centers on Welsh journalist Gareth Jones, who travels to the Soviet Union to report on the Holodomor, the man-made famine during Joseph Stalin's rule, that devastated Ukraine and led to millions of deaths. As the first journalist to bring attention to the Holodomor, Jones finds — and writes about — the many starving people and those who have even resorted to cannibalism. Soviet officials track down Jones and give him an ultimatum: If he writes only positive things about Stalin, they'll let him go, but if he doesn't, they'll kill the six British workers they have detained.
In the same year, Norton also appeared in the Oscar-nominated book-to-movie adaptation "Little Women," directed by Greta Gerwig, which follows the four March sisters. Norton plays John Brooke, who tutors the March family's neighbor Theodore "Laurie" Laurence (Timothée Chalamet). When he meets the Marches, John takes an interest in Meg (Emma Watson), and the two end up falling in love, getting married, and starting their own family.
In The Nevers, James Morton plays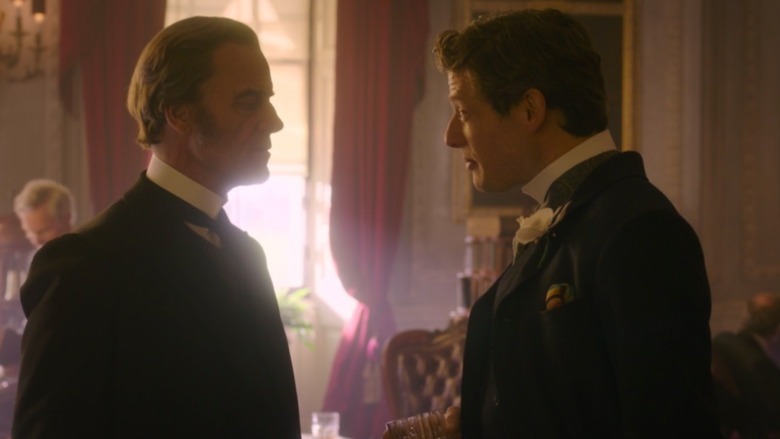 HBO Max
The HBO series "The Nevers," which premiered in mid-April 2021, centers around a group of Victorian women known as "the Touched" who develop supernatural abilities, such as main character Amalia's (Laura Donnelly) power to see the future. In the show, James Norton plays Hugo Swann, a pansexual man who plans to open a "pagan sex club" for affluent male guests. He also works with Detective Frank Mundi (Ben Chaplin) to track down members of the Touched to recruit to his brothel, Ferryman's Club, which is exclusive to men who want to be intimate with Touched women.
"The Nevers" is still in its early days as of this writing, so fans will have to wait and see how the rest of Hugo Swann's story plays out.