The Secret Connection Between The Good Place And Ruth Bader Ginsburg
NBC
Even some of the biggest fans of "The Good Place" might not know about its connection to a late, great Supreme Court justice.
Introduced at the end of Season 2 of The "Good Place" in an incredible and surprising moment (in that the casting wasn't announced before the episode aired), Maya Rudolph charmed audiences across the world as Gen, an immortal judge in the afterlife who is so old that she was named after Hydrogen, the only element in existence at the time of her birth. As the final word on matters within the Afterlife, Gen, a fan of binge-watching shows like NCIS and Deadwood — and a big fan of actor Timothy Olyphant — tends to stick to the rules and not make any huge changes. However, when four humans and Bad Place architect Michael (Ted Danson) reveal to Gen that the Bad Place has been taking advantage of a flawed system, she eventually helps revamp the afterlife once and for all.
However, you probably didn't know that Rudolph took inspiration from a real-life judicial figure for her Emmy Award-winning turn as Gen. Here's the secret connection between "The Good Place's" Judge Gen and late Supreme Court Justice Ruth Bader Ginsberg.
Maya Rudolph used real-life inspiration to craft the character of Gen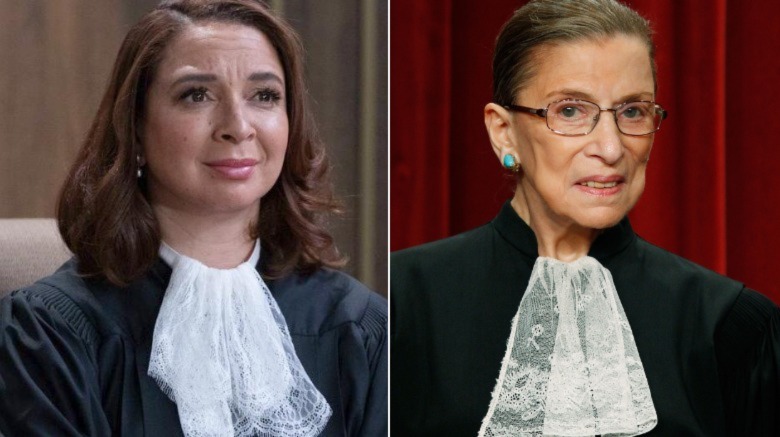 NBC, Mark Wilson/Getty Images
In an interview with Deadline after Rudolph won her first two Emmys in the same week in September 2020 — for playing Gen as well as for her role as Vice President Kamala Harris on "Saturday Night Live" — Rudolph revealed the real origin behind Gen, which should come as no surprise.
"I was actually thinking about 'The Good Place' a lot and about how we modeled her robe after Ruth Bader Ginsberg and how much of that was an homage to an iconic human being," Rudolph told the outlet. "When you think of a judge, when you think of all-knowing, when you think of powerful, when you think of all good, yeah, we modeled her robe after RBG, so that was pretty cool."
While most fans of "The Good Place probably didn't make this connection right away, it makes perfect sense. Justice Ginsberg, who passed away on September 18, 2020, was an iconic figure on the country's highest court, inspiring books like "The Notorious RBG," countless memes, and women across the country, who mourned her death in droves when the news was announced. With all that in mind, Ruth Bader Ginsberg was definitely the perfect inspiration for a fair and all-knowing entity like Gen.
The entirety of "The Good Place" is available to stream on Netflix now.