The Real Reason Prince Backed Out Of His Cameo On The Simpsons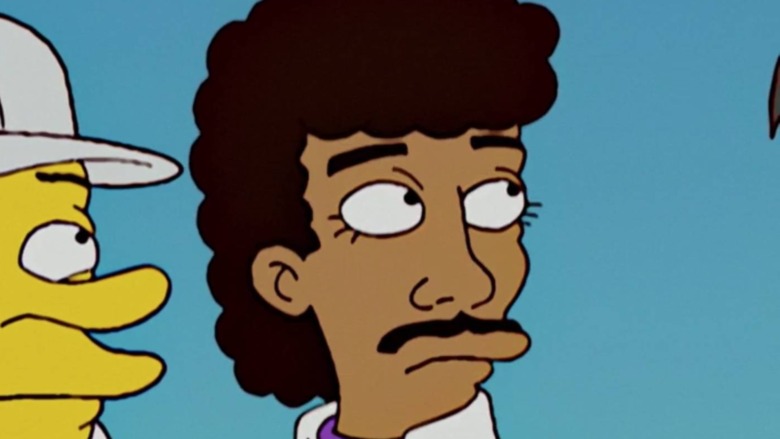 20th Television
"The Simpsons" is a television institution at this point, so perhaps it should come as no surprise to hear the sitcom has managed to wrangle quite a few of the biggest stars in the entertainment industry to lend their voices to a litany of roles. Dustin Hoffman was able to create one of the most sentimental characters in the show's history as Lisa's substitute teacher, Mr. Bergstrom. Johnny Cash had the memorable appearance as the talking coyote who leads Homer on a vision quest after he eats excessively spicy chili. Those are really just drops in the bucket when looking at a comprehensive list of guest stars, including Meryl Streep, Donald Sutherland, and Michelle Pfeiffer. 
You would think any celebrity would jump at the chance to voice a character on "The Simpsons," but over the years, plenty of individuals decided they'd rather stay as far away from Springfield as possible. One of those celebrities is the late, great Prince. 
The "Purple Rain" singer has made various appearances on the show over the years, such as a brief cameo browsing the internet in "Radioactive Man" and getting offed by Homer in "Treehouse of Horror XIX." However, the real Prince didn't actually voice those appearances. As it turns out, when the Purple One was actually offered an opportunity to showcase his voice acting talents for real, he turned the show down — despite a script being already written. 
Prince turned down the chance to bring back Leon Kompowsky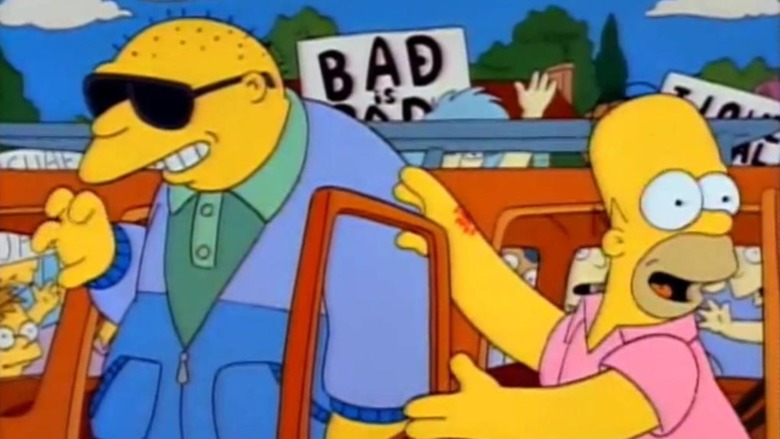 20th Television
You won't find the season 3 episode, "Stark Raving Dad" on Disney+ due to controversies surrounding Michael Jackson's legacy (via Fast Company), but it remains a fan-favorite. In the episode, Homer is committed to a mental asylum after he wears a pink shirt to work, where he meets a man claiming to be Michael Jackson. It all leads to one of the sweetest endings in any "Simpsons" episode, as Michael reveals his actual name is Leon Kompowsky, who only started talking like Michael Jackson because it seemed to assuage his anger issues. 
In fact, the real Michael Jackson voiced Leon. However, while the character was intended to come back to Springfield in a future episode, the plan — according to producer Al Jean — was for him to assume a new identity, where he would be voiced by His Royal Badness (via Rolling Stone) instead of Michael Jackson. Jean even took to Twitter to confirm a script was in place, but that Prince turned down the role likely because he "didn't want to play second fiddle to [Michael Jackson]" due to their infamous feud. 
There were other musicians in mind who could've been alternate personalities for Leon, such as Leo Sayer and Roberta Flack, but ultimately, nothing ever materialized from the story.
Some pages from the script have been shared online. While it has nothing to do with Leon himself, one scene sees Lisa trying to win Prince tickets over the phone except a spider lands on the disconnect button, foiling her chances of watching "Little Red Corvette" performed live. Given the sheer number of Prince references that have popped up on the series over the years, like Milhouse understanding what it feels like when doves cry, it's safe to say the musician had plenty of fans working on "The Simpsons."