Alan Tudyk Gets A Call From Bruce Wayne In New Powerless Clip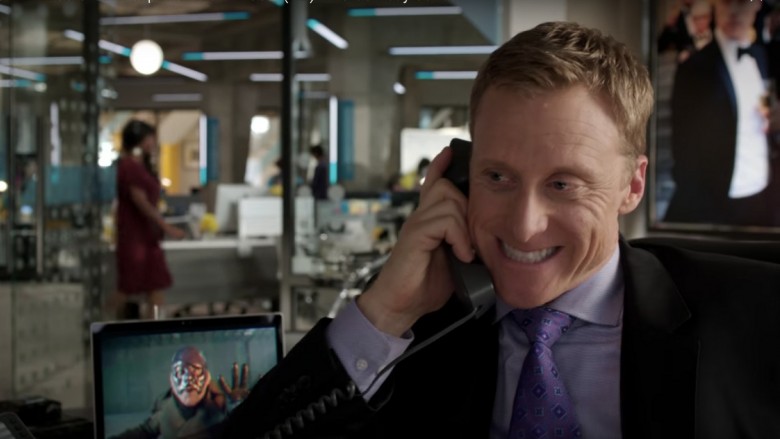 YouTube
Viewers can finally see what it's like inside Wayne Enterprises in four new Powerless clips.
Powerless follows a group of employees at Wayne Security, a subsidiary of Bruce Wayne's corporation, as they try to innovate products to protect ordinary humans from the dangers of living in a superhero-filled world. Vanessa Hudgens stars as the company's Director of Research & Development Emily Locke, while Alan Tudyk will play her boss Van Wayne, cousin of Bruce. Danny Pudi, Christina Kirk and Ron Funches also star.
In the new clips, Emily realizes that the team's lack of creativity has led to them falling behind Lex Luthor's LexCorp, and the intrepid new hire tries to figure out ways to push the team to be better by "throwing away the box entirely."
Funches' character tries to follow her lead by creating a kryptonite-laced glass to stop the number one cause of workplace accidents in the Powerless world: Superman crashing through office windows mid-flight. Naturally, that doesn't work out so well.
The last new clip shows Van receiving an ominous call from his cousin Bruce amidst a threat to the city by Jack-O-Lantern. Bruce, like the angsty hero he is, calls Van and then asks him if he can hold. Rude.
While it's unlikely that any big name superheroes like Batman will actually appear on the TV show, fans can still dream that one may stop by in a finale or premiere. If they do, hopefully they look a little bit more like their comic book versions than their big screen counterparts.
Powerless premieres Feb. 2 at 8:30 p.m. on NBC.