The Michael Chiklis Crime Drama You Can Find On Hulu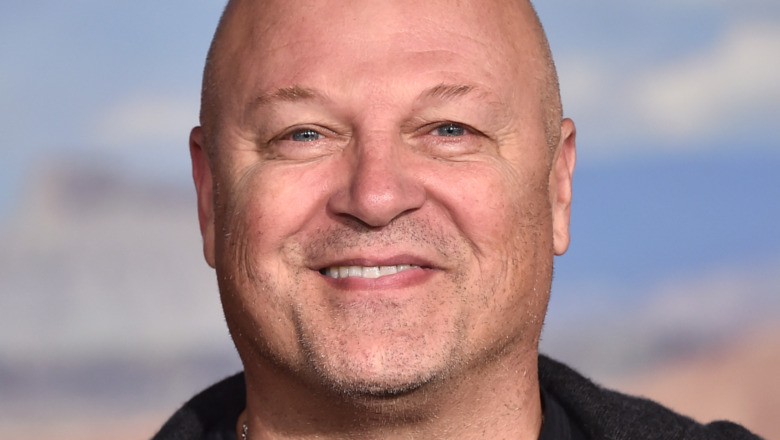 Shutterstock
The "Difficult Men" era of extremely high-quality television shows about emotionally complex antiheroes started in 1999 with The Sopranos. After that HBO series became an Emmy-winning pop culture phenomenon, other networks came up with their own gritty Sopranos-influenced shows about charismatic bad men. FX's initial foray into the genre was the crime drama The Shield, which starred Michael Chiklis as Vic Mackey, a corrupt LAPD detective overseeing an anti-gang task force that operates like a gang itself.
The show was critically acclaimed, and holds a 90% "Fresh" score on the review aggregator Rotten Tomatoes. For its first season in 2002, The Shield won the Golden Globe for Best Television Series – Drama, and Chiklis won the Emmy and the Golden Globe for Best Actor.
However, The Shield doesn't feel like it's as highly regarded as its prestige peers like The Sopranos and The Wire, or the next generation of post-Sopranos cable shows that came later in the decade, a sophomore class defined by series like Mad Men and Breaking Bad. This oversight could not be more undeserved. The Shield merits respect, and any student of TV history, fan of crime dramas, or quarantined binge-watcher should consider checking it out on Hulu, where it lives as part of the "FX on Hulu" section.
The Shield is a crime drama classic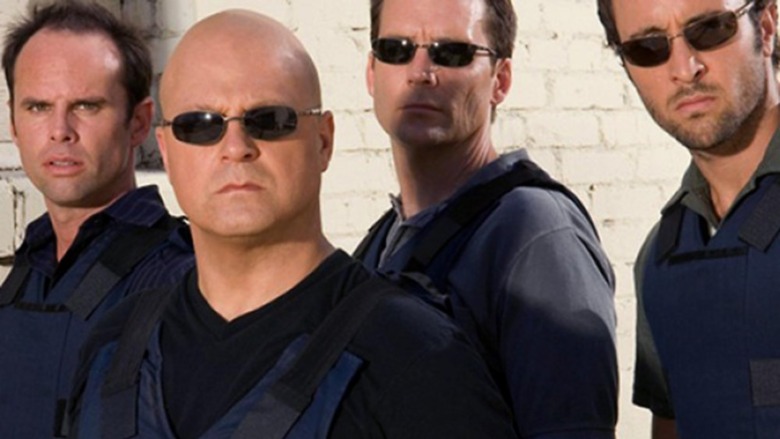 FX
The Shield tells the story of the Strike Force, a division of the LAPD based in the fictional Farmington neighborhood of Los Angeles.The Strike Force is inspired by a real-life LAPD corruption scandal: The CRASH anti-gang unit of the Rampart Division, which operated with impunity in the late '90s and early '00s, was exposed as an incredibly corrupt criminal enterprise.
The Strike Force team is led by Vic Mackey (Chiklis), a detective who uses the power granted to him by his badge to rob drug dealers, torture suspects for information, plant evidence, and murder people who get in his way. He puts a lot of criminals away, but he's a criminal himself. He justifies it all through that classic antihero appeal: He's just providing for his family. 
Other members of the Strike Force include Det. Shane Vendrell (the incomparable Walton Goggins), who's maybe even more corrupt than Mackey; Det. Curtis "Lem" Lemansky (Kenny Johnson), who has more of a conscience than some of his teammates; and Det. Julian Lowe (Michael Jace), a rookie who's struggling with his sexuality. Glenn Close joined the show in Season 4 as a new captain in Farmington who butts heads with Mackey, a role for which she earned an Emmy nomination.
The Shield benefited from a very talented writing staff, many of whom went on to do big things of their own. The show was created by Shawn Ryan, who went on to produce cult favorites like Terriers and Timeless. Other writers included Glen Mazzara, who later became the showrunner of The Walking Dead for a few seasons; Kurt Sutter, who went on to create Sons of Anarchy and Mayans M.C.; and Scott Rosenbaum, who's the current showrunner on Queen of the South.
It's a great show, and all seven seasons consisting of 88 episodes are available to stream on Hulu.