The Walking Dead And Breaking Bad Theory Has Fans Scratching Their Heads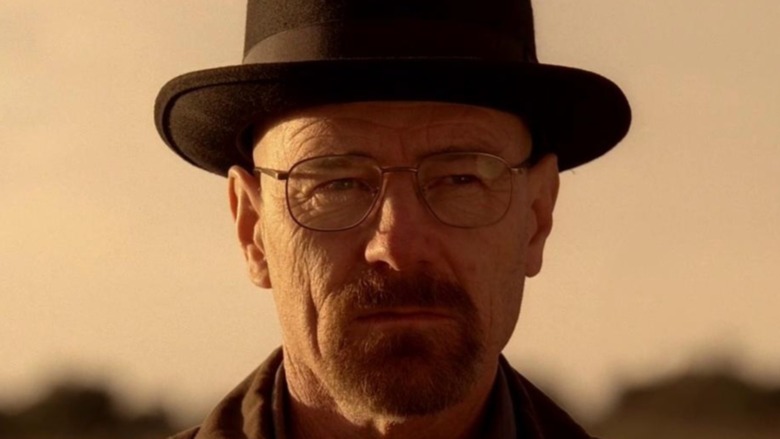 AMC
Throughout the 2010s, AMC could do no wrong when it came to its original programs. Easily the most recognizable and universally acclaimed of the bunch was Breaking Bad from Vince Gilligan, which premiered in January of 2008 and wrapped up in September of 2013. Following the story of chemistry teacher turned drug kingpin Walter "Heisenberg" White (Bryan Cranston), the program showcased the lengths he was willing to go to so that he could maintain his family's financial stability. There's heartbreak, betrayal, and more, amounting to a show that fans are not soon to forget.
Meanwhile, October of 2010 saw the adaptation of Robert Kirkman's famed comic series The Walking Dead for the small screen. It showcased a revolving door of survivors who did their best to navigate the zombie apocalypse and the monsters it made of average, everyday folks. Much like Breaking Bad, TV watchers got hooked on its premise and the drama that came with it, helping it stay on the air for over a decade with its finale prepared for a 2022 release.
Despite these shows having vastly different plots, characters, and themes, their fandoms did what fandoms do best: theorize. Here are the head-scratching conclusions they drew about The Walking Dead and Breaking Bad's subtle connection.
Is Breaking Bad a prequel to The Walking Dead?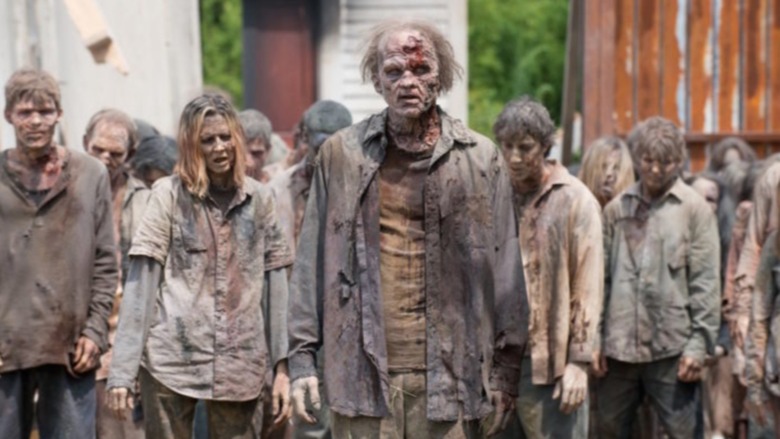 AMC
On paper, it may sound crazy to think The Walking Dead and Breaking Bad are set in the same universe, but, the evidence that has accrued over the years is very compelling. The central argument for this theory is that Blue Sky, the kind of methamphetamines that Walter White produced and sold, played a direct role in causing the zombie outbreak. After all, Blue Sky does exist in the TWD world, as evidenced by its inclusion in Merle Dixon's (Michael Rooker) drug stash from the season 2 episode "Bloodletting."
To add more credence to this claim, season 4's "Still" shed some light on how Merle wound up with his narcotics. According to his brother Daryl (Norman Reedus), his dealer was "A janky little white guy. A tweaker," who once pulled a gun on him and said, "I'm gonna kill you, bitch." To Breaking Bad fans, this is clearly a nod to Jesse Pinkman (Aaron Paul), Walter's partner who matches that physical profile and is notorious for his use of the aforementioned curse word. Perhaps he had dealings with the Dixon brothers pre-apocalypse that Breaking Bad never showcased.
Additionally, other, much smaller Breaking Bad Easter eggs have popped up on The Walking Dead and vice versa. For instance, the red 2009 Dodge Challenger with black racing stripes that Walter buys and subsequently gets rid of appears in a handful of TWD season one installments, with Glenn (Steven Yeun) famously taking it for a spin. Interestingly, Glenn was the name of the person Walter returns the car to on Breaking Bad, though we never see his face, so it's bold to assume he's the same person. Also, there's the claim that Gus Fring (Giancarlo Esposito) is technically the first zombie, Gale Boetticher's (David Costabile) coffee machine pops up in both series, and so much more.
Bearing this information in mind, is AMC setting up a Breaking Bad and Walking Dead crossover down the line? Or is this all just in good fun, the real cause of the TV zombie infestation matches that of the source material, and any overlapping props are mere coincidence? Either way, this theory is both expansive and intriguing, to say the least.