The Surprising Connection Between Army Of The Dead And Tiger King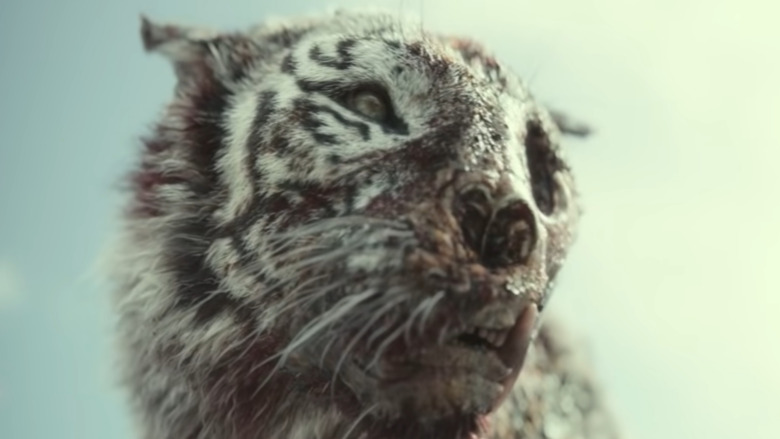 Netflix
People are very excited about Zack Snyder's first film since his cut of Justice League. Army of the Dead isn't just a brand new movie from Snyder; it's also the first time he's tackled zombies since he and James Gunn teamed up for the remake of Dawn of the Dead.
There's a lot to recommend about Army of the Dead even before it even comes out on May 21, 2021, through streaming service Netflix. For one thing, it will feature intelligent zombies who are able to work together, as the name of the film suggests. Rarely do we see smart zombies, but if you've ever seen the original Return of the Living Dead trilogy, you know how fun and interesting they can be.
Army of the Dead also has a killer cast: Dave Bautista and Tig Notaro both star, as do a ton of others. Plus, there's one other notable star we see in the trailer — a zombie tiger. As it turns out, there's a surprising connection between Valentine (the zombie tiger) and another popular offering from Netflix, and that's the 2020 docuseries Tiger King: Murder, Madness and Mayhem.
The (zombie) Tiger King isn't Joe Exotic's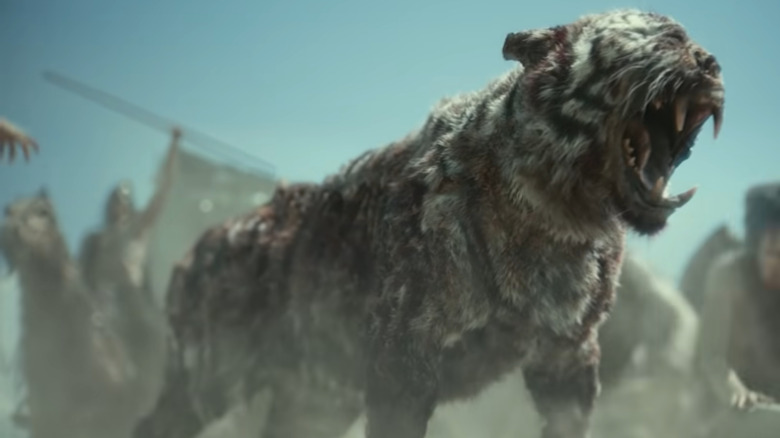 Netflix
The most interesting part about Valentine isn't necessarily the zombie tiger aspect so much as it is where Valentine comes from. It feels unlikely that anyone out there was thinking, "now where have I seen that undead tiger before," but if you did, there's a reason for that — Valentine was modeled after one of the tigers from Tiger King.
During a virtual panel at Justice Con, Army of the Dead producer Deborah Snyder told the crowd about Valentine's origins, as reported by Collider. It turns out it's not an animal of Joe Exotic's that Valentine is based on, but rather a tiger owned by Exotic's rival, Carole Baskin.
However, the craziest part of the story is that Snyder revealed they worked with Baskin and her sanctuary before all the very intense drama between her and Exotic was revealed. It'll be interesting to see if, when Army of the Dead is released to Netflix, the streaming service's algorithm will recommend Tiger King after you watch Snyder's latest zombie film.
Army of the Dead debuts on Netflix May 21, 2021.