Clancy Brown Reveals The Spooky Inspiration Behind His Character In The Mortuary Collection - Exclusive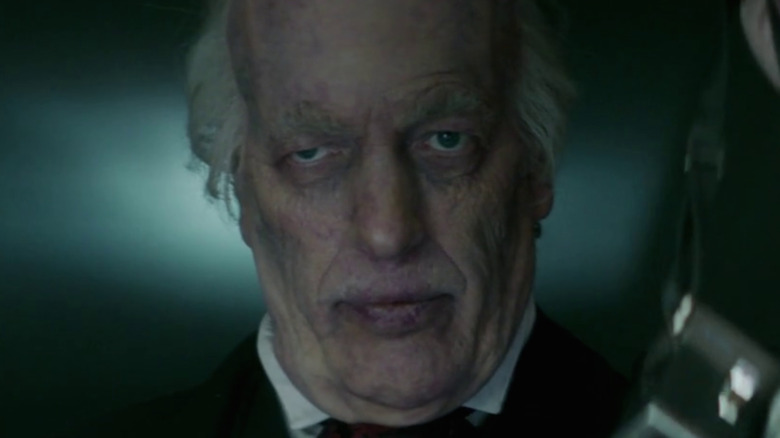 RLJE Films/Shudder
The Mortuary Collection, written and directed by Ryan Spindell, is something of a throwback in the horror genre: an anthology guided by a storyteller. In this case, the storyteller is mortuary caretaker Montgomery Dark — a creepy, yet worldly man who chronicles the stories of all the bodies who pass through his professional care. He's not quite the Crypt Keeper, and he's not quite Hitchock; he's a unique character — a combination of many of the genre's most recognizable traits all rolled into one.
Montgomery is played by Clancy Brown, buried beneath layers of makeup. Brown has a long history playing authority figures, ranging from the Kurgan in the first Highlander movie to Alec Ryder in Mass Effect: Andromeda. In an exclusive interview, Brown explained the inspiration behind Montgomery Dark — a character he describes as a "derivative amalgamation of a lot of horror tropes, but being that way I think he's kind of original ... He's definitely from the mind of Ryan [Spindell]."
A conglomerate of influences
RLJE Films/Shudder
Brown said work on the character's voice began during makeup tests. "The makeup's a little lighter in the film than the original makeup ... Ryan very smartly took away a few appliances, but we just started screwing around with the sound of the guy, once we saw how he looked. Ryan got a kick out of that kind of low sort of pretend sophisticated sound." When asked about specific influences he brought to the character, Brown mentioned Hammer Films and a vague British sensibility, though he describes his character as "somebody who thinks of himself as an educated man," which might suggest the British affect is somewhat less than authentic.
Brown also broke down the sources of inspiration for Montgomery, which are all suitably creepy pieces to throw into the mix. He called his character a "kind of a conglomerate of [the horror anthology] genre," noting a few specific pieces like the Amicus Anthologies as being of particular importance to his process. Interestingly, Brown cites his influences by pointing out how they're distinct from Montgomery. The Tall Man, for example, is one of those anthology characters who helped him build a character for Montgomery Dark, but the Tall Man doesn't speak much in the Phantasm series. As Clancy pointed out: "When he did, he was just kind of loud and big." 
He also brought up a legend: the horror actor Vincent Price, whose incredible career in the macabre genre actually earned him two stars on the Hollywood Walk of Fame. Although Brown acknowledged Price as an influence, he was quick to qualify that, "Vincent Price has a much higher register than I do."
The Mortuary Collection is out on VOD, Digital HD, DVD and Blu-ray today.