The Best Time Michael Scott Ever Broke Character On The Office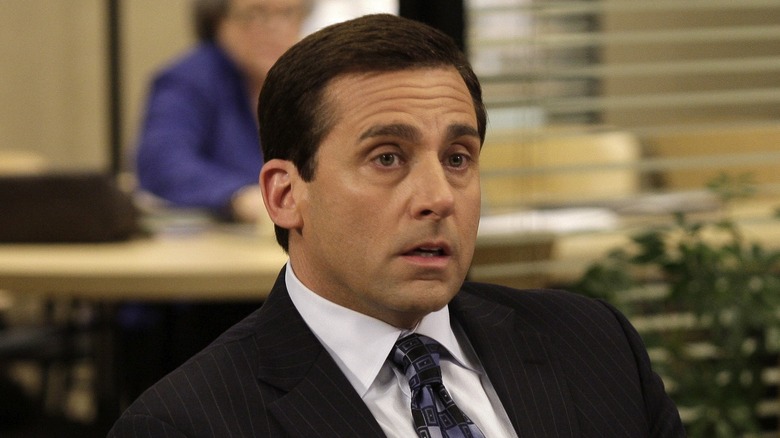 NBC
The Office's impressive catalog of bloopers is just as well known by fans as its over 200 episodes. The DVD sets were released for each season starting in 2005, and the season 2 boxset was the first one to debut a blooper reel. Over the years, dozens if not hundreds of videos on YouTube have been dedicated to mashups of the series best bloopers, which are now just as famous as the scenes they were pulled from.
Fans have become obsessed with some of the show's more famous bloopers, including Rainn Wilson fumbling his lines about The Wedding Planner, Steve Carell and Leslie David Baker losing it over a diabetes conversation, and when the entire cast lost it during the Pizza by Alfredo debate.
Carell had no issue making his co-stars break and crack up in the middle of a scene, as his demeanor and line delivery could make even the most professional actor break character. There were plenty of times when even he couldn't make it through a scene, and one of the best Michael Scott bloopers comes in one of the series' greatest episodes ever.
Dinner Party has one of The Office's best Michael Scott bloopers ever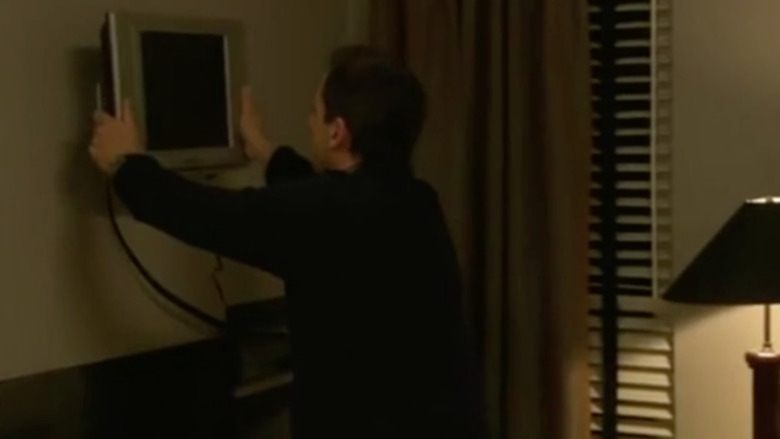 NBC
It's amazing that Carell, John Krasinski, Jenna Fischer, Rainn Wilson, Ed Helms, and Melora Hardin were able to get any usable footage to piece together during the "Dinner Party" episode. There are plenty of bloopers from the legendary season 4 episode, which was shot almost entirely out of the office in Michael and Jan's condo.
Carell breaks character a handful of times in the episode, but his best blooper, as can be seen on Reddit, comes when he's showing Jim and Pam his plasma screen TV. Michael had mentioned wanting a plasma TV several times throughout The Office, so when we got to see the one he eventually bought, it was shocking, to say the least. The screen is less than two feet wide, but he still has it on an adjustable wall mount.
When showing off the TV to Jim and Pam, Michael notes that it has speakers on either side and that when he needs to, he can push it back closer to the wall. When he demonstrates, the TV moves back about an inch, causing Carell, Krasinski, Fischer, and Hardin to absolutely lose it. The laughter that follows is incredibly contagious as Carell can barely keep it together. In a high-pitched squeal, the actor apologizes to the crew and continues to laugh as he goes to reset the TV for the next shot. It's easily Carell's best character break, especially given the iconic episode it took place in.