The Borat Scene That Caused These Celebrities To Split Up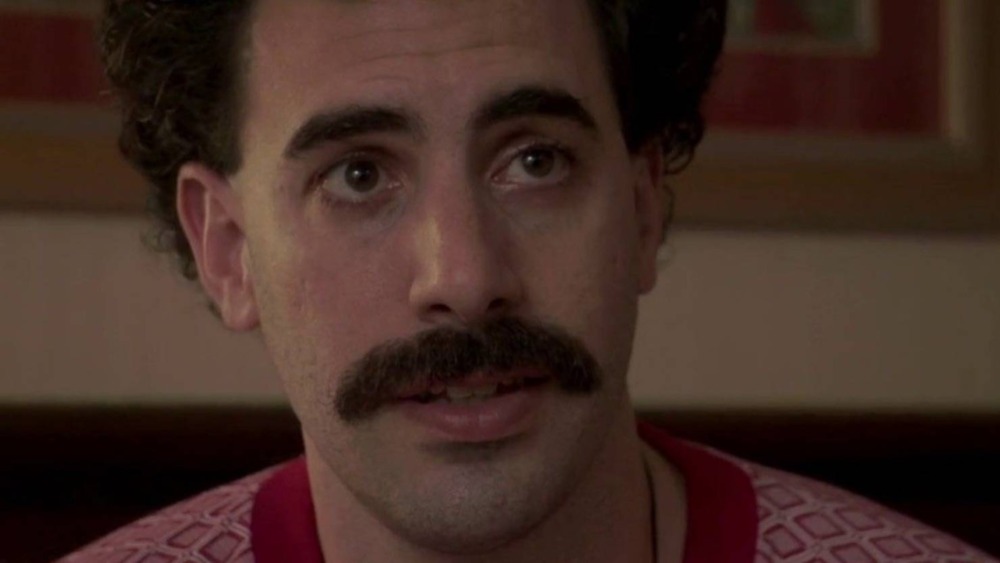 20th Century
Few movie characters have struck a chord in the zeitgeist as much as Borat, as played by Sacha Baron Cohen. When his first movie came out in 2006, you couldn't go anywhere without hearing people say, "Very nice" and "My wife!" Men everywhere had a Halloween costume they could run into the ground for the next five years, and all they needed was a fake mustache, wig, and one-piece swimsuit. While most of the population had a blast with the character, not everyone had such a good time. 
Several people filed lawsuits against Cohen and the studio behind Borat in the film's aftermath for various reasons. One noteworthy instance came when several of the frat boys featured in the movie sued to remove their scene, which depicted them talking about how men should have women as slaves. Ultimately, these lawsuits came down to people not liking how they were shown in the movie, no matter how accurate it was, and one celebrity even got divorced as a result of the movie. 
Pamela Anderson and Kid Rock divorced after Borat came out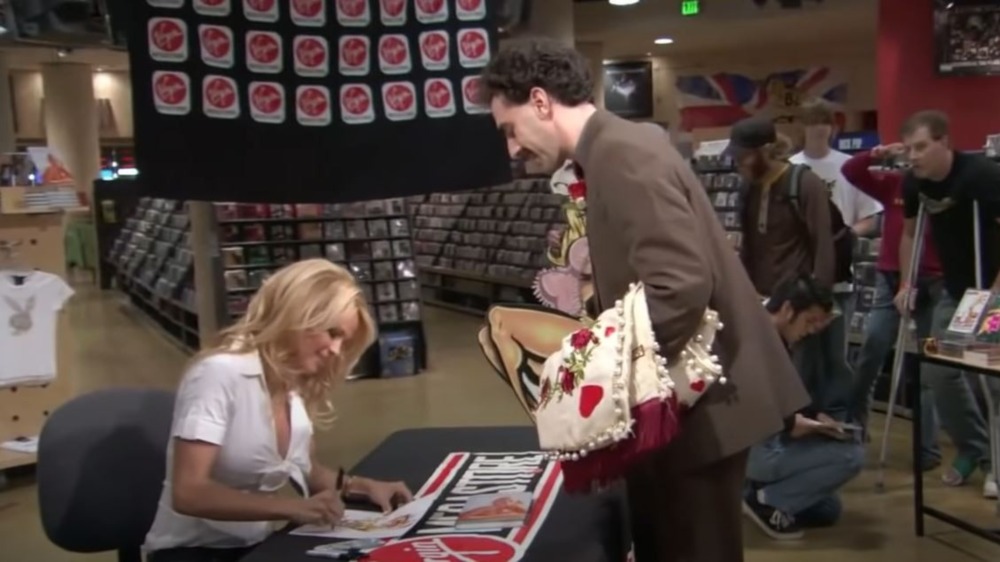 20th Century
It's easy to forget there's actually a plot in Borat. In between scenes where he learns to drive and takes etiquette lessons, the Kazakhstani reporter is ultimately trying to meet Pamela Anderson, whom he's in love with. Eventually, he meets Anderson, who's signing autographs, and he promptly puts a sack over her head and tries to kidnap her. While most people you see in the movie weren't in on the joke, there's been some confirmation that the actress knew what was about to transpire. "The whole thing was planned," said Jonathan Collins, the director of security at the location where the scene took place, per OC Weekly. "They made arrangements with us. Yeah, they told us what they would be doing. The thing in the store, the chase, all of it."
Anderson obviously had a good sense of humor about it, but one person who wasn't too pleased to see the scene was her husband at the time — Kid Rock. When Cohen went on The Last Laugh podcast for The Daily Beast, he spoke about Anderson's involvement. After the film came out, Cohen asked Anderson about what the musician thought of the movie, and she responded that they were getting a divorce. He went on to mention that he "thought it was a joke but then a few weeks later they got divorced and they put as a reason for divorce, Borat."
Looking at other reports during their marriage, it's clear other factors were involved. In an interview with Rolling Stone, Kid Rock alleged that Anderson would act paranoid and manipulate the press. Anderson never responded directly to those claims, but it seems as though the two had a tumultuous time together, to say the least. Borat was likely just what tipped the couple over the edge.