This Is The Type Of Woman Ron Looks For On Parks And Recreation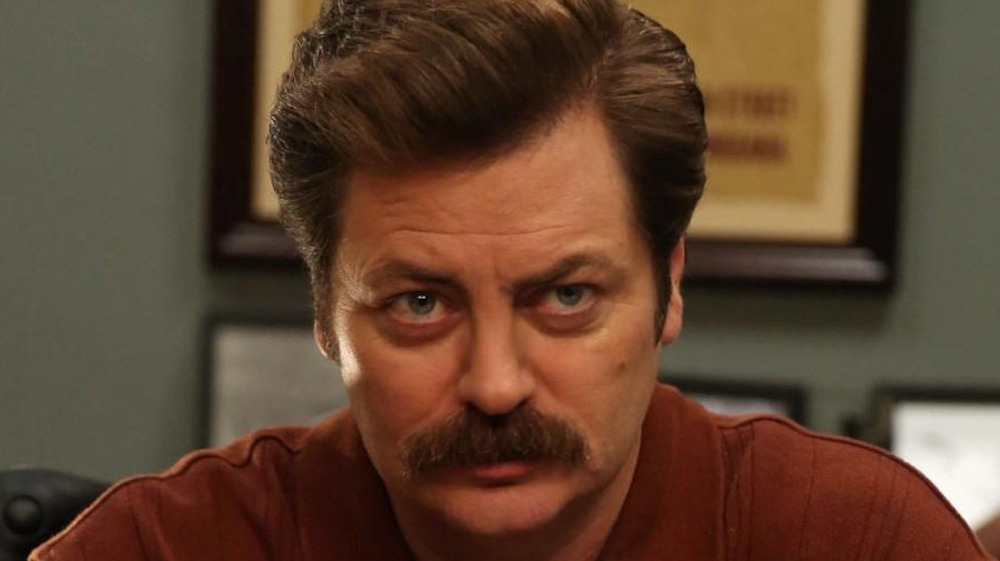 NBC
This Parks and Recreation standout has a type when it comes to romantic partners, but he doesn't always get the equation quite right.
Ron Swanson — played to perfection by Nick Offerman — might seem like he prefers absolute solitude, but throughout the series, he has plenty of romantic conquests... many of which are doomed from the start. Unlike his friend and colleague Leslie Knope (Amy Poehler), who finally gets lucky in love when she meets Ben Wyatt (Adam Scott), it takes a while for Ron to settle down after making several romantic mistakes, many of which are with people who have already caused a ton of damage to his life.
Ultimately, Ron does settle down and even starts a family, finally finding happiness. However, it's a long — and hilarious — journey for the inscrutable, Scotch-swilling Parks Department director, which includes some incredible guest stars, questionable hairstyles, and the name "Tammy." Here's the type of woman Ron looks for on Parks and Recreation, and how he eventually finds his perfect partner.
Ron Swanson's romantic journey is insane and fulfilling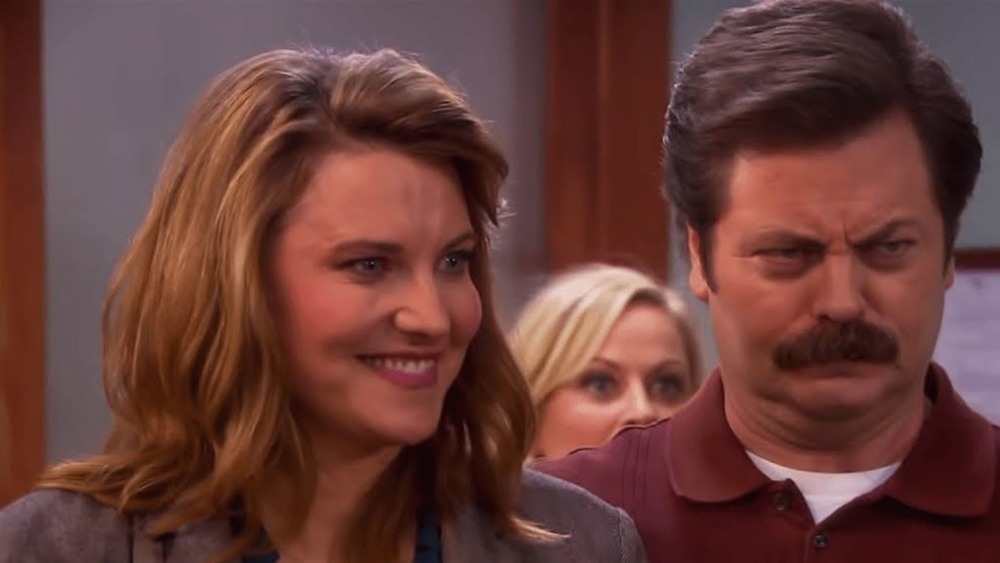 NBC
In the season two episode "Tom's Divorce," Ron is very clear about the kind of woman he wants to date — specifically, "strong, salt-of-the-Earth, self-possessed woman at the top of her field. Your Steffi Graf's, your Sheryl Swoopes." However, his first few partners definitely miss the mark.
As Ron reveals throughout the course of the series, he has two ex-wives — both of whom are named Tammy. (His mother's name? Also Tammy.) The first, Tammy 1 (Patricia Clarkson), shares an unsettling history with Ron; not only was she present at his birth, but she was also his driving instructor, among several different roles in his early life. When Tammy 1 resurfaces after a years-long absence in Parks and Rec's fourth season, she's on a mission to steal Ron's enormous fortune through a corrupt audit (naturally, she works for the IRS), but is thwarted by Leslie and Ron after turning the normally strong and independent man into a spineless twerp.
As for Tammy 2 — portrayed by Offerman's real-life wife and comedy legend Megan Mullally — she regularly pops back up to try and ruin Ron's life, whether she's seducing him with beef jerky, screaming at him, stripping off all of her clothing, or tricking Ron into marrying her again clad in a bathrobe and full cornrows. Tammy 2 tries time and time again to take Ron down, but he always casts off her spell, especially when he meets single mom Diane (Xena herself, Lucy Lawless).
Ron eventually gets his happy ending, despite both Tammys, but it's definitely not an easy path. That said, he always knows what kind of woman he wants — and Diane definitely checks all of his boxes.
The entirety of Parks and Recreation is available on Peacock now.