Rick Meets Someone New In The Walking Dead Promo Image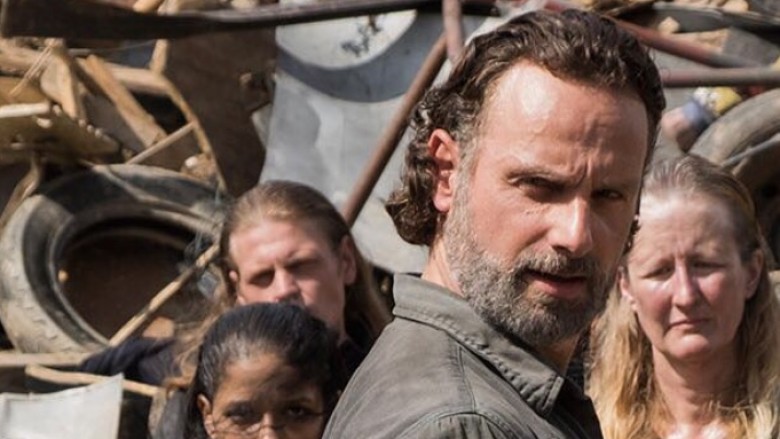 Rick meets a friend—or enemy—in a new image from the second half of The Walking Dead's seventh season.
In the pic, released to Entertainment Weekly, Rick appears to be giving the side-eye to an unknown woman, who is likely a part of the "new survivors in incredible places" that the network said viewers would meet in the season 7B's official synopsis.
"I'm just going to say that Rick is going to meet this person and/or persons pretty quickly," showrunner Scott M. Gimple teased. "The answers are just around the heap. I cannot wait for people to meet this character and to see this actor. There is some formidable fun coming up."
Meanwhile, producers say that the later episodes of season seven will be less violent than the earlier ones.
"We were able to look at the feedback on the level of violence," executive producer Gale Anne Hurd said during a panel session at the NATPE conference, according to Variety. "We did tone it down for episodes we were still filming for later on in the season."
The first half of the season received some negative fan and critical response due to the brutal nature of Negan's storyline. However, Hurd says that producers recognize that "this is not a show that is torture porn," and want to make sure they "don't cross that line" in future episodes.
Still, the back half of season seven looks like its going to be quite hard on Rick and the gang. The official synopsis says that the group will have to go to "nothing short of remarkable" lengths to find the weapons, food and new fighters needed to defeat Negan. However, "no amount of planning will prepare the group for all-out war with Negan and his army."
The Walking Dead returns Feb. 12 at 9 p.m. on AMC. While we wait, read up on the behind-the-scenes history of The Walking Dead that you may not know.