Why Christopher From Voyagers Looks So Familiar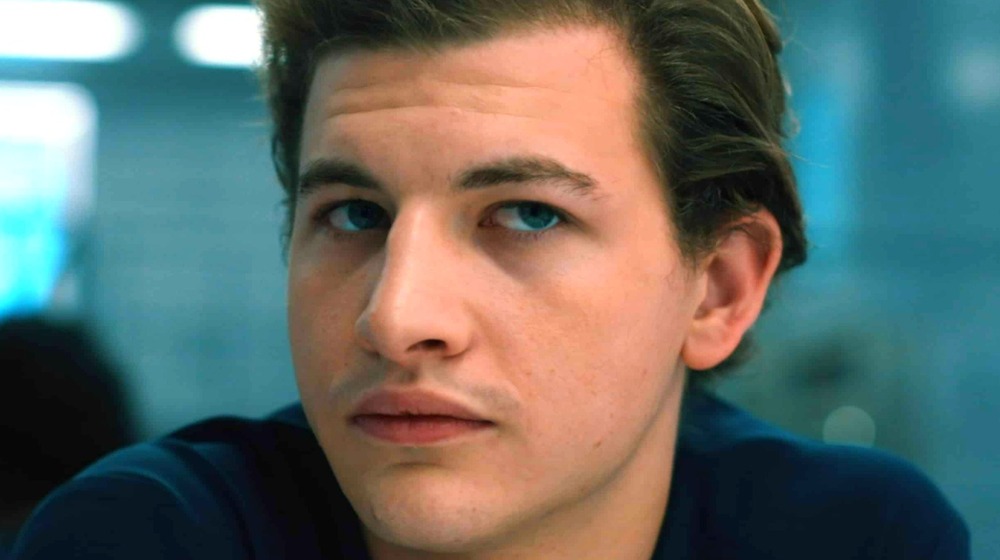 Lionsgate
More and more COVID-delayed movies are finally hitting our screens as we progress through the year, and one new arrival takes us far away from our pandemic planet ... all the way to space. The film is Voyagers, a science-fiction thriller from writer-director Neil Burger.
Burger's most recent project (apart from directing four episodes of the Showtime series Billions) was the 2017 Bryan Cranston-Kevin Hart dramedy The Upside. With Voyagers, Burger returns to the genre that brought him; he is, after all, the director responsible break-out dystopian films like Limitless (2011) and Divergent (2014). Billed as "Lord of the Flies in space," Voyagers is about a crew of young astronauts born and bred specifically for a mission to find and populate a new planet. When some of the astronauts realize they've been chemically manipulated to erase their emotions, the mission descends into chaos.
The film's biggest star is Colin Farrell. He's joined by an ensemble cast of relative newcomers, including Lily-Rose Depp and Fionn Whitehead, but you might recognize at least one of the young crew members. That's the film's lead character, Christopher. He's played by actor Tye Sheridan, and you might know him because he's been in the business for about ten years, racking up a bunch of serious credits.
Here's why Christopher from Voyagers looks so familiar.
Tye Sheridan starred in the buzzy Spielberg film Ready Player One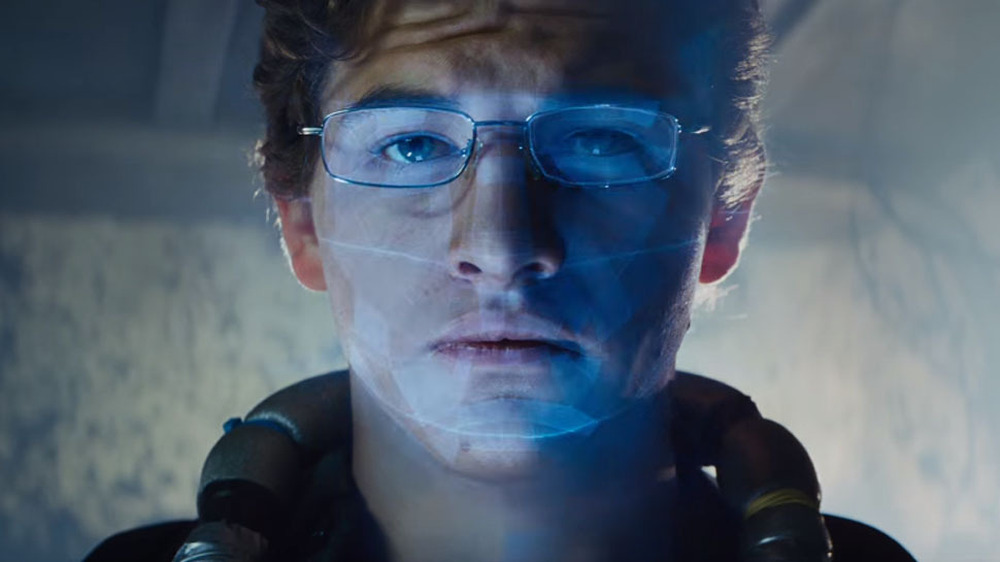 Warner Bros.
Sheridan's breakout role came in 2018, when he played the lead in Spielberg's adaptation of a wildly popular 2011 science-fiction adventure book of the same name, penned by Ernest Cline. An ode to video games and throwback pop culture, the story follows Wade Watts (player name: Parzival) as he teams up with other players to be the first to find a digital Easter egg hidden in OASIS, an adventure virtual reality game that's become the main coping tool for people suffering in the near-apocalyptic world of 2045. According to a death-bed promise from OASIS's creator, whomever finds the game's Easter egg will inherit a fortune.
Sheridan gained widespread fame playing the story's hero, Wade, a gamer geek who must lead his group through the treasure hunt, while facing threats from the game and other, far more sinister players seeking the treasure. Sheridan was nominated that year for a Teen Choice Award as Choice Movie Actor: Sci-Fi, and he and his co-star were nominated for the silly-cool MTV Movie Award for Best Kiss. The film itself fared even better in honors, earning nominations across a variety of awards programs, including an Oscar nomination for Best Visual Effects.
Reviews of Ready Player One were mixed, but for the most part, the film was considered a successful and fun adventure. The Verge writer Tasha Robinson said the film "improves immensely on the book," and it holds an above-average Rotten Tomatoes audience score of 77% and critics score of 72%.
Sheridan is also part of the X-Men universe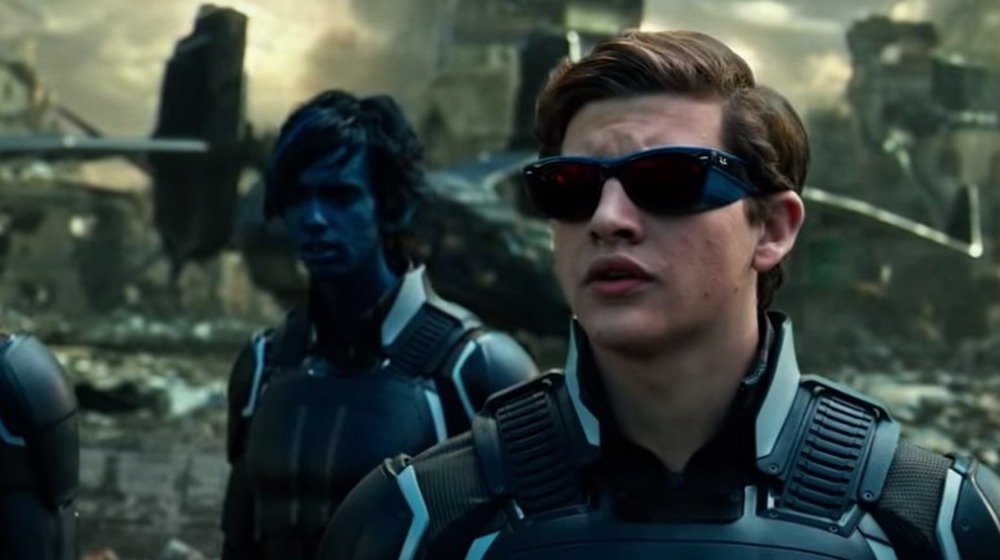 20th Century Studios
Before playing a Spielberg movie hero, Sheridan played a hero in a different high-profile world: Fox's X-Men universe. He starred as Scott Summers, a.k.a. Cyclops, the mutant who can fire blasts from his eyes (basically, they're laser guns). An early X-Men recruit, Cyclops becomes a leader of the team and love interest to Jean Grey (Sophie Turner).
Sheridan plays Summers in 2016's X-Men: Apocalypse and 2019's X-Men: Dark Phoenix, taking over the role from James Marsden. The actor change came with the transition from the first wave of X-Men films, which began with the original in 2000 and ended with X-Men: The Last Stand in 2006, to the second wave, which was dubbed X-Men: Beginnings, and began in 2011 with X-Men: First Class.
In a Good Morning America interview, Sheridan said playing a character whose eyes are hidden behind glasses was challenging, since it eliminates a significant form of expression. Nevertheless, he managed, and the film found success. It's unclear what's next for Marvel's X-Men films now that the franchise is back inside the MCU, but the actor told ComicBook.com he would return to the role if asked, and if the story worked.
Early in his career, Sheridan starred in the 2012 drama Mud
Lionsgate/Roadside Attractions
Flexing his chops outside the realm of heroes and fantasy-sci-fi films, Sheridan starred in a much more grounded and grittier movie, Mud. The 2012 indie drama was among the first films of Sheridan's co-star Matthew McConaughey's career renaissance—the McConaissance.
McConaughey plays the titular character, Mud, a fugitive on the run in Arkansas after killing a man in Texas. He is intent on reuniting with the love of his life, Juniper (Reese Witherspoon), despite having bounty hunters on his trail. When he encounters two 14-year-old boys, Ellis and Neckbone, on a Mississippi River Island in Arkansas, he enlists their help to find Juniper and evade capture.
Sheridan plays Ellis, who first agrees to help Mud in part because he relates to Mud's lovelorn spirit — Ellis is currently experiencing his first crush. The boys are initially weary of Mud but they bond with him as they work to free a boat that's long been abandoned in the middle of the island.
Ellis was just the second credited role of Sheridan's then-budding career, yet the then-16-year-old actor managed to convey the nuanced emotions demanded by the heavy drama well enough to earn significant praise. He was nominated for several awards, including the Broadcast Film Critics Association Awards' honor for Best Young Actor/Actress, and won (along with his co-star, Jacob Lofland, who plays Neckbone) the Prix d'interprétation Masculine award of the Festival 2 Valenciennes, a French film festival awards program. It was certainly an impressive career start for Sheridan.
Sheridan went on to star in the horror comedy Scouts Guide to the Zombie Apocalypse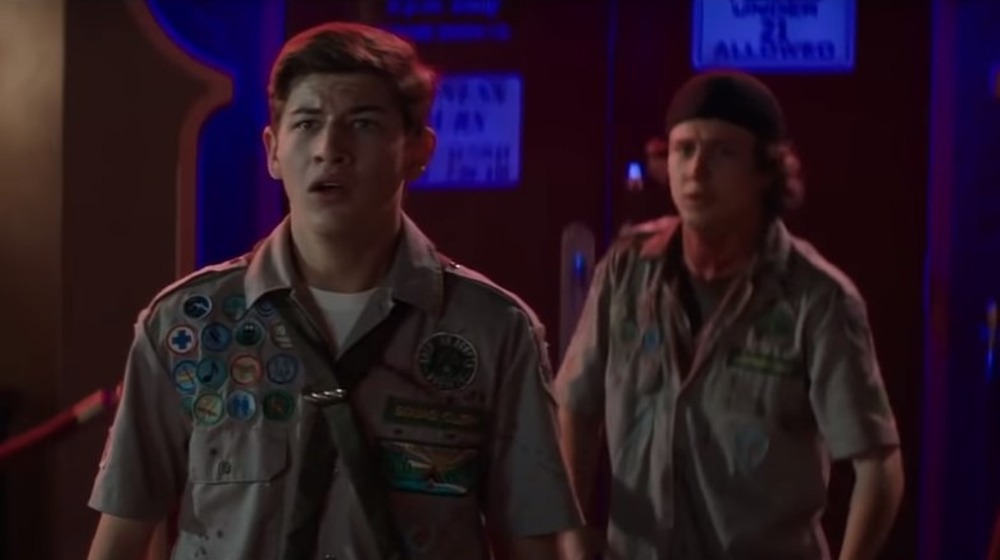 Paramount Pictures
Three years after Mud, Sheridan had a busy 2015, appearing in five films throughout the year. One of the films was Scouts Guide to the Zombie Apocalypse. It was something different for Sheridan, as it was a horror comedy instead of a straight drama.
Directed by then-newcomer Christopher Landon — who did the fifth Paranormal Activity film the year before, and who has since gained acclaim for Happy Death Day and Freaky — Scouts Guide is about three Boy Scouts who must team up to save their town from a zombie outbreak. Sheridan plays the gentle boy Ben who, with the help of fierce cocktail waitress Denise (Sarah Dumont), leads the heroic effort alongside his friends Carter (Logan Miller) and Augie (Joey Morgan).
The film didn't reach mainstream success, but it received some critical praise, including from Empire's Simon Crook, who called it a "likable horror-comedy with a satisfyingly high splatter count." For his part, Sheridan nailed the boy-next-door underdog hero trope with effortless charm and charisma.
Sheridan became the titular Night Clerk in this stylish thriller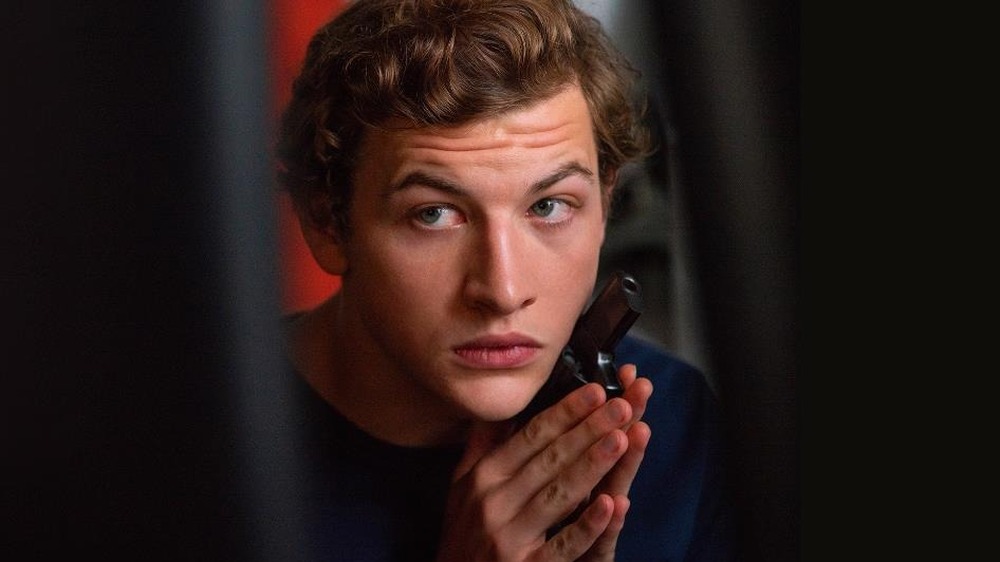 Saban Films
Sheridan's most recent significant role was in the 2020 thriller The Night Clerk. He stars as Bart Bromley, a hotel night clerk whose inappropriate strategy for managing his Asperger's Syndrome puts him in the center of a murder investigation. Bromley places video cameras throughout the hotel rooms with the intention of studying human interactions to mimic them, and thus improve his own social skills. So when his hidden cameras pick up a murder, he becomes suspect number one.
The film co-stars recent Hollywood breakout Ana de Armas, legendary veteran Helen Hunt, and the revered John Leguizamo. It was released to some modest buzz, but then went under the radar. Ratings and reviews are mixed, with the scales tipped slightly to unfavorable, but Sheridan received some praise for his own part. The New York Post's Sara Stewart wrote, "Sheridan's dedicated performance keeps you watching."
Variety writer Lisa Kennedy agreed: "Sheridan delivers a sincere, studied performance."
With Voyagers, several upcoming films, and this list of where you've seen him before, it's safe to say that there will be plenty of Tye Sheridan on our screens for years to come.