Here's What's Next For Luke Cage In The Defenders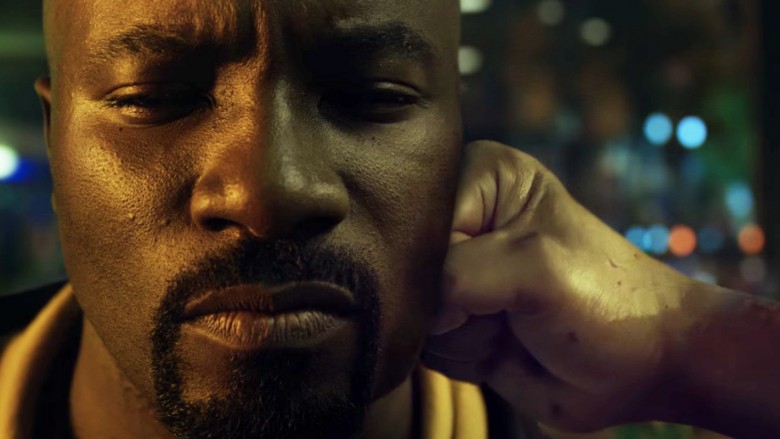 The first season of Netflix's Luke Cage series was a breakout hit for Marvel's slate of street level superhero stories, but where does the small screen Power Man go next?
Mike Colter told Entertainment Weekly about where his fan favorite character will be once Luke returns in the team-up miniseries The Defenders. As fans know, Luke was actually headed back to jail at the end of his show's debut season. But, he thankfully won't be consulting with the Defenders from behind cars. Colter confirmed it's "safe to say" he'll get his freedom in The Defenders, and his character will have matured even more after coming clean and addressing his past head on at the end of Luke Cage. Now that Luke has faced his demons and paid his debt, Colter said it will give the burgeoning hero a "different approach to life."
So once the Defenders start to come together, Colter said his character will be the "conciliator" tying the team together in a leadership role. He'll also serve as a mentor to the new hero Iron Fist, aka Danny Rand (played by Finn Jones). Iron Fist will have his own origin story in a solo series debuting March 17 before joining up with the rest of Marvel's Netflix heroes in the Defenders miniseries. Colter said they strike a "wisdom-versus-youth quality" between the two heroes, as Luke helps him become a hero in his own right.
As fans are well aware, Luke Cage and Danny Rand have a long history in the comic canon, headlining Marvel's successful Heroes for Hire comic series for years. The two are the best of friends in the comics, so it'll be interesting to see how Marvel translates that relationship to live action. The Defenders will be busy enough with their own story in the miniseries, but Colter teased they will "pay homage" to the Heroes for Hire while updating the original 1970s setting for the modern day.
The Defenders miniseries is set to premiere in mid-2017, starring Charlie Cox as Matt Murdock/Daredevil, Krysten Ritter as Jessica Jones, Mike Colter as Luke Cage, and Finn Jones as Danny Rand/Iron Fist.