What Only Motorcycle Fans Know About Hagrid's Bike In Harry Potter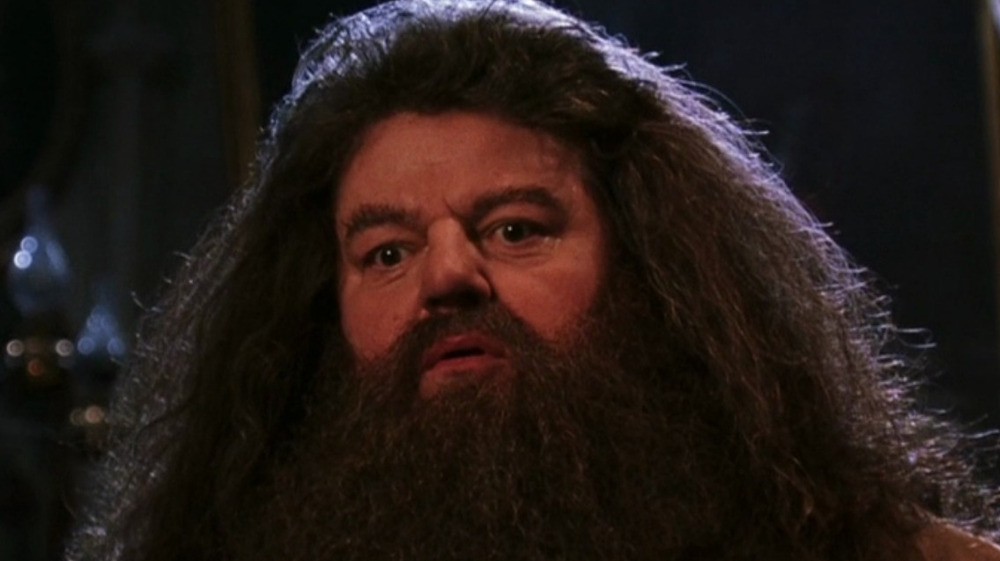 Warner Bros. Pictures
Ever since Harry Potter entered into the public's imagination in 1997, it's ballooned from a massively popular book series to a lucrative film franchise to landing its very own theme park. The series is so beloved that you can find a fan within almost any age range and demographic. Even motorcycle fans can like Harry Potter. Though Uncle Vernon is no fan of motorcyclists, comparing them to "maniacs" and calls them "young hoodlums," motorcycles play a prominent role in the books and films.
One of the most memorable images in the series is of the always lovable Hagrid (Robbie Coltrane) on his motorbike. In The Sorcerer's Stone, the half-giant, half-wizard flies in on a bike (the one he borrowed from Sirius Black) to deliver the newly orphaned baby Harry to Dumbledore (Richard Harris) and McGonagall (Maggie Smith) to stay with the Dursleys. The other memorable moment is when we see the vehicle in Harry Potter and the Deathly Hallows. Harry rides alongside Hagrid on the enchanted bike as the Order of the Phoenix helps the young wizard evade Death Eaters using identical decoy Harrys.
There's a detail about Hagrid's bike in Harry Potter that only true motorcycle fans would know. What is it, you ask? Let's find out.
Hagrid's bike from Deathly Hallows is a Royal Enfield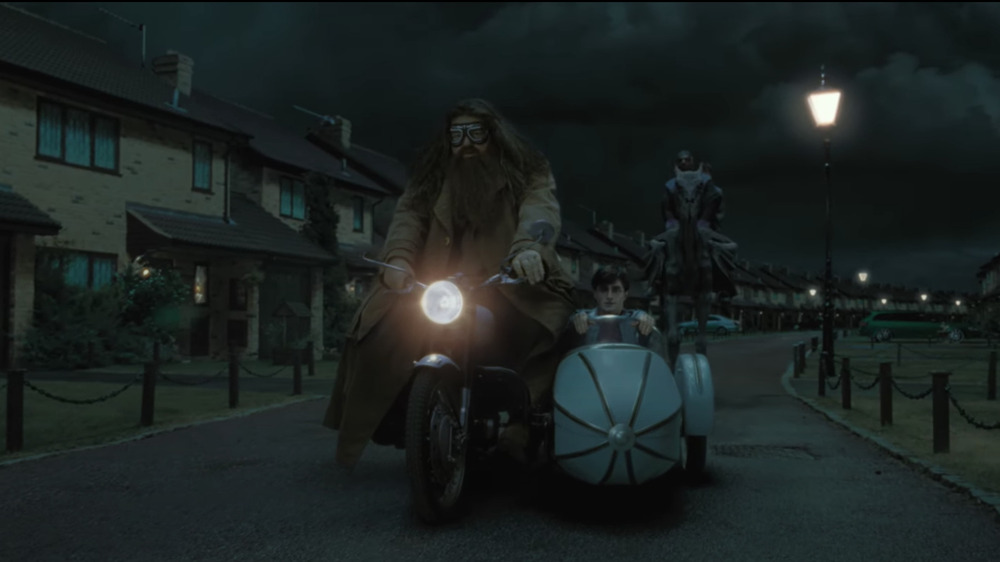 Warner Bros. Pictures
In the Sorcerer's Stone, Hagrid rolls around on a 1959 Triumph 650 T120 Bonneville. In Deathly Hallows, however, he has a completely different bike. In that film, he rides a Royal Enfield Bullet 500 with a 499cc petrol engine. The Royal Enfield bike became so iconic, in fact, that Warner Bros. lent it out to be put on display at the Museum of Liverpool in 2016.
There's also a fun story about the sidecar Harry rode in during the film. Ben Matthews, the director and co-owner of Watsonian Squire, a sidecar manufacturer who distributes Royal Enfields, was contacted to supply a custom sidecar for the final Potter film and said the crew eventually bought seven motorbike and sidecar "outfits." (via Autoevolution) "One ended up in a lake, one was made lighter for a flying scene and one was modified for a stunt," he said.
By the way — don't fret if you aren't able to see the Royal Enfield in person. There's always the Hagrid's Magical Creatures Motorbike Adventure ride at the Wizarding World in Universal to make you feel like you're riding with good old Hagrid.