How Breaking Bad Changed Albuquerque Forever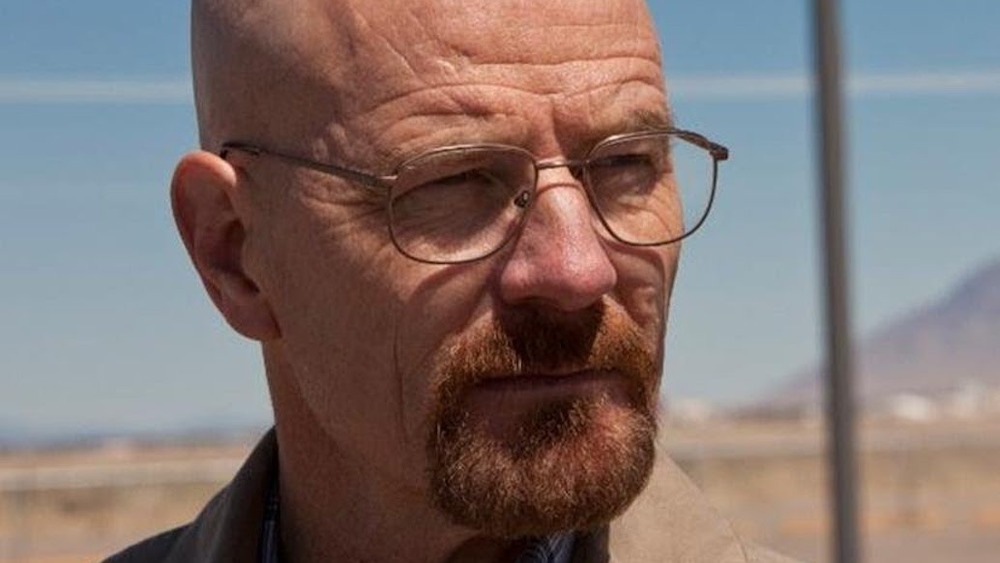 AMC
Breaking Bad, the popular drama series about a chemistry teacher who starts cooking meth to make money for his family, wrapped up in 2013. In the years since the Vince Gilligan-created show aired its finale, fans haven't stopped talking about it. They haven't stopped rewatching and analyzing it either, making it almost as relevant today as it was while it was on the air. After all, there is a lot to talk about, as Breaking Bad is full of drama, action, and a ton of crime surrounding the underground meth business — all within its setting of Albuquerque, New Mexico.
Those who live in Albuquerque were likely more excited than anyone to see their town used as the setting for Breaking Bad. In fact, it seems the city has fully embraced its connection to the show, which has had a lasting impact on Albuquerque as a whole.
Albuquerque uses Breaking Bad to draw tourists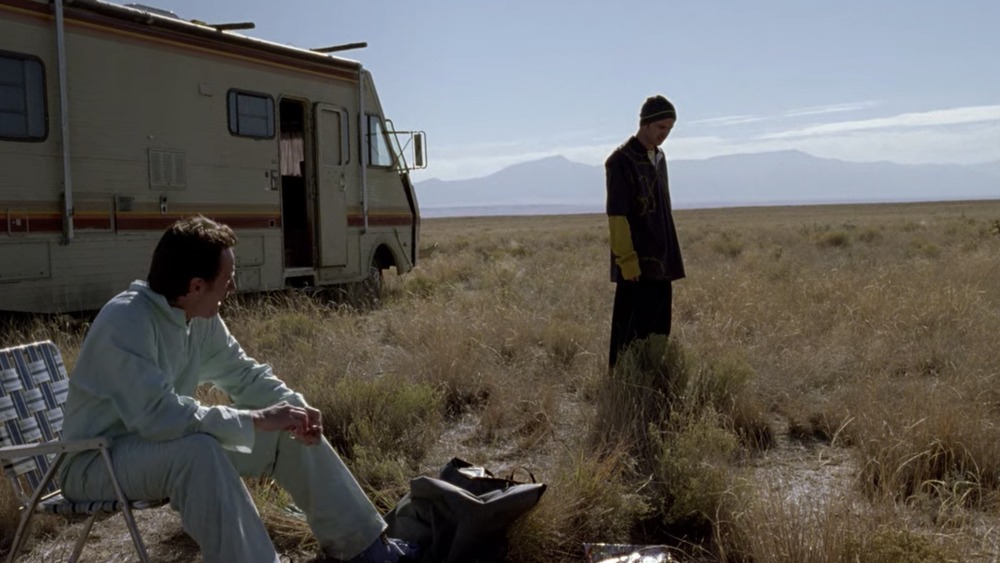 AMC
A year after the show ended, The Independent wrote a piece that detailed how Albuquerque had seen an increase in tourists during and after the time Breaking Bad was on the air.
For example, an open-air bus company was described as taking guests on tours that showcased the locations frequently used to shoot scenes, such as the homes of the lead characters, meaning fans got to see locations such as the famous White house where Walt threw the pizza on the roof. Taking it a step further, another company still offers similar tours — but in a replica of Walter White and Jesse Pinkman's RV that they used as a makeshift meth lab in the series. The Independent wrote that these groups were actually started by unnamed actors who played minor roles on the show.
According to Vanity Fair, the number of tourists who visit New Mexico has noticeably increased. Furthermore, while most tourists used to cite "outdoor activity" as their reason for visiting the state, that changed to "cultural activity" after 2011. Meanwhile, former Albuquerque Mayor Richard Berry must be among the many fans of the show, as he named March 16 "Breaking Bad Day," according to The Independent. Having its own day will definitely guarantee that the city's association with the show is never forgotten.
Crystal-meth-themed food is also a thing in Albuquerque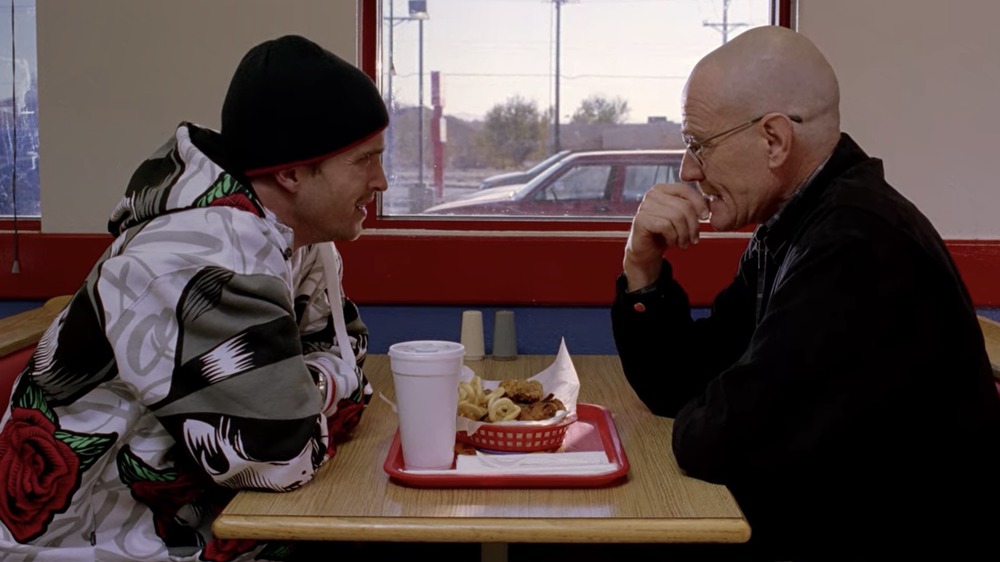 AMC
The tourism factor goes beyond set tours in RVs and seeps into the city's food industry. In what may be the most obvious choice, Screen Rant has noted that some stores in Albuquerque also sell candy labeled as "blue crystal meth," after the drug that made Walt's alter ego Heisenberg a famous and feared name.
Additionally, Vanity Fair details how Albuquerque donut shop Rebel Donut created a Breaking Bad-themed donut (after the show's production team requested it) to celebrate Aaron Paul's birthday in 2011. It's called Blue Sky, and has either white or blue frosting, with pieces of candy that look like the famous drug. A picture of Paul with the donuts circulated the internet, and soon, the donut got so popular that it became a permanent fixture on the Rebel Donut menu. Plus, the owner of Rebel Donut, Carrie Vender, says that she believes they sold about 8,000 of the Blue Sky donuts on the day of the series finale in 2013, according to Vanity Fair.
Within the world of Breaking Bad, there's one very famous food fixture: Los Pollos Hermanos, the restaurant Gus Fring uses as a front for his meth business. Los Pollos Hermanos was filmed at a local chain in Albuquerque called Twisters, which keeps a Los Pollos Hermanos sign hanging inside. Vanity Fair writes that some fans turned Twisters back into Los Pollos Hermanos for the tenth anniversary of the series premiere. 
It's safe to say that no one who is at all familiar with Breaking Bad will be forgetting its ties to the city of Albuquerque any time soon.