How Much The Rickey Henderson And Hank Aaron Baseball Cards On Pawn Stars Are Really Worth
History
Baseball cards are known for their value, even more so than the most expensive Pokémon cards, and they're some of the most sought-after collectables on the market. One Pawn Stars customer wanted to sell his Rickey Henderson and Hank Aaron cards on the most recent episode of the reality TV show, thinking that the Henderson card was worth $30,000 and the Aaron card about $10,000.
Unfortunately, like a lot of people who try to sell any kind of collectible card, the customer on Pawn Stars severely overestimated the worth of his items. While some Henderson and Aaron cards can definitely pull in that amount of cash, they have to be in near-perfect condition to do so. If the card authentication and grading company Professional Sports Authenticator (PSA) gave the cards a Gem Mint 10 (GM-MT 10) grade — handed to cards that are "free of staining of any kind" and that have "four perfectly sharp corners, sharp focus, and full original gloss" – they actually would've pulled in more than the $40,000 the customer expected. 
However, the customer's cards were actually thought to be around PSA 4 (Very Good-Excellent, or VG-EX) or PSA 5 (Excellent, or EX), according to an expert on the show. This means the combined value of these cards, as the expert estimated, was only around $300. Here's what these cards are selling for today.
The true value of PSA 5 cards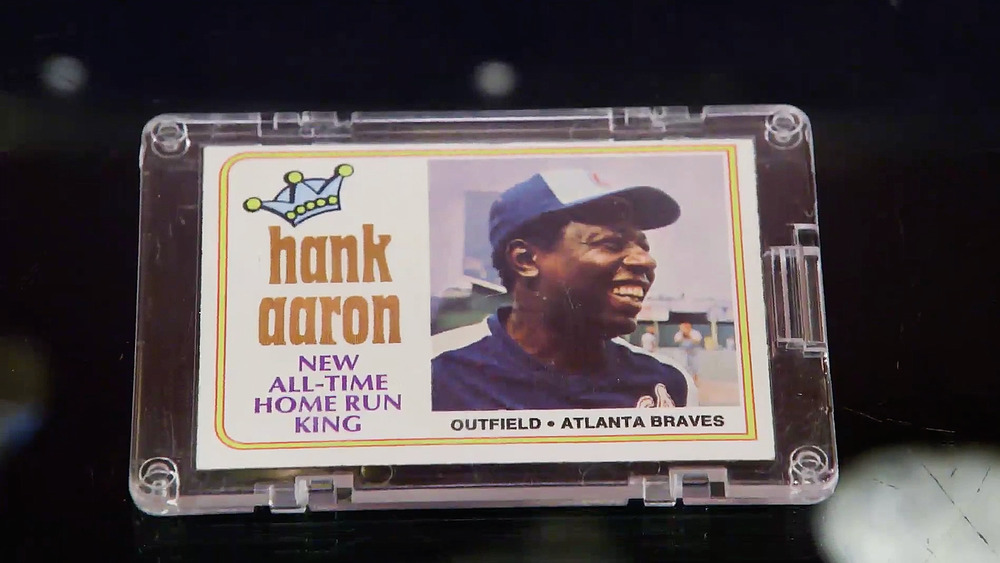 History
Since the cards brought to the World Famous Gold & Silver Pawn Shop were in pretty rough shape compared to what most collectors want, it's hard to say what they're truly worth, as baseball cards at this level aren't always recorded when they're sold.
According to the PSA card site, the last time the Rickey Henderson card seen on Pawn Stars sold at a PSA EX 5 level was for $100 on eBay. Before that, there are records of a card graded PSA VG-EX 4 being sold for $84 — a little over half of the $150 the show evaluated it to be worth. There are listings of the card graded at a PSA EX 5 for right around $100 on eBay, so it seems like that's the real value of the card. 
The Hank Aaron card is in even worse when it comes to market value. In early 2021, PSA EX 5s of the card were being sold for as low as $50. If the card was graded as a PSA VG-EX 4, it drops as low as $18.
All in all, while the customer didn't make any money on Pawn Stars, at least the cards weren't fake.