What Are The Songs In Capital One's 'All Aboard' Commercial?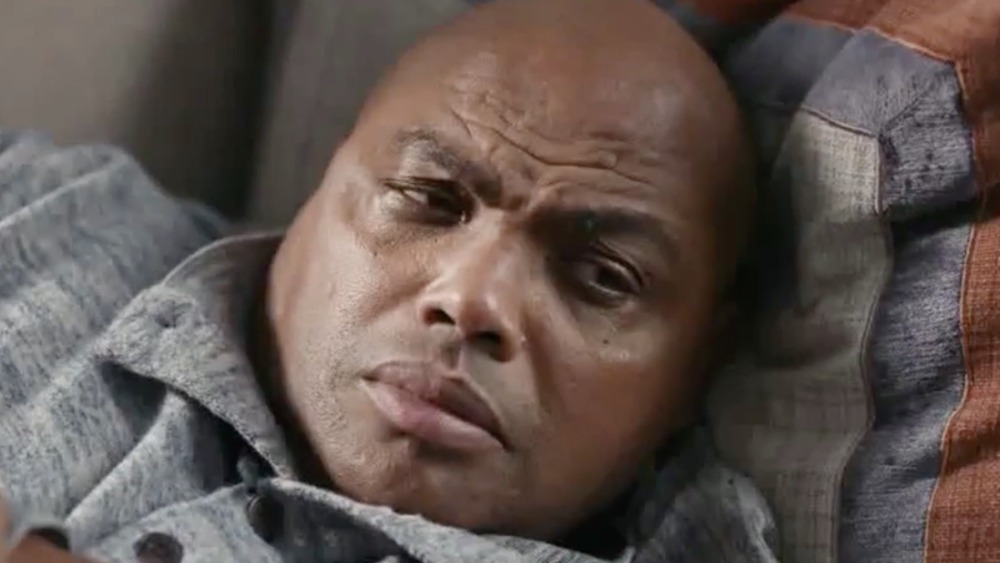 Capital One
While Charles Barkley became a superstar with his exploits on the hardwood, the NBA legend and Basketball Hall of Fame inductee may now be just as well-known for his work in front of the camera. Every week during the season, Barkley can be seen hamming it up with Ernie Johnson, Kenny Smith, and Shaquille O'Neal on the set of TNT's Inside the NBA. Going beyond basketball, though, the 11-time All-Star and two-time Olympic gold medalist has appeared in a number of television commercials, in addition to his work on films like Space Jam.
And just as he does when he is offering his commentary on the latest NBA happenings, Barkley brings a flair all his own when he is starring in an ad spot.
Such was the case with his latest commercial project — an NCAA Final Four-inspired ad for the Capital One Venture card. In the 45-second spot, Barkley is joined by BAFTA-winning actor Samuel L. Jackson and Oscar-winning filmmaker Spike Lee as he boards a train apparently headed for a March Madness venue while espousing the card's travel-centric benefits.
As good as the trio was in the commercial, though, Barkley and his cohorts were definitely aided by some classic tunes, one of which they actually performed alongside the "Empress of Soul" herself, Gladys Knight.
'Midnight Train to Georgia'
Upon encountering Knight, Barkley informs Jackson and Lee that the legendary singer is going to need "some Pips," a reference to her iconic R&B/soul act, Gladys Knight & the Pips. Shortly thereafter, the three men find themselves acting as backing singers while Knight performs the song "Midnight Train to Georgia."
Recorded and released in 1973, "Midnight Train to Georgia" was a track on the Pips' 1973 LP Imagination. The song reached No. 1 on the Billboard Hot 100 and was later honored with a Grammy Award for Best R&B Vocal Performance by a Duo, Group, or Chorus.
It was originally written and performed by singer-songwriter Jim Weatherly as "Midnight Plane to Houston" before Knight put her own spin on it. Soul singer Cissy Houston also covered the song as "Midnite Train to Georgia" before it found its way to the Pips.
More recently, it was performed by assorted cast members at the end of the season 5 episode of Modern Family, "The Late Show," as it was the favorite song of Ed O'Neill's character, Jay.
'Goin' Back to Indiana'
Just as Barkley, Jackson, and Lee are beginning to hit their groove, the commercial cuts to the basketball star waking up on a couch. In short order, Jackson informs him that he had been dreaming. However, the trio quickly transitions into another impromptu musical performance. Clad in 1970s garb, they begin to move and shake to the sounds of "Goin' Back to Indiana" by the Jackson 5.
The song — which was recorded and released in 1970 — originally featured on the Jackson 5's third studio album, aptly titled Third Album. That LP also yielded what was the group's fourth-straight chart-topping single and one of their most popular and enduring songs in "I'll Be There."
"Goin' Back to Indiana" was a semi-autobiographical track, making reference to the Jackson family's life and roots in Gary, Indiana, which is located just 25 miles from downtown Chicago, Illinois.
Although they may not match his efforts in Space Jam, Barkley's dance moves to the Jackson 5 classic, as well as Knight's signature song, will certainly linger in one's memory.