The AHS Star Who's More Similar To Their Character Than You Think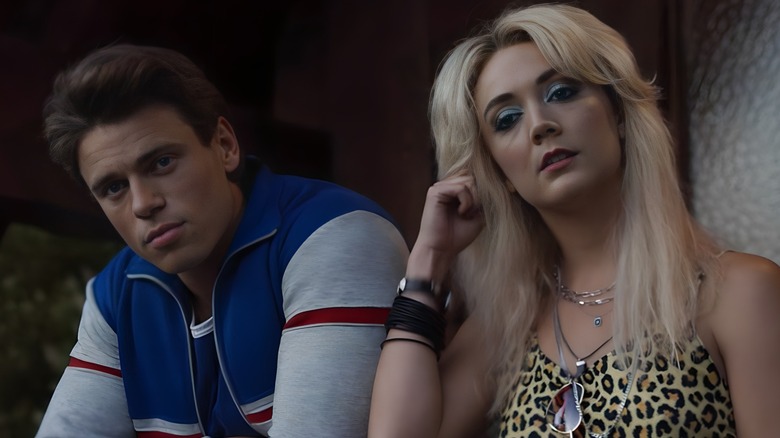 FX
American Horror Story is known for casting some beloved actors in its many roles. Fans were over the moon when big names like Kathy Bates, Cuba Gooding Jr., and Lady Gaga joined the cast, for example. Similarly, although she technically got her Murphy-verse start in Scream Queens, Hollywood royalty Billie Lourd has also become a fan favorite of the show.
In American Horror Story: 1984, newcomers replace some of the regular cast, introducing viewers to Angelica Ross, Gus Kenworthy, Matthew Morrisson, and Zach Villa. These fresh faces do some heavy lifting with their characters, ranging from crazed psychologists to real serial killers. Each character is rich in backstory, with most of them receiving a dedicated flashback episode for the season, normally to explain their past sins prior to death (in true slasher style). While most of the actors are playing a part, however, one star in particular is more similar to their character than you think.
Gus Kenworthy can relate to his character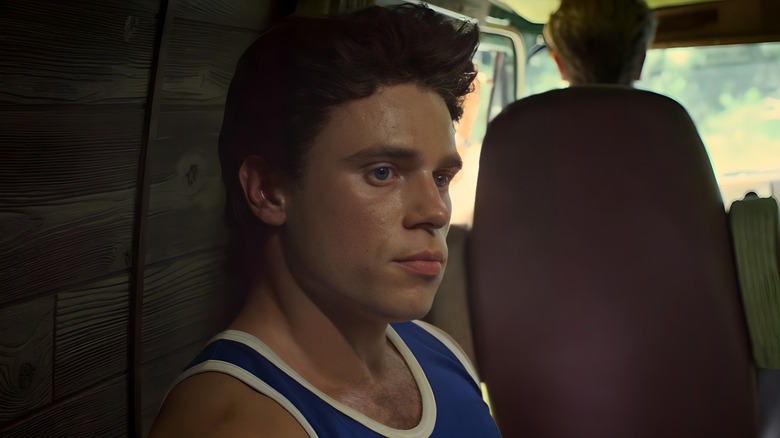 FX
Hot bods are of the utmost importance in Murphy's version of the 1980s. Back then, instead of yoga and CrossFit, aerobic gyms dominated the fitness world. To pull off the countless spandex suits and crop tops in American Horror Story: 1984, Murphy cast athlete Gus Kenworthy in the role of Chet Clancy. 
Chet's impressive physique and simple logic fulfill the archetype of the jock typical in horror movies. At the beginning of the season, he decides to join Brooke (Emma Roberts) at the summer camp to avoid coverage of the upcoming Summer Olympics. It's a sore subject since Chet was recently disqualified from the event for testing positive for drug use. We can imagine that prior to the events in 1984, Chet would have been counting on winning a medal on behalf of his country, and not spending the summer being chased by Mr. Jingles. 
Thankfully, Kenworthy had more discipline than his fictional counterpart. He's a bonafide Olympian, having competed twice in the games. He won the silver medal in 2014's Sochi Winter Olympics and competed again at 2018's PyeongChang games, as well as the Winter X Games.
Despite only appearing in some bit parts prior to 1984 (The Real O'Neal's, Sharknado 5), Kenworthy stepped into the role of the disgraced pummel horse competitor with ease. He was eager for the role, explaining to ESPN that it was the first time he didn't have to play himself in a part. 
Kenworthy continues to pull double duty as a competitive skier and actor. He shared via ESPN that if anyone is writing a Jeffrey Dahmer film, he's interested in the lead.