Exclusive Clip: Into The Dark: Blood Moon Will Thoroughly Freak You Out
Are you ready to go into Into the Dark?
The second season of Hulu's captivating horror anthology series is approaching its end, but before it gets there, Looper is excited to share an exclusive clip from the episode.
Set for release tomorrow — Friday, March 26 – Into the Dark's season 2 finale bears an appropriately ominous title: "Blood Moon." The episode, directed by The Wind's Emma Tammi and co-written by Adam Mason and Simon Boyes of Songbird and Hangman notoriety, follows a mother named Esme (Megalyn Echikunwoke), who moves to a new area with her 10-year-old son Luna (Yonas Kibreab). A secluded town in the desert seem like the perfect place to start their lives over, but achieving that dream is far more difficult than one may think.
This has everything to do with a secret Esme and Luna are trying to keep hidden from their inquisitive neighbors. In the clip, Luna is seen standing in front of the fridge, staring at packets of raw ground beef and a plastic-wrapped "farm-fresh chicken" sitting inside. His skin is damp with sweat, his eyes sunken in — he's clearly unwell. When Esme approaches Luna, placing a hand gently on his shoulder, he flinches and lets out what sounds like a low growl. "Sorry, I don't feel good," Luna tells his mother. She tells him she understands, and that "it'll be over soon."
What "it" is Esme referring to? Well, as the camera pans from the fridge to the calendar on the wall, an answer is teased: the Blood Moon, which occurs "when Earth's moon is in a total lunar eclipse," making it appear red (via Space.com). What happens to Luna when the Blood Moon rolls around — and whether Esme will be able to protect her son from harm during the eclipse — is a mystery fans will get to unravel when the Into the Dark season 2 finale hits Hulu.
Into the Dark is a horror fan's holiday-inspired dream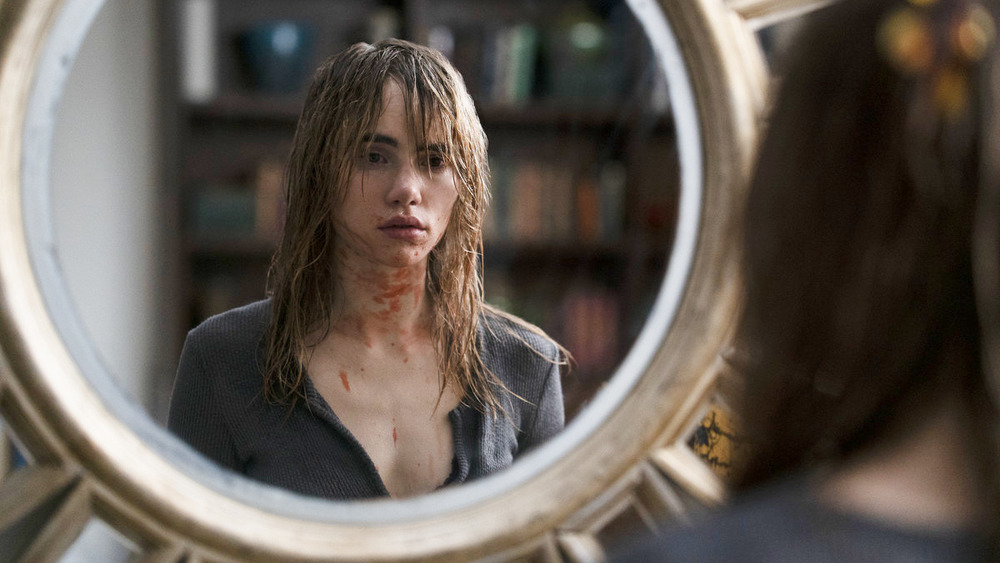 Richard Foreman/Hulu
Created in partnership with producer Jason Blum's studio Blumhouse Television, Into the Dark has released 23 installments to date, each inspired by a different holiday, running the length of a feature film, and aired a month apart from one another. 
In its first season, which premiered in October 2018, the anthology series rolled out chilling installments centered on a hitman hauling his victim's body across town on Halloween; a young woman believing danger is hiding inside her house on Thanksgiving; childhood friends exacting revenge on another for a heinous act they committed when they were younger (this one stars Suki Waterhouse, shown above); co-workers getting stuck in an elevator on Valentine's Day, which gets literally horrific the longer they're trapped inside; and heart-stopping episodes spanning the Ides of March all the way to Daughter's Day in late September.
The second season of Into the Dark maintained this pattern — starting the cycle over on Halloween in October and taking viewers through holidays like Christmas, St. Patrick's Day, Easter, and Independence Day before kicking back up again in February 2021 for another Valentine's Day episode, entitled "Tentacles." Now, we're at the Spring Full Moon holiday, and things are going to get bloody.
Those keen to get their spook on can catch up on Into the Dark's past episodes on Hulu now. Into the Dark's "Blood Moon" episode arrives on Friday, March 26.