Whatever Happened To Reese From Malcolm In The Middle?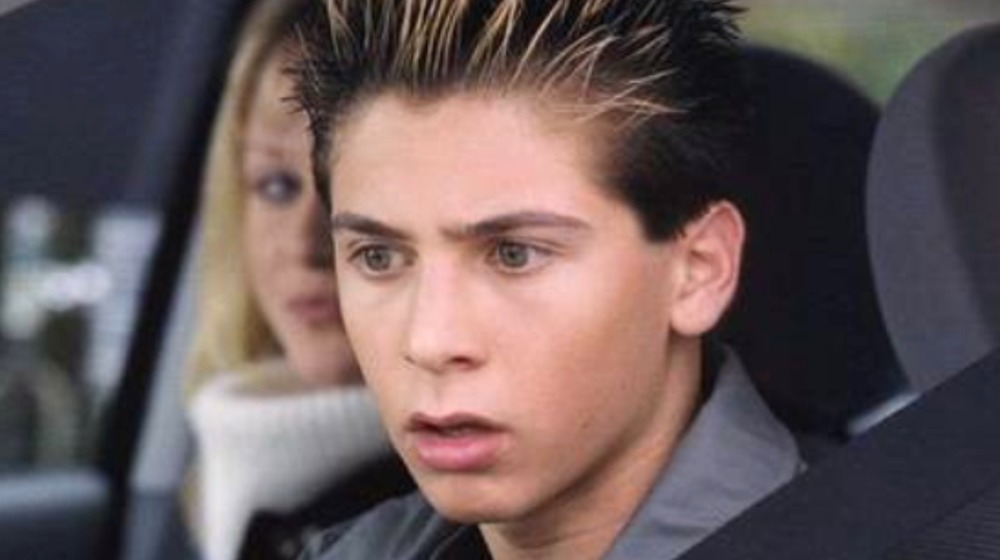 Fox
In every family-focused sitcom, as in most real-life families, there's always one child who's a little lacking in the intelligence department. Often the "fool" is also the funniest character, or the best-looking, or the biggest rascal, or all of the above. One of the most iconic "fool" siblings of 21st century sitcoms is Reese Wilkerson, the second-born of four (eventually five) boys in Malcolm in the Middle.
The Fox sitcom, which ran for seven seasons from 2000 to 2006 and garnered awards, acclaim, and everlasting pop culture smash status, starred Frankie Muniz as the titular Malcolm, a gifted teen who had to put up with the constant shenanigans of his dysfunctional family. A particularly annoying burden for Malcolm was his older brother Reese. If Reese wasn't tormenting Malcolm, he was enlisting him — or battling him — to torment the youngest boy, Dewey, or he was stirring up trouble in other forms, like chasing girls, bothering teachers, or pranking his parents, Hal and Lois. But whatever he got into, no matter how stupid or crazy, it was sure to be funny and you couldn't help but love the dope.
That's in large part due to the writing, of course, but it's also thanks to the young actor who played Reese, Justin Berfield. Berfield had the good looks, comedic timing, facial expressions, and other qualities that make a good "fool" character. In fact, his talent earned him plenty of attention during Malcolm in the Middle's run, as he was nominated for the Young Artist Awards' Best Performance in a TV Series – Supporting Young Actor award in 2003. His portrayal of Reese was always endearing and unforgettable. However, though the character himself hasn't been forgotten, fans might not know what the actor has been up to.
Wonder no more. Here's what happened to Reese from Malcolm in the Middle.
Justin Berfield has faded from Hollywood but still lives it up
Before Berfield landed his fame-making role as Reese on Malcolm in the Middle, he'd been acting for almost a decade. His first credited role was as a series regular in the short-lived 1994 NBC sitcom The Good Life. His next starring role was in the relatively successful WB sitcom Unhappily Ever After. During the show's five-season run from 1995 through 1999, Berfield picked up three Young Artist Awards nominations for his performance.
While working on Malcolm in the early aughts, Berfield didn't rest on his acting laurels. He also became active behind the scenes, conceiving a show and producing various small projects. After Malcolm, he continued producing, and he even directed a television movie called The Pet Detective. His biggest behind-the-scenes achievement was producing the Fox sitcom Sons of Tucson, which debuted in 2010. He also acted in one episode, but that would be his last credited role on camera, and the show only lasted one 13-episode season.
Berfield hasn't popped up again in Hollywood in the last decade, but according to his Instagram, he's living a happy, healthy life. In May 2020, the 35-year-old California native became a father for the first time. He appears to be an outdoors enthusiast, as his Instagram is full of photos of him skiing, hiking, and especially fishing.
He also doesn't seem to be totally removed from celebrity life, as one photo shows him rubbing elbows with entrepreneur Sir Richard Branson for the latter's Hollywood Walk of Fame star celebration in 2018 – which might be a controversial thing since Branson faced unpleasant allegations a few years ago. Berfield reportedly works with Branson, as he and Jason Felts are co-runners of Virgin Produced, the Los Angeles-based film and television development, packaging, and production arm of Branson's Virgin Group company.
Also, Berfield still lists "actor" as part of his identity in his Instagram biography, so perhaps the man a generation or three know as Malcolm in the Middle's loveable dope Reese will one day appear on screen again and deliver more laughs.