Why Maya Simmons From Godzilla Vs. Kong Looks So Familiar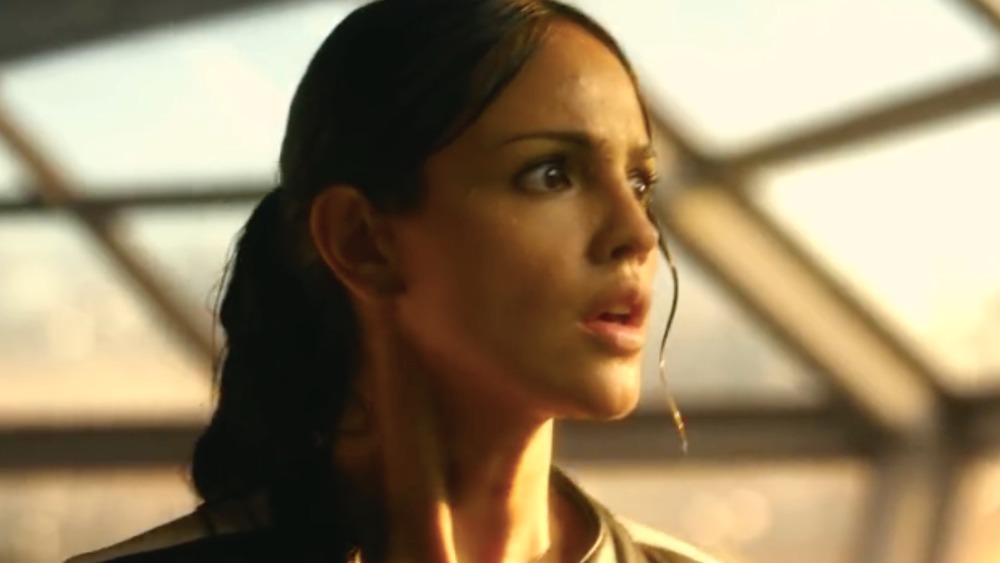 Warner Bros.
The March 2021 movie Godzilla vs. Kong features one of the biggest monster showdowns in cinematic history, which fans have been anticipating for years. The long-awaited battle royale took its first steps with the 2014 movie Godzilla, which began hinting at a larger cinematic universe. These notions were further solidified with the 2017 film Kong: Skull Island, and 2019's Godzilla: King Of The Monsters finally set the table for the two monsters to meet.
Godzilla vs. Kong features a number of new and returning faces from the franchise, including Mark Russell (Kyle Chandler), Madison Russell (Millie Bobbie Brown), Nathan Lind (Alexander Skarsgard), and Maya Simmons (Eiza González). If the last name on that list sounds familiar, it's for good reason: Eiza González has been in numerous blockbusters over the past few years. Here's where you may have seen her before.
Eiza Gonzalez was a major character in Baby Driver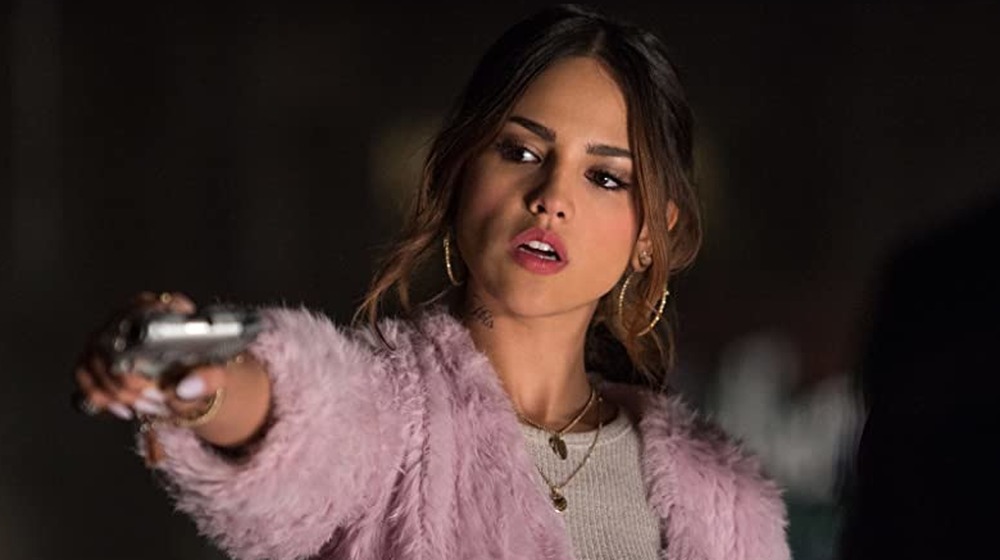 Sony Pictures Releasing
Eiza González made her acting debut in 2007 with the Mexican telenovela Lola, érase una vez, playing Dolores "Lola" Valente, a nanny and aspiring rock star who strikes up a romance with the eldest son of a rich family in Mexico City. Her English-language debut was in 2014's From Dusk till Dawn: The Series, in which she played Santanico Pandemonium — Salma Hayek's character from the 1996 movie From Dusk till Dawn. However, her biggest break was arguably the 2017 Edgar Wright movie Baby Driver, in which she played Darling, a member of a heist crew, and wife of Buddy (Jon Hamm). 
Throughout the movie, Darling's carefree attitude is revealed to be a mask for a furious temper, and despite their criminal ways, it's clear that the love and affection Darling and Buddy have for each other is genuine. When Baby, the getaway driver of the crew, crashes their car during a heist, Buddy and Darling both run away together on foot to escape the incoming police force. While they separate from Baby, they run into him once again, getting trapped in a shootout with police where Darling is killed, causing Buddy to turn on Baby, blaming him for her death.
Eiza Gonzalez is also part of the Fast & Furious franchise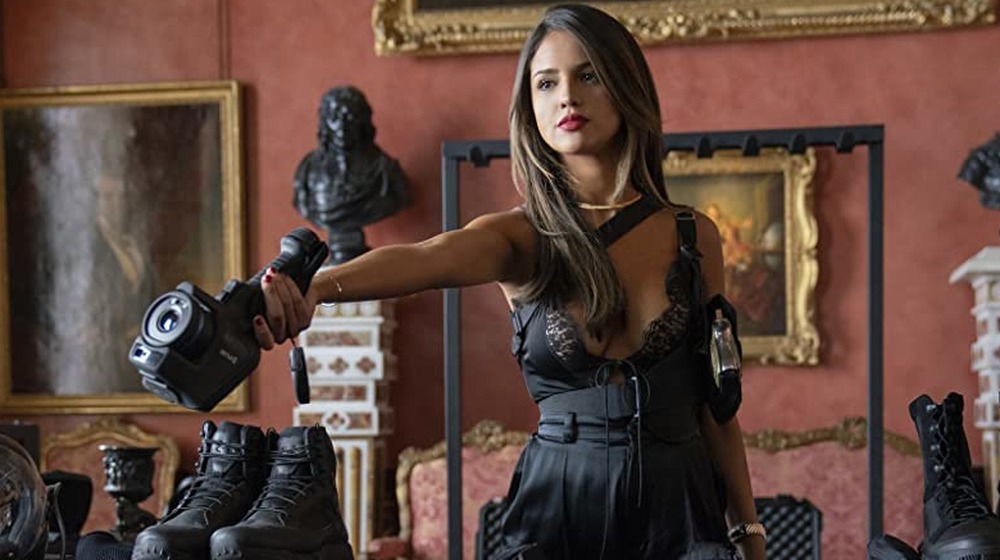 Universal Pictures
González's star continued rising in 2019, which was a real banner year for the actress. This was the time period where she started turning up in blockbusters, with perhaps one of her most memorable appearances being in Fast & Furious Presents: Hobbs & Shaw, where she played Madame M, AKA Margarita. In the film, González's character is portrayed as an old associate of Jason Statham's Deckard Shaw, with whom she clearly has a more than platonic relationship. A master thief, Margarita meets the team in Moscow to provide them with the equipment they need to break into Eteon, ending her part in their plan by coldly staring down Idris Elba's Brixton as he threatens her.
While González's character only plays a small role, the actress has emphasized her desire to return whenever the call comes. When asked if her role was intended to set up future appearances, she told The Hollywood Reporter, "Yeah, that was kind of the idea." 
Eiza Gonzalez was a supporting character in Bloodshot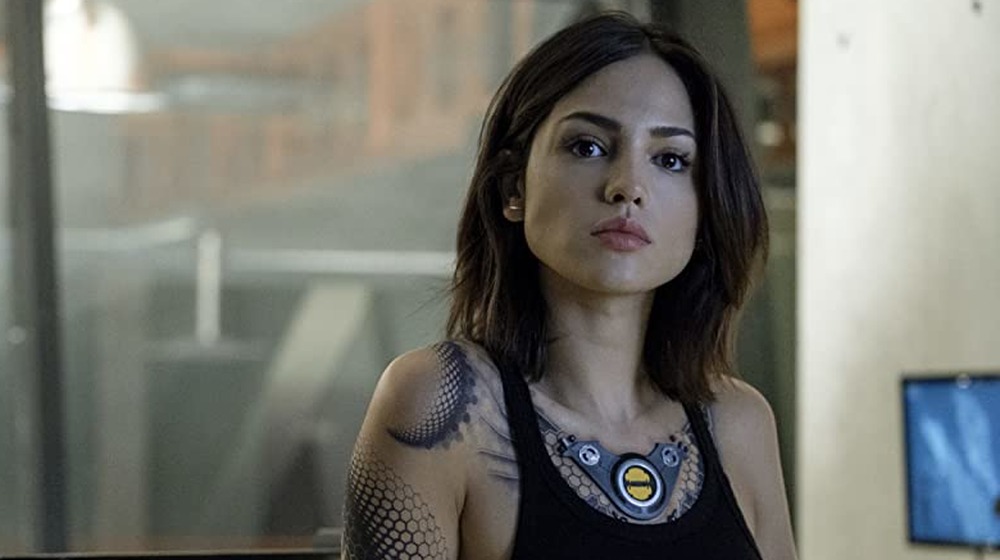 Sony Pictures Releasing
Eiza González teamed up with Vin Diesel in the 2020 action film Bloodshot, a Valiant Comics adaptation, where she played KT, one of the key members of Dr. Emil Harting's team at RST. It's revealed that KT is able to breathe thanks to technology Dr. Harting has embedded in her body, which also gives her enhanced abilities like filtering out harmful gases and surviving underwater. When it's revealed that Dr. Harting has been manipulating the memories of Diesel's character Ray Garrison to use him as a personal assassin, KT expresses moral qualms, having grown close to Garrison. In response, Dr. Harting reveals that he maintains control over KT's tech and can stop it from working at any time, causing KT to seek the help of an outside scientist named Wigans. 
Freeing herself from Dr. Harting's control, KT helps Garrison do the same, the two driving away together with Wigans at the end of the movie.