Why Linen Man From The Irregulars Looks So Familiar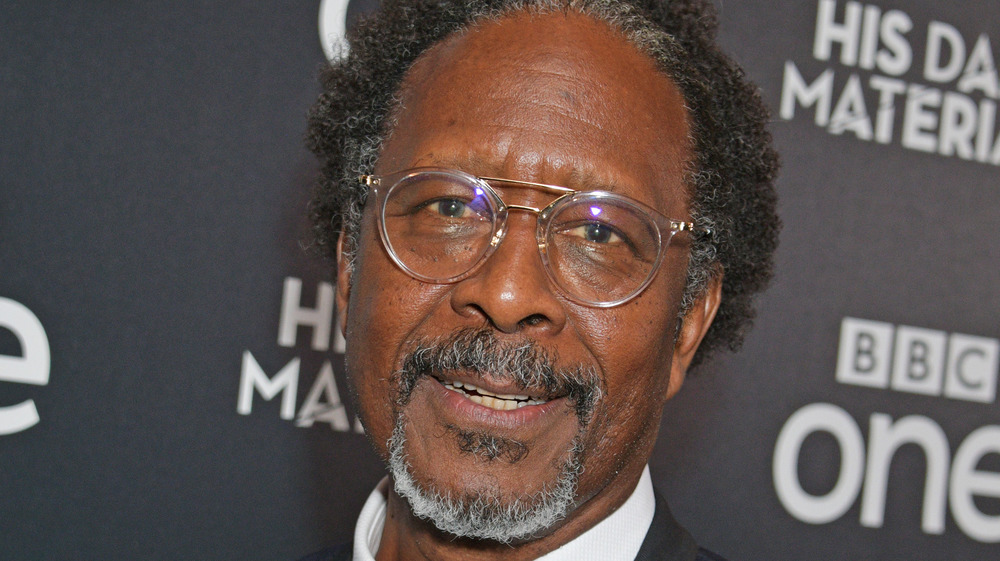 David M. Benett/Getty Images
There's no shortage of mysteries at play in the new Netflix series The Irregulars. 
Strange occurrences, demonic murders, rips in the fabric of reality between our world and one too horrible to contemplate — it's an awful lot for one gang of Victorian teenagers to handle in the name of a drug-addled Sherlock Holmes (Henry Lloyd-Hughes), especially when even Dr. John Watson's (Royce Pierreson) motives are in question. 
But it's no secret as to why the new series might have gone after veteran character actor Clarke Peters to play the role of the mysterious Linen Man. Peters has proven his ability over the 40-plus years of his acting career to make just about anything he's in better, whether he's meeting John Wick or dancing through the streets of New Orleans. He has stood out from even the most crowded ensembles, be they that of the HBO classic The Wire nearly 20 years ago or in Spike Lee's Da 5 Bloods just last year. Here's where you might have seen Clarke Peters before.
Clarke Peters played a veteran detective on The Wire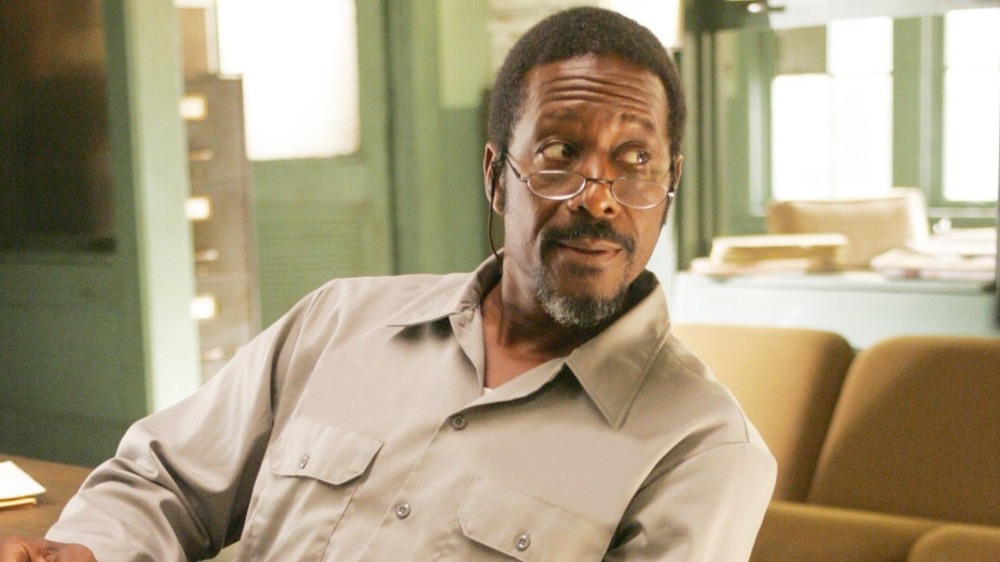 HBO
After decades of yeoman work in small parts in films or on television –– including a key early role in the 1981 Sean Connery-starring anti-drug space Western Outland –– Clarke Peters earned his most prominent role as Baltimore police detective Lester Freamon on HBO's The Wire. Before joining the force, he had appeared as the junkie Fat Curt in Wire showrunner David Simon's miniseries The Corner. 
As Freamon, Peters played a crucial role in all five seasons of The Wire, even though at its outset, he was all but forgotten by department higher-ups. The clever and thorough Freamon begins The Wire as a supplementary detective on the unit pursuing the Barksdale organization, but his chops as an investigator allow him to work his way up to the Homicide and then the Major Crimes units, where he serves as a guiding force for many of the investigations throughout the show. Freamon's work is crucial to the cases against the Barksdales and the Stanfield gang.
However, his efforts to build his case against Marlo Stanfield (Jamie Hector) would eventually go too far. He and Jimmy McNulty (Dominic West) begin to plant evidence to make it look as though a serial killer is working in Baltimore in order to secure additional funding, and the scandal –– plus an illegal wiretap he authorized –– eventually leads to Freamon's forced retirement.
Clarke Peters played an expert reveler and fixture of his community on Treme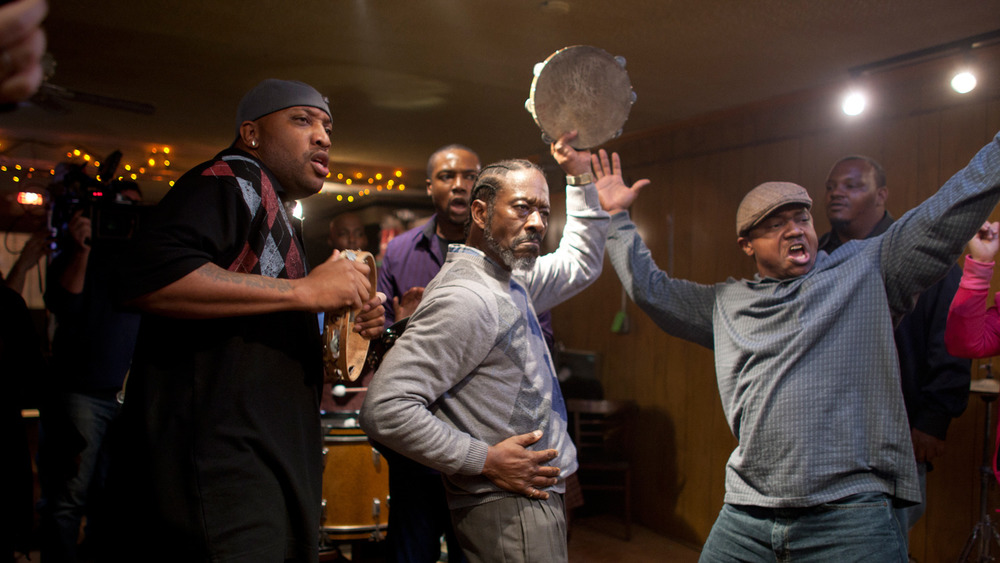 HBO
Clarke Peters and David Simon weren't done with each other after The Wire. The HBO series' showrunner cast the actor in the role of Albert Lambreaux in the post-Katrina New Orleans drama Treme.
Albert's life revolves around his role as the leader of a band of revelers who don elaborate costumes to dance and parade in formation during Mardi Gras celebrations in the city. Albert returns months after Hurricane Katrina to find his house ruined by the flooding and struggles to reassemble his tribe and deal with the post-disaster bureaucracy as he searches for adequate housing. Through it all, he remains a community leader and a booster for his neighborhood and his city, trying to bring back the diaspora, including members of his own family, who have quit the city.
In season 3, Albert is diagnosed with non-Hodgkin's lymphoma but opts to wait until after Mardi Gras before beginning chemotherapy, stressing his family and his doctors. The chemo takes its toll but proves successful in pushing the disease into remission, leading Albert to begin planning for another Mardi Gras season. But the hope proves short-lived, and when the cancer returns in the series' final season, Albert abandons his treatment entirely.
Clarke Peters played a preacher with a dark secret in Red Hook Summer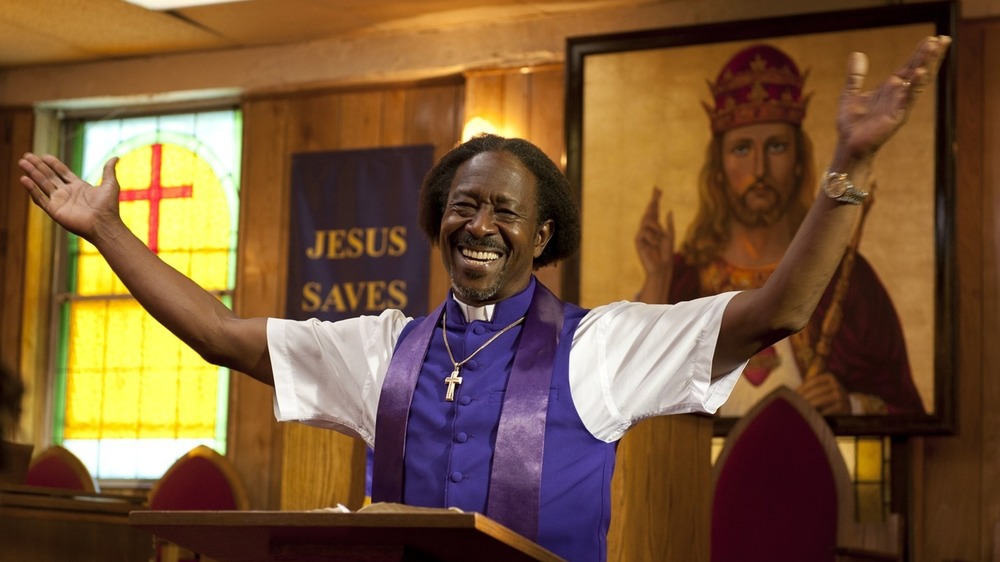 Variance Films
In 2012, Clark Peters jumped from the Big Easy to the Big Apple to play Da Good Bishop Enoch Rouse in Spike Lee's fish-out-of-water chronicle Red Hook Summer.
In Red Hook Summer, Rouse's grandson, Flik Royale (Jules Brown), has been sent from Atlanta to spend the summer living with his bombastic grandfather, who operates the Li'l Piece of Heaven Baptist Church out of a Brooklyn storefront. It's a far cry from Flik's private school upbringing in Atlanta, and he spends much of the film recording what he sees through an iPad as he navigates the neighborhood and his grandfather's unfamiliar rules and caustic sermons.
But the movie is sent spinning on its head when a man appears in the back of Rouse's church during service and accuses him of molestation. Rouse admits the accusation is true and that the act was covered up by his church in Georgia, which turns his congregation against him.
Clarke Peters played a fellow professional in John Wick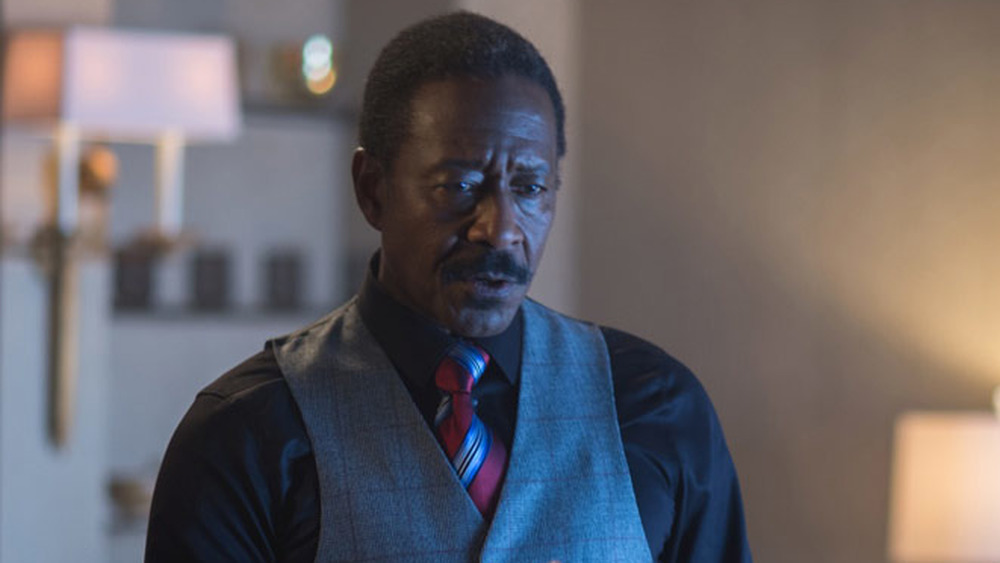 Lionsgate
In 2014, Clarke Peters made a small appearance in the Keanu Reeves instant classic actioner John Wick. As the veteran assassin Harry, Peters helped audiences to understand the rules and decorum of the nascent franchise's clever world.
After Wick is attacked by Ms. Perkins (Adrianne Palicki) in the safe ground of The Continental Hotel, Harry accosts the pair in the hallway, leaning out of his room with a gun in hand. When Harry realizes it's Wick, he relaxes. The pair of killers, who would likely be blasting away at one another if they found themselves on the wrong side of a contract, treat each other here with the workaday forbearance of Ralph Wolf and Sam Sheepdog. The scene is another glimpse for the audience into what the Continental is supposed to be, at least when Perkins isn't violating its core tenet.
Wick then contracts with Harry to watch over the unconscious Perkins while he pursues a new lead she's given him. But when Perkins wakes up, she manages to free herself from her handcuffs and get the jump on Harry, knocking him onto the bed and killing him.
Clarke Peters played one of Da 5 Bloods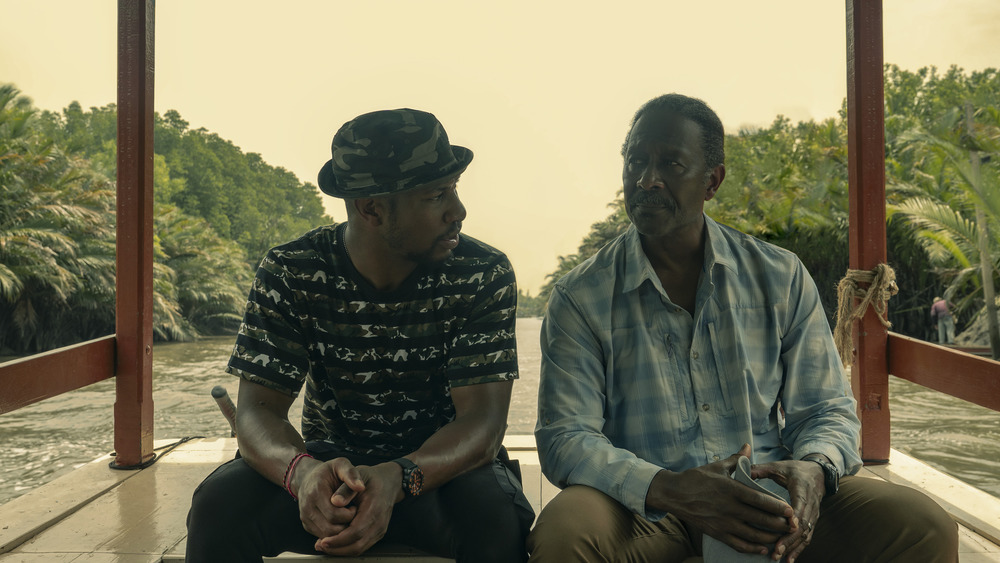 David Lee/Netflix
In 2020, Clarke Peters joined the powerhouse ensemble of Spike Lee's Netflix war drama Da 5 Bloods. Peters played Otis, who ventures back to Vietnam with his war buddies Paul (Delroy Lindo), Eddie (Norm Lewis), and Melvin (Isaiah Whitlock Jr.), as well as Paul's son David (Jonathan Majors), in order to search for the location of a cache of gold bars they hid in the jungle during the war.
In Ho Chi Minh City, Otis reunites with an old girlfriend, Tiên (Lê Y Lan), who tells him he's the father of her grown daughter. She also gives him a pistol to take, which the group finds on the first night in the jungle, making them suspicious of him. Instead of Otis, however, it's Paul who puts the pistol to misguided use, employing it to hold a group of volunteers from a nonprofit dedicated to removing landmines hostage after they find the Bloods with the gold in the jungle.
The Bloods end up betrayed by the French businessman Desroche (Jean Reno), who was meant to help them smuggle the gold out of the country. Otis participates in an ambush to defeat Desroche's men but is wounded by the boss. Melvin sacrifices himself to save Otis' life, and David makes Chekhov proud by killing Desroche with the gun Otis brought. In the end, Otis takes his share and connects with the daughter he never knew he had.