It's Time To Talk About That Batman Scene In The Snyder Cut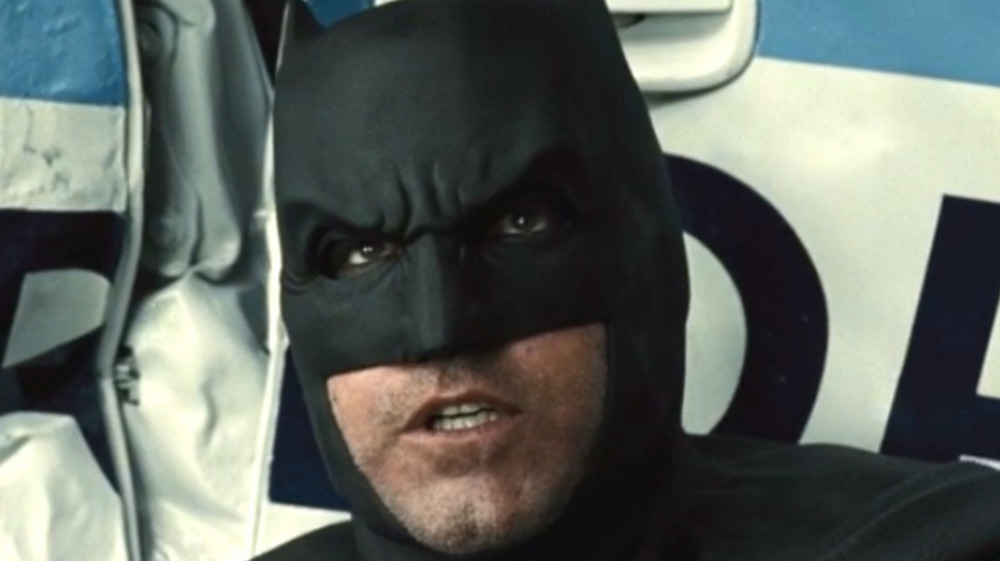 HBO Max
If you click a link and buy a product or service from a merchant, we may be paid an affiliate commission.
If it seems like almost everyone is talking about Zack Snyder's Justice League, now streaming on HBO Max. The director's cut of the 2017 film is making waves for its many changes, including a four-hour runtime, a restored 4:3 aspect ratio, and newly added DC characters like Darkseid, Martian Manhunter, and the Joker, to name a few. And Zack Snyder's Justice League is doing well with critics and audiences alike, earning a 73 percent critics score on Rotten Tomatoes and currently holding a 96 percent rating from audiences. Superman actor Henry Cavill praised Snyder's work, writing on Instagram: "Here's to you Zack. Congratulations! I know this has been an arduous journey for you, you kept fighting, though. I couldn't be happier to see your vision for Justice League realised. And what a movie it is!"
But one scene in particular is standing out for viewers, a scene that involves the Joker (Jared Leto) — who did not appear in the original Justice League movie — and Batman (Ben Affleck). 
Batman drops an F-bomb at the Joker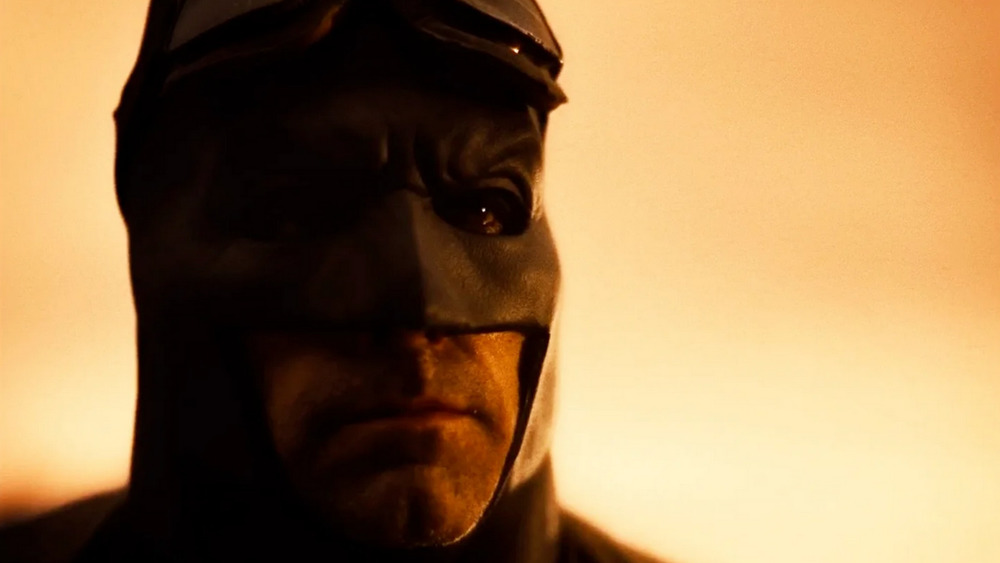 HBO Max
At the end of the film, Batman is joined by Cyborg (Ray Fisher), Mera (Amber Heard), Flash (Ezra Miller), Deathstroke (Joe Manganiello), and the Joker. The team is fighting a Darkseid-controlled, evil Superman in a post-apocalyptic wasteland known as Knightmare. We've previously seen this world in Snyder's 2016 film, Batman v Superman: Dawn of Justice in a scene in which a gun-toting Batman fights an evil Superman. Batman is captured, unmasked, and right as he's being killed by Superman, Bruce Wayne wakes up, realizing it was a vision, a Knightmare.
In Zack Snyder's Justice League, viewers return to the Knightmare timeline, in which Aquaman (Jason Momoa), along with Lois Lane (Amy Adams), Wonder Woman (Gal Gadot), and Harley Quinn, have all been killed. Mera voices her plan to avenge Aquaman's death. When Batman says he understands how she feels. She says he has no idea, asking, "who have you ever loved?" This prompts the Joker to inform her that Batman "knows exactly what it's like to lose someone he loves." He lists Batman's parents, who were killed when he was a child, at which point Batman warns his adversary to be "very careful with the next thing you say." The Joker tells Batman he's his best friend and that he needs him to help him undo the Knightmare world and calls for a truce. Batman then tells the Joker that a dying Harley Quinn begged him to kill the Joker slowly. Batman says: "...that when I killed you, and make no mistake, I will f***ing kill you..I'm gonna honor that promise."
Batman's line, especially his F-bomb, is significant for many reasons. It tells the audience that Batman is beyond any moral barriers at this point and that he's already killed as well; he's beyond any PG-rated version of himself. Additionally, it conveys to viewers how dire the situation really is; despite his hatred for the Joker, Batman is willing to work with him in order to set things right.
Zack Snyder dreamed of reuniting Batman and the Joker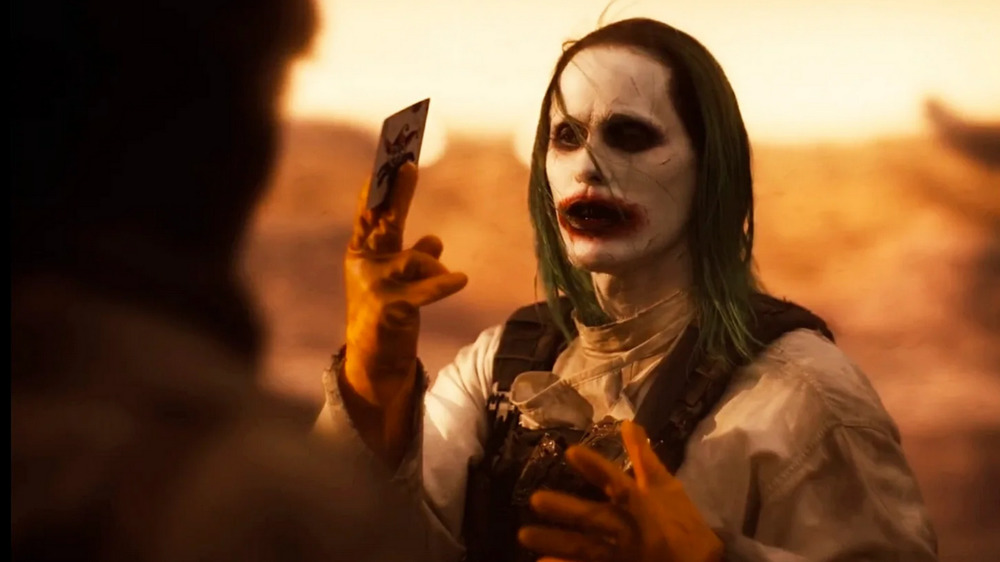 HBO Max
A Batman-Joker scene is something fans haven't seen for a while, at least not since Heath Ledger and Christian Bale did it for Christopher Nolan's The Dark Knight. And for years, Snyder had wanted to reunite the characters for a scene together. Snyder's wife and producing partner, Deborah, told Inverse, "Zack really wanted to do a scene with Batman and the Joker," she said. "This was our last hurrah. He was like, 'This is my last chance. I'm going to get to do this scene.' And trying to work backward and think like, 'Okay, how do I fit that in?' He felt like [it should happen in] the Knightmares, which was the language we have had in all the movies starting with Man of Steel with the nightmares with the skulls." "It's a language that we've cultivated," she adds. "It just made perfect sense to carry it over and do this with both Batman and Joker."
Snyder told IGN that he thought a scene between the two was necessary. "I think without a scene where they get to air their dirty laundry about each other, I felt like we were getting shortchanged as fans of the DC Universe. That was the hope, that we would get to see them come together but also, in particular, reflecting on each other and their struggle with each other and the why a little bit, so that was really fun for me."
The dream sequence happened to be the only scene in the film that was made particularly for the Snyder cut. According to Insider, it took three days to shoot, but years for Snyder to convince Leto to return as the Joker from Suicide Squad. Eventually Leto agreed and, though the film may convince viewers otherwise, Affleck and Leto did not shoot on the same day. "We actually shot Ben separate from Jared," Deborah Snyder said.