Exclusive Clip: Rick Makes A Last-Ditch Effort In Gold Rush Season 11 Finale
It's the 11th hour of Gold Rush season 11, and as this chapter of the hit Discovery reality TV series comes to a close, Rick Ness is giving it his all has he goes for the literal gold. 
Gold Rush season 11 is set to air its finale tonight — Friday, March 19 — and in advance of its premiere on Discovery, Looper is excited to share an exclusive clip from the episode. In the sneak peek, Rick is inside a massive Volvo rock truck, having finished up work on a channel and now gearing up to "pull the plug" on the creek diversion. Rick admits that this is a "last-ditch effort" motivated by a desire for redemption from the events that took place last year. "I don't like one bad season, and I'm not willing to go for two," he says in the clip. "It ain't gonna happen again. And for my crew, it's about a bigger gold bonus. Now, it's just a matter of pride and a matter of how much f***ing gold those guys are going home with."
When the creek splits in two and the water starts flowing, dramatic music swells to underscore just how pivotal this moment is. "It's a big moment when you actually finally cut that water through, it really is. Because you can plan for as much as you want but you don't really know, you know, what it's going to look like, you know — and this might not be the Mississippi River, but there's still a lot of water going through here," Rick says. 
This valiant effort pays off, it seems, as Rick states his satisfaction with what he's dug up. "This stuff looks good. There [are] tons of big boulders in it. It looks like the stuff
we want," he says before grabbing his walkie-talkie to radio to Chris Kruse. "Well, hopefully that's the heaviest load of dirt you haul all year, Krusey, because it should have all the gold in it."
Much to Rick's delight, Kruse is just as satisfied with the haul as Rick is. "It feels really, really heavy in the truck, I'll tell you that much," he tells Rick with a smile. "There must be a ton of gold in there."
However, as Gold Rush narrator Paul Christie says in voiceover, "The creek bed pay in Krusey's truck could be the difference between failure and success." Kruse doubles down on this sentiment by stating, "It's definitely no secret that last year, Rick spent a lot of time and a lot of money chasing big nuggets on a hunch. It blew up in his face last year, and I don't want to see that happen again this year."
Will Rick's "last-minute Hail Mary" pay off, or will he have "wasted the little bit of time" he has left at the end of the season? Fans will have to wait and see.
There's plenty more Gold Rush goodness to enjoy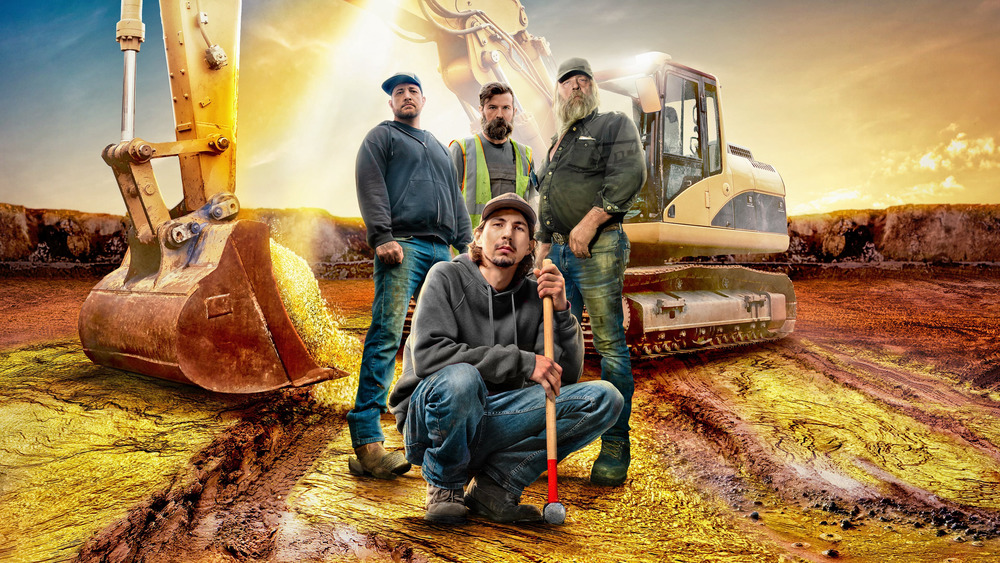 Discovery
The thought of Gold Rush season 11 rolling out its last episode in just a few hours might be enough to make fans wish they could find their own gold, sell it for cash, and pay the folks at Discovery to keep the series going for the rest of time. Luckily for them, no gold-hunting, pawning, or pleading is necessary: There's a ton of Gold Rush content available to stream on Discovery+.
For starters, fans can catch up on all 11 seasons of Gold Rush, from the humble beginnings in 2010 up to the most recent episodes in 2021. Once they've seen the season 11 finale and rewatched the series in full, viewers will certainly want to jump into one — or more — of the many Gold Rush spin-offs that Discovery has put out. These include Gold Rush: The Jungle and Gold Rush: South America, which follow Todd Hoffman and a handful of the series' crew as they travel through South America in search of gold; Gold Rush: Parker's Trail, a five-part special centered on Parker Schnabel's various adventures; Gold Rush: White Water, featuring the "Dakota Boys" Dustin and Fred; Gold Rush: Dave Turin's Lost Mine, starring the titular guy who once worked alongside Hoffman; and the recently released Gold Rush: Freddy Dodge's Mine Rescue. Basically, Discovery+ has taken a page from Ariana Grande's book when it comes to Gold Rush content: If you want it, they've got it.
Tune in to Gold Rush season 11, episode 21, "Endgame," tonight at 8 PM ET on Discovery.