The Wildest Theory About Robopine From The Masked Singer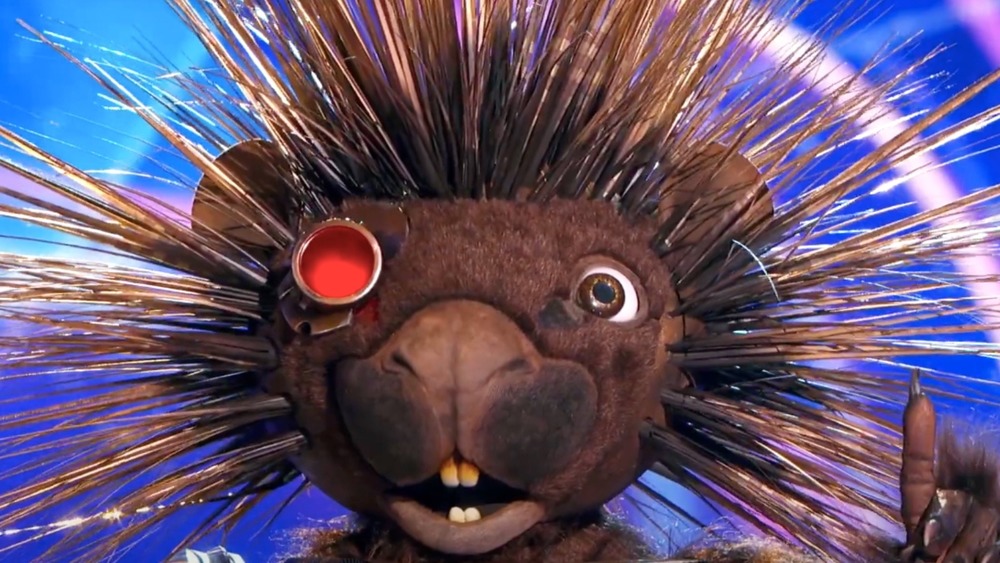 Fox
Flanked by backup dancers, Robopine danced onto stage to the tune of "U Can't Touch This" by MC Hammer, an apt song choice for a prickly porcupine. But who's under the rodent-cyborg mask? Well, there are as many theories as he has quills, but one is just as wild as it is likely.
Each season on The Masked Singer, a host of anonymous actors, comedians, singers, and athletes don elaborate and surprisingly well-designed costumes to mask their identities as they sing for the crowd. The judges, composed of Community's Ken Jeong, singer-songwriter Robin Thicke, TV host Jenny McCarthy, and Pussycat Doll Nicole Scherzinger, listen carefully to each performance, take in the clues, and then make their best guesses as to who the masked singer really is. Sometimes, the guesses are laughably off base, but other times, they're right on the mark.
After Robopine beautifully sang his way through Luther Vandross' "Never Too Much" and offered a few clues about himself, the judges threw out names like Idris Elba, Lionel Ritchie, and Jamie Foxx, but fans have another idea for who might be under those metal quills: comedian and Family Feud host Steve Harvey.
While the contestants' singing voices are a clue as to who's under the mask, it's the barrage of fast-paced clues in their intro videos that really sets the stage and fuels those guesses. Robopine's video had a Men in Black vibe to it but hinted at a difficult past along with teasing several other quick images. Reddit users u/opheliaravencroft and u/mollynatorrr both presented evidence as to how each clue fits in with the theory that Steve Harvey is the one soothing the audience's ears with his sweet voice.
A hilarious Family Feud answer might be the key to unmasking Robopine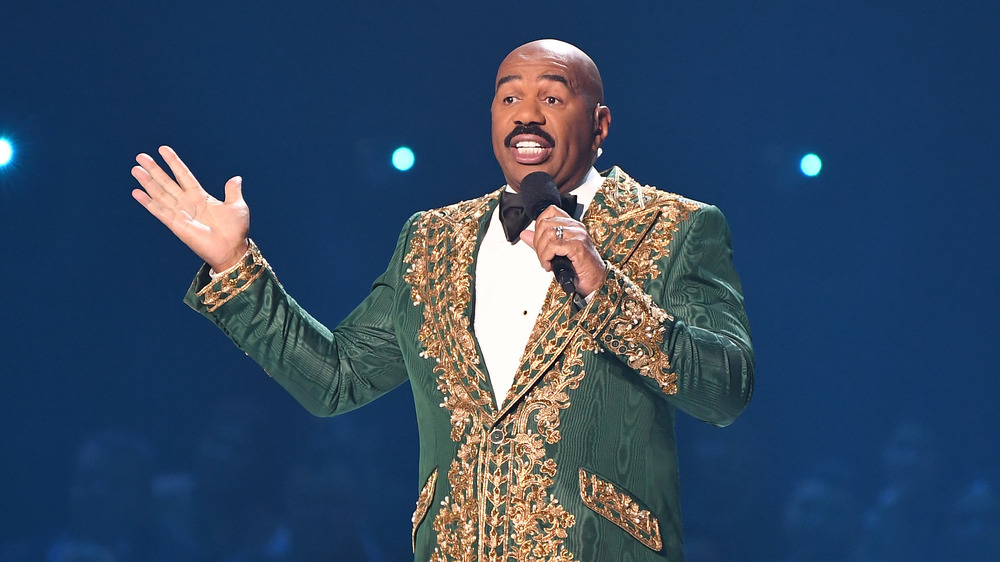 Paras Griffin/Getty Images
First off, Steve Harvey once sang a different Luther Vandross song during his stand-up. However, the best evidence has to do with Robopine's shocking reveal: "My kids and my grandkids told me I was supposed to hang it up a long time ago. I'm 60 years old and I really appreciate the love." Harvey may not be exactly 60, but at 64, he's closer than most of the other possibilities. Plus, he has grandchildren, unlike another popular fan guess, The Fast and Furious' Tyrese Gibson.
After that, it takes a deep dive into Harvey's past to connect the other dots. Robopine's comment, "Where I came from, I was forced to grow thick quills," could be referring to when Harvey was homeless as he struggled at the beginning of his comedy career. He was also helped and given food by a man who's been called his angel – not too dissimilar from the angel who changed everything for Robopine.
As for Robopine's Washington clue, on Harvey's sitcom The Steve Harvey Show, he played a teacher at Booker T. Washington High School. Then, it's possible that Harvey's time hosting Showtime at the Apollo could be connected to the "mission" Robopine hinted at, if you drag out the NASA reference. The images of DNA in the Robopine video could be referring to the "DNA Detective" Harvey used on his talk show.
However, if those references are a stretch, there's a good reason why Steve Harvey would dress as a porcupine: One of the most famous answers that he's gotten on Family Feud came in response to the prompt, "Name something that follows the word 'pork.'" With confidence, a contestant said, "Upine" – as in "porcupine" — and completely broke Harvey. He finally incredulously asked, "What is cupine?" and finished by saying, "This is the greatest answer I've ever heard."
Harvey has likely not forgotten about "pork ... upine," so maybe he's taken it as his Masked Singer persona? We'll just have to wait and see.