The Best Tim Burton Movies, According To Reddit Fans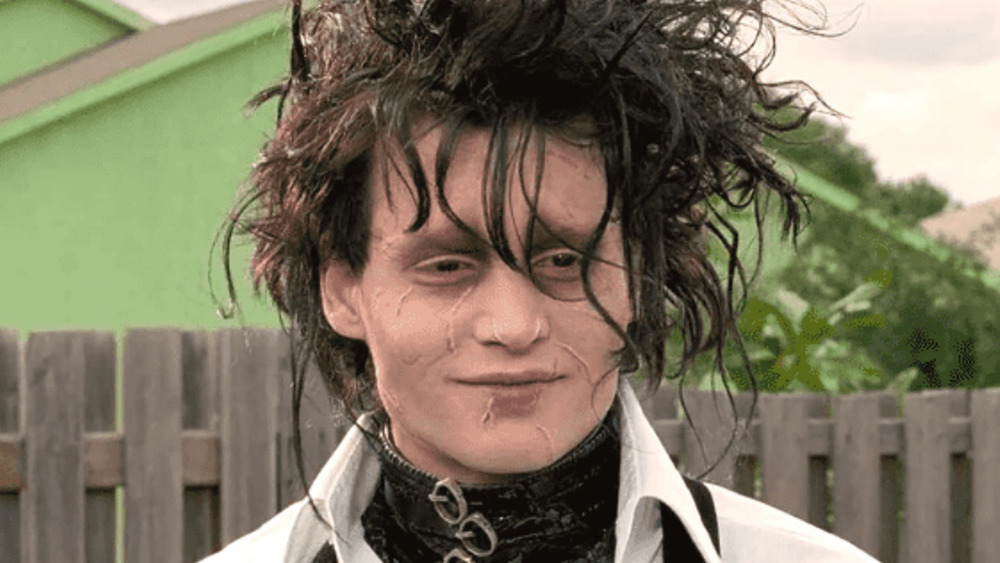 20th Century Studios
When it comes to all things odd, morbid, and unique, Tim Burton is the epitome of all three words. Burton has created quite a name for himself, which began in the 1970s with his love of short films, and now, when fans rewatch a creation of his, they can't help but point out how every film screams, "TIM BURTON!" Even though he's had quite a spread of movies under his decades-old belt, he continues to impress and entertain moviegoers for one reason or another. What's so great about Burton is that he centers on characters that are other times considered to be wallflowers or "outcasts" and instead, puts them on the protagonist's pedestal. At times, it's hard to look away from all the little quirks the main and supporting cast displays, and that's just how Burton rolls.
 Of course, since Burton still remains a hot topic, Reddit fans have covered the conversation that all fans have done themselves; which of Burton's movies are his best? The entire list is long, but for time's sake, let's cover the top five, based on Redditor's opinions.
Big Fish: No. 5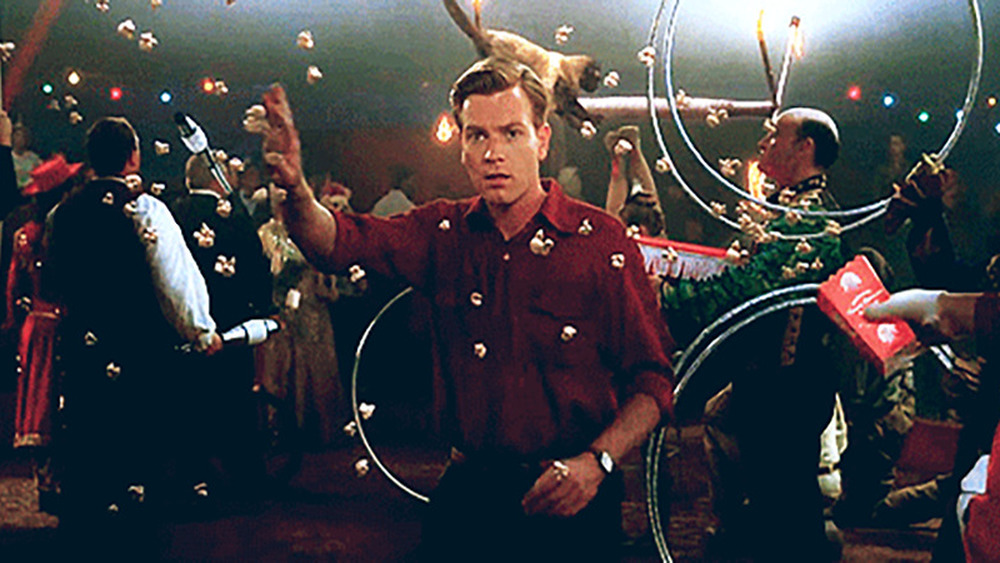 Sony Pictures
Big Fish isn't your typical dark and mysterious film that people often associate Burton with, but it does have that oddly whimsical undertone that he does so well. Burton is also known for his story-telling skills, and even if the movie wasn't filled with wonder and delight, the story of a father and son connecting is still enough. Billy Crudup stars as Will Bloom, an adult man who has an estranged relationship with his father Ed, played by Albert Finney. Before Ed passes away from cancer, Will wishes to confront him before it's too late. Will remembers the stories his father told him as a child but doesn't believe them now and wants the truth.
Ed takes his son on an adventure filled with dreams, love, hope, and characters with big personalities. Ewan McGregor stars as a young Ed Bloom, who travels through a world where he meets strangers on the way. The love of Ed's life, Sandra, is played by Alison Lohman as a young woman and the iconic Jessica Lange as the senior. It would be hard to turn away from this movie because it's just that amazing.
Edward Scissorhands: No. 4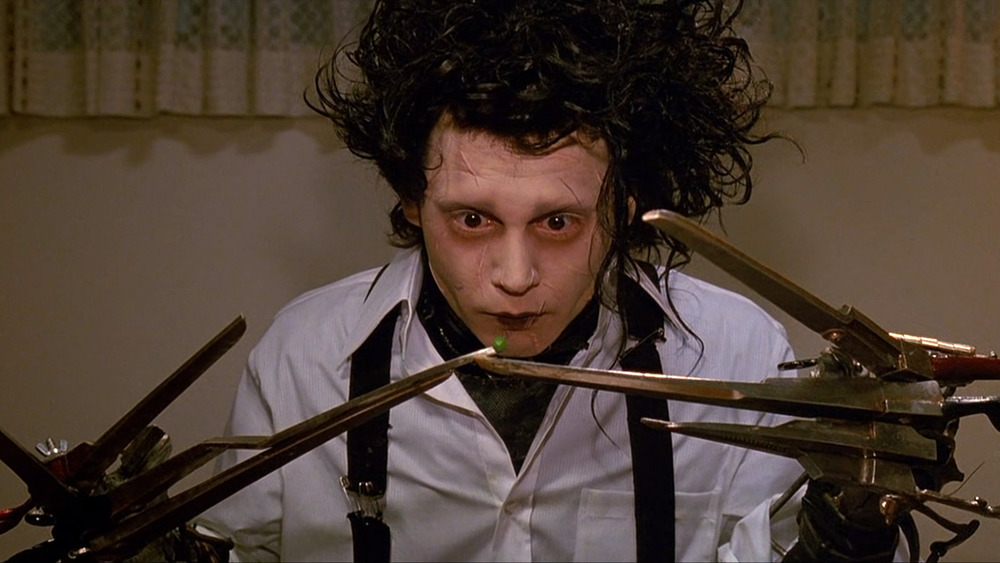 20th Century Studios
Tim Burton has a lot to do with the success of the 1990 classic Edward Scissorhands because he was the writer, the director, and the producer. In turn, this movie has Burton written all over it, in every which way, with the costumes, score, and some of his favorite actors to cast. Edward Scissorhands centers on an artificial man named Edward (Johnny Depp) that wasn't quite finished before his inventor father (Vincent Price) passed away. Because of the untimely passing, Edward is left with scissors for his hands and is seemingly isolated from the rest of the world. When a suburban Avon rep named Peg (Dianne Wiest) makes a house call to his run-down mansion, Edward and the entire neighborhood's lives change.
Edward Scissorhands tells a beautiful story of friendship, compassion, love, and family all rolled into one. And that soundtrack? Wow! There's nothing quite like it, and Burton's rendition of a modern fairy tale is genius.
Batman Returns: No. 3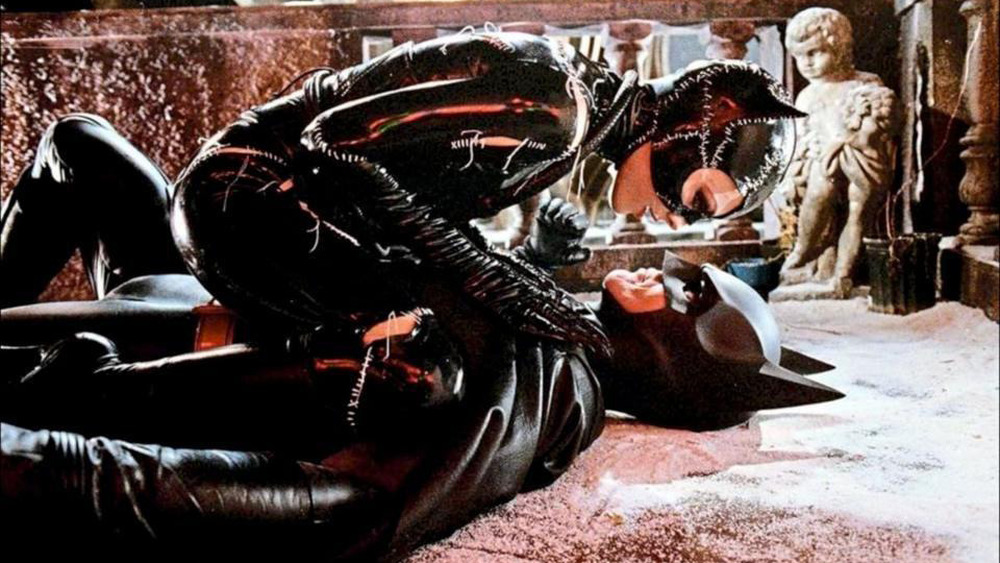 Warner Bros.
At the end of the 1980s, Warner Bros. starting the process of releasing movies within the Batman franchise. After the success of Burton's 1989 Batman, he released Batman Returns in 1992. Starring Michael Keaton (The Founder), Danny DeVito (It's Always Sunny in Philadelphia), Christopher Walken (Catch Me If You Can), and Michelle Pfeiffer (Mother!), the casting was spot on, and the cinematography was highly entertaining.
Tim Burton wholeheartedly put his "stamp" on this sequel and pushed the roles of Catwoman/Selina (Pfeiffer), Penguin/Oswald Cobblepot (DeVito), and the despicable Max Schreck (Walken) into their own individual spotlight of personality. Of course, Keaton nailed the role of Batman/Bruce Wayne, as well. It's hard to make a sequel better than its predecessor, but Burton did it with Batman Returns. This wasn't Keaton's first rodeo with Burton, because he also has major roles in Beetlejuice, Batman, and Dumbo, as well. Also, Keaton's co-star, Danny DeVito, scored other roles in Burton films, too, such as Dumbo, Mars Attack!, and Big Fish.
Beetlejuice: No. 2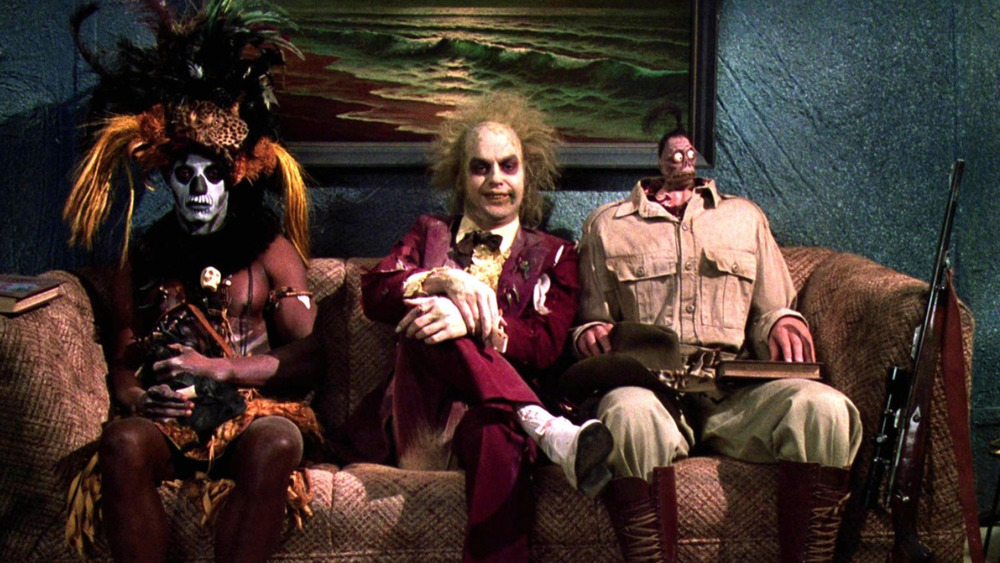 Warner Bros.
Backtracking to 1989, and moviegoers had the chance to see Michael Keaton star in his very first Tim Burton film, Beetlejuice. A year after Burton released his first Batman film, he created a live-action version of his Beetlejuice TV series, which ran from 1989 to 1991. This original idea shot him into stardom and paved the way for his entire career from then on. Critics and moviegoers got a taste of Burton's aesthetic, and what he can offer in the movie industry.
Beetlejuice puts a delicious twist on the relationship between humans and ghosts by making the after-life the central narrative, and humans as the mere house guests. Starring Michael Keaton as the Betelgeuse himself, Alec Baldwin (30 Rock), Geena Davis (Thelma & Louise), Catherine O'Hara (Schitt's Creek), and Winona Ryder (Stranger Things), Beetlejuice proves that being an outcast is where the fun is at, which resonates with a generation of viewers now, then, and forever.
Ed Wood: No. 1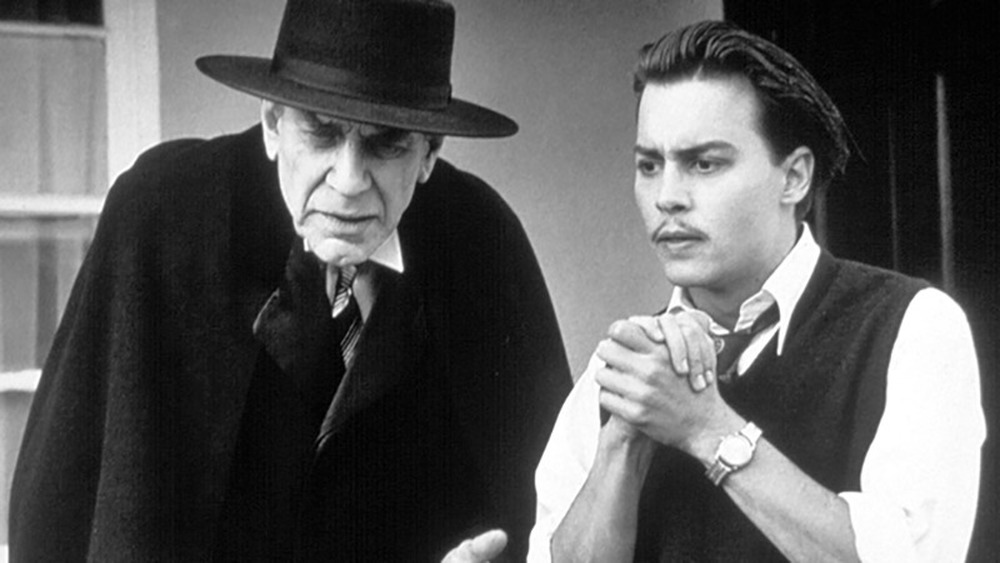 Walt Disney Studios
The 1994 film Ed Wood, starring Johnny Depp (Pirates of the Caribbean), Martin Landau (Crimes and Misdemeanors), and Sarah Jessica Parker (Sex and the City), is another one of Burton's films that has a centralized theme: the weirdos and odd ducks of the world need more love. Based on the life of American filmmaker Edward D. Wood Jr., Tim Burton successfully reenacts the story of a real man with real experience in the Hollywood industry, even though most people looked at him as a misfit, like himself.
What's different about Ed Wood, compared to Burton's other films, is that it's shot as a black-and-white live-action movie. It also has no bells and whistles and just solely focuses on the acting as well as the true story of Ed Wood Jr. The performances are spectacular, there are perfectly-timed comedic moments, and of course, Burton's tribute to Wood was extremely well done. Bravo!