Justified Fans Are In For A Treat With This New Project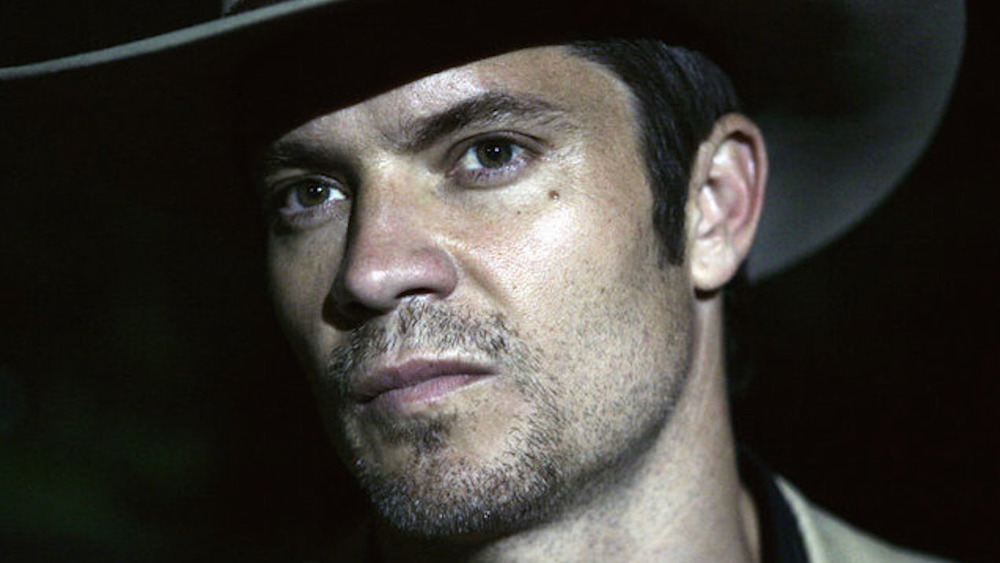 FX
The team behind FX's Justified, the series inspired by an Elmore Leonard book series, has reunited for a new project that should definitely please fans of the Western crime drama. Variety reports that a new FX series based on Leonard's City Primeval: High Noon in Detroit is in the early stages of production, and it's sure to please viewers who tuned in regularly to Justified. 
The trade magazine notes that nothing is set in stone, but it appears that Justified star Timothy Olyphant is in talks to reprise his role as Givens, the Kentucky lawman with the distinctive cowboy hat. The show is also set to include many of the people who helped make Justified work behind the scenes.
Justified creator Graham Yost will act as executive producer, while Justified writers and executive producers Michael Dinner and Dave Andron will co-write and serve as co-showrunners. Dinner will direct as well. Chris Provenzano, Sarah Timberman, Carl Beverly, VJ Boyd, and Taylor Elmore will also return as executive producers. The crew will also include Peter Leonard of the Elmore Leonard Estate, which should go a long way toward satisfying fans of the book series who will no-doubt be hoping this latest adaptation captures the spirit of Elmore Leonard's classic Westerns (even if they did perpetuate false facts about the Wild West). Justified came out pretty well in that regard, so there's likely no cause for concern.
Justified may be years in the past, but it's not forgotten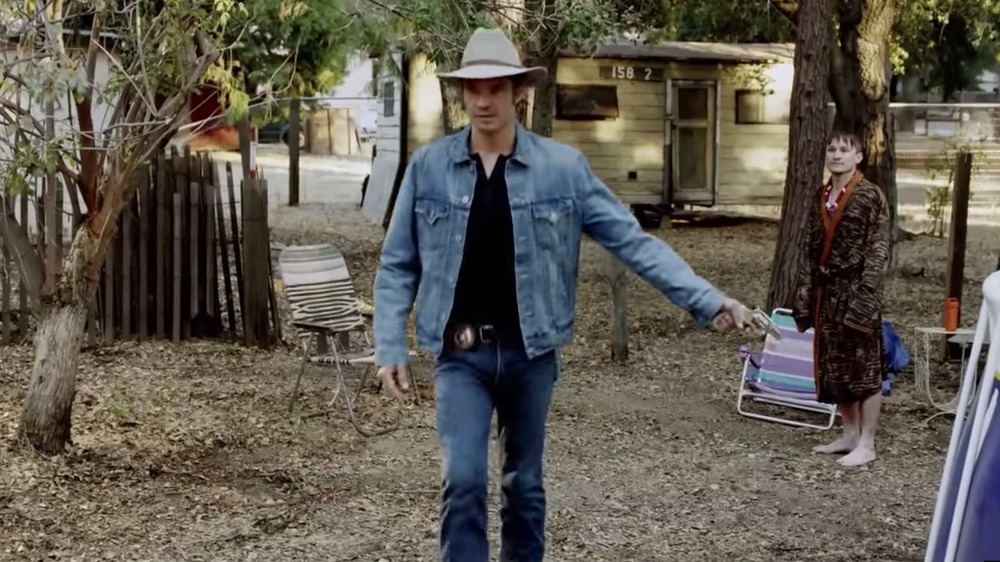 FX
Justified, mostly based on Leonard's novella Fire in the Hole, aired for six seasons and 78 episodes — and during that time, it had an indelible effect on the television landscape. Part of its appeal lay in the dynamic between its two leads, Timothy Olyphant as Givens and Walton Goggins as Boyd Crowder, two men who operate on opposite sides of the law. The Hollywood Reporter called the characters "majestic creations." Yost and friends "managed to take that [story] and flesh it out into one of the most entertaining and smart dramas on television."
Even Leonard was impressed by what Yost had wrought — so much so, he wrote another book about Givens that came out in 2012. In a 2012 Television Critics Association Press Tour panel, via The Hollywood Reporter, Leonard said about Justified, "I think it's a terrific show. I love all of the writing, and I'm amazed sometimes that they've got the characters better than I put them on paper. They are doing a good job, really a good job."
The characters remain influential and memorable today. In fact, Olyphant has played two different versions of a similar lawman character recently; in 2019, the two-hour Deadwood: The Movie featured the actor reprising the role of Seth Bullock; after that, he played Cobb Vanth, otherwise known as The Marshal, who wore Mandalorian armor in an episode of The Mandalorian season 2.
It's unclear what role Givens would play in the new series. The main character of the book is Raymond Cruz, who is said to be similar to Givens, but is definitely a different character. However, if the new show is half as interesting as Justified was, it will be a welcome addition to the TV lineup whenever it comes out.