How Matthew Willig Prepared To Play Andre The Giant In Young Rock - Exclusive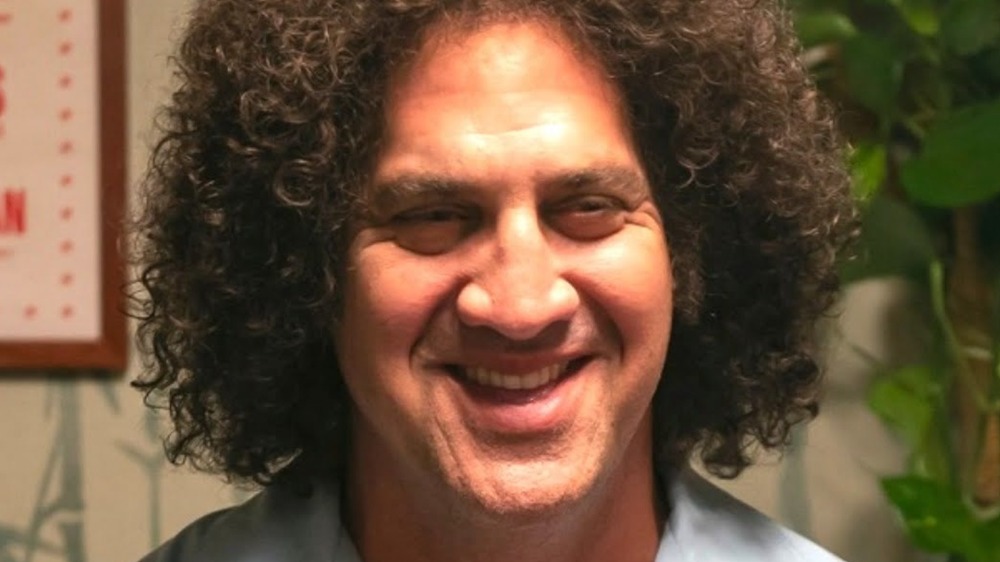 NBC
One third of Young Rock takes place during The Rock's childhood in the early 1980s. We see young Dewey interact with his father's famous coworkers: Macho Man Randy Savage, the Iron Sheik, Junkyard Dog and — the big one — Andre the Giant. The future Fezzik is played by actor and former NFL offensive tackle Matthew Willig. Looper spoke with Willig about how he prepped for such an iconic role.
Willig didn't grow up watching wrestling, but Andre's status as a cultural icon transcends the ring. "I knew of his persona. I knew of some of his more popular stories," Willig says. "And so, I just dove right into doing a lot of research for it. I really did. I watched his wrestling. I watched every interview probably a million times. Obviously, getting the voice down and trying to have that sort of persona was important, so it was a lot of study and lot of watching videos, a lot of the stuff on YouTube, and I went from there."
While still brand new to wrestling, Willig's twelve seasons in the NFL gave him a bit of a head start compared to his co-stars. Many of wrestling's biggest stars — including Roman Reigns, Goldberg, and The Rock himself — have football backgrounds. Willig acknowledges that his time playing football "definitely didn't hurt," and that several other performers without athletic backgrounds did struggle at first. 
As he puts it, "You never quite know until you get in that ring and you start bouncing off of ropes."
Kinship with the Giant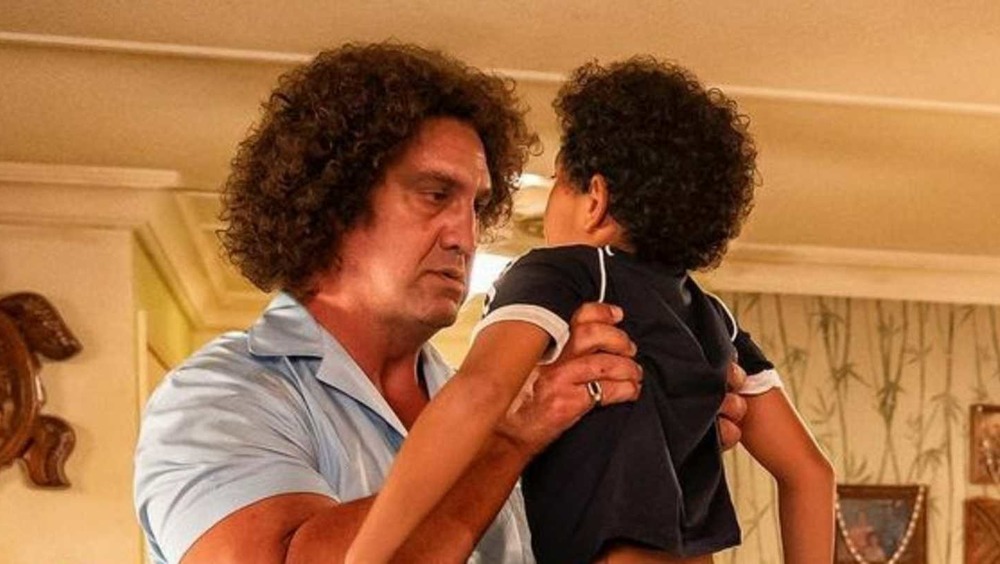 NBC
Willig found some kinship with Andre. He's quick to point out that he's 6'8" — not quite Andre's height but still taller than average — and was able to empathize with some of Andre's struggles and insecurities related to size. "It was easy to understand the frustration or the sadness a little bit, and being the one who's always noticed — or the one who can't sneak in anywhere or slide in anywhere." 
Andre was also in constant pain during the '80s, and Willig was able to call on the residual effects of his football career for that: "I kind of used that a little bit and sort of channeled my own pain in my own knees." One time after a long day shooting, a producer told him, "You looked like you were in a lot of pain," so his method obviously paid off.
As for voice, he had some additional help: "I worked with a dialect coach, a French dialect coach, to just get the French-isms." It went beyond the accent, though. Andre had a particular way of speaking, one that required finding some balance for TV. "Andre has a really big tongue, like he has marbles in his mouth. And so, I kind of had that sort of mumbling aspect to him. It was tricky, there were times when you can't understand Andre, but obviously for television, that doesn't work. So it was kind of a tricky thing to be able to sound authentic — like him — but yet have everyone understand what I'm trying to say."
Packing on pounds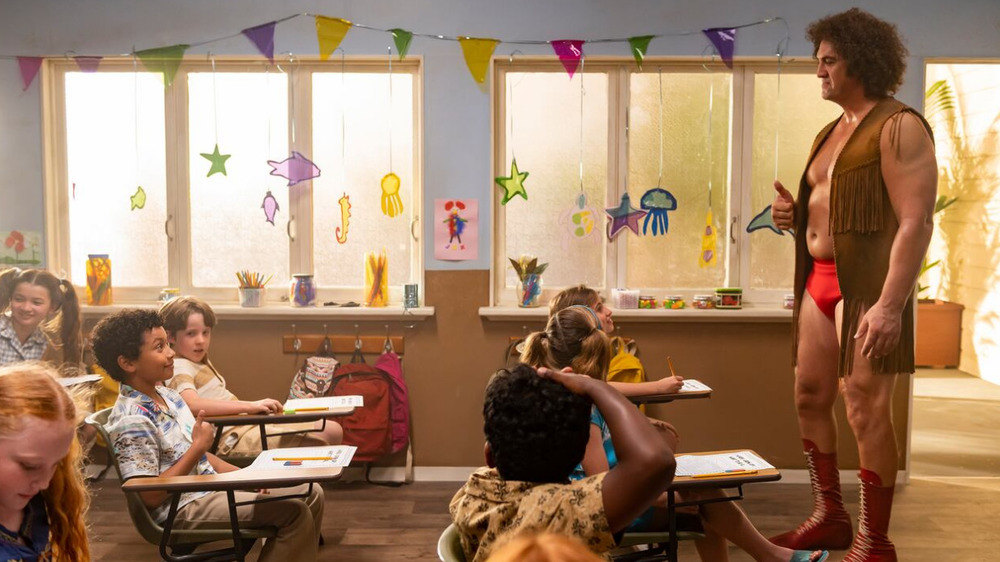 NBC
Andre's height was only part of what made him distinct. There have been plenty of tall wrestlers, even if few have matched or surpassed Andre's 7'4" frame. His girth and unusual midsection were also a big part of his image. Willig was cognizant of this, saying, "I knew I was never going to get seven-foot, but I wanted to have at least the dimensions."
As such, he spent the three months leading up to production packing on weight. "The last ten of it, probably through quarantine, just sitting in my room, eating and doing nothing. So it was great, and it worked really well. I told people vanity goes out the window, man. You just have to look at yourself as I am Andre, and that's what I do."
He gained 35 pounds in total for the movie, and has since lost 20 of it, noting that the weight gain still affects him. Despite the discomfort, he's gotta keep his eye on the future: "I don't want to lose too much, because I know that hopefully if everything goes well, we go back and do another season, but I don't want to have to gain another 35."
Watch Young Rock on Tuesdays at 8 PM Eastern on NBC. Stay tuned to Looper for more exclusive coverage.