The Courier Review: Benedict Cumberbatch Wages Cold War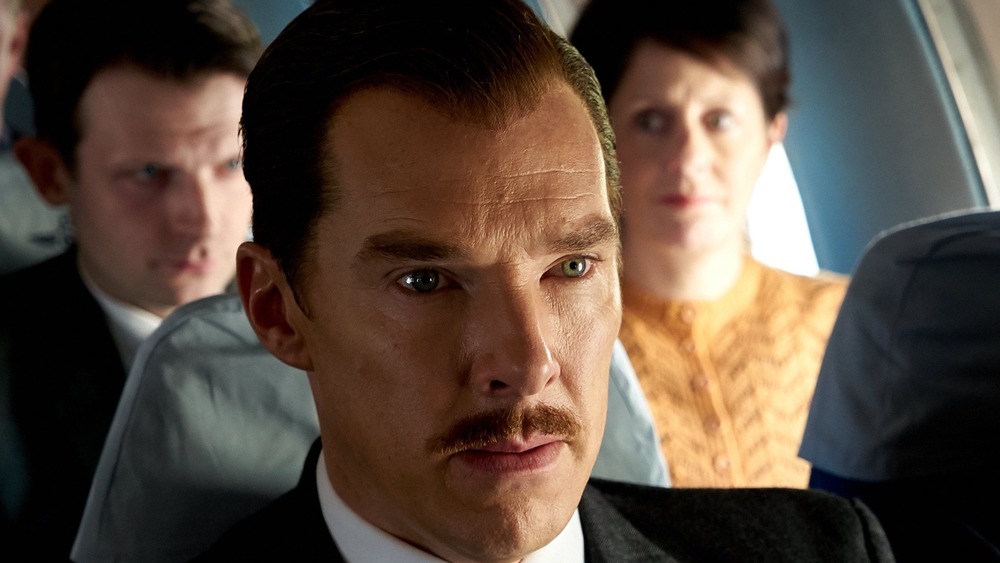 If you're reading this right now, thank Greville Wynne. You almost certainly don't know the name, and it's even more doubtful you know his story, but he's the true-life subject of the new Benedict Cumberbatch film The Courier. Wynne's remarkable tale — one brought to tense, vivid life in a film that feels like the best '70s spy movie made five decades too late — is one that most likely saved the lives of your ancestors.
Cumberbatch gives body and soul itself to the role of Wynne, in a performance that ranks among the actor's best work. At the beginning of the film he's a British middle-class schlub in the early 1960s, a salesman whose main skills include holding his liquor and glad-handing enough prospective clients to squeak out a living. One day, he's approached by a CIA operative (Rachel Brosnahan from The Marvelous Mrs. Maisel) and an MI-6 handler (Angus Wright, The Iron Lady) who come to him in collaboration with a most unusual proposal: serve his country by simply expanding his business interests into the Soviet Union — and every now and then, delivering a message back and forth.
Of course, Wynne is apprehensive at first, but he is eventually intrigued by the adventure — and told he must keep his activities a secret from everyone, including his wife Sheila (Jessie Buckley, from the Fargo TV series). Things get complicated further as he not only begins to enjoy the missions, but actually strikes up a heartfelt friendship with his counterpart, a guilt-ridden Soviet officer (Merab Ninidze from Homeland) determined to secretly do whatever he can to diffuse Cold War tensions and back the world away from the brink of nuclear annihilation.
Back in the '70s and '80s, Hollywood cranked out this sort of tense, paranoid thriller with regularity, precision, and the entertainment factor cranked up to 11. Films like Three Days of the Condor, Marathon Man, The Ipcress file, The Package, The Conversation, and The Parallax View left you digging your fingers into the armrests of your chair — and then suspiciously eyeballing everyone around you as you made your way out of the theater. The Courier deserves a place among those classics, and very much feels like a film that could have come out several decades ago and starred Warren Beatty, Michael Caine, or Robert Redford in their prime.
Spies like us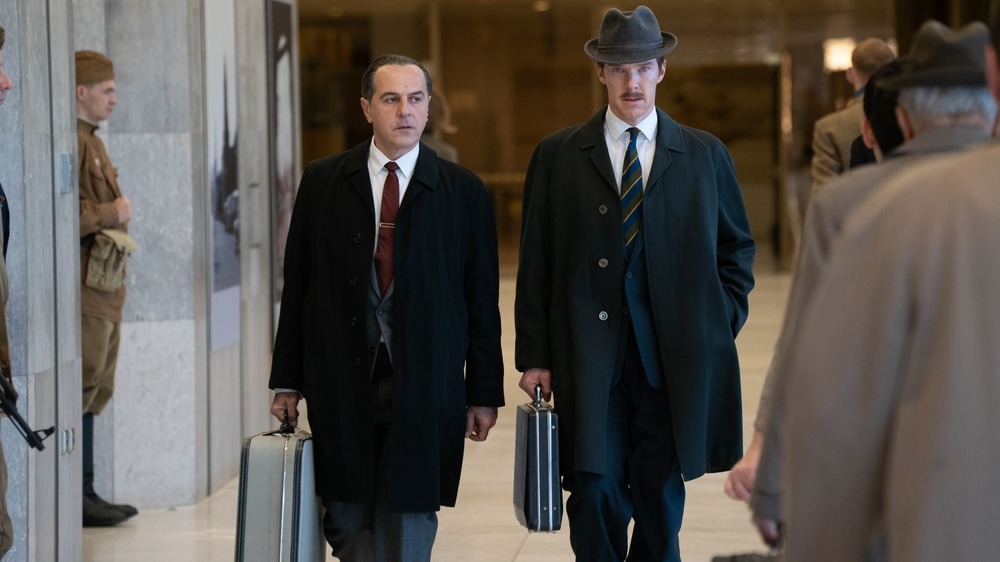 Cumberbatch shows tremendous range throughout the film, beginning as a pleasant, put-upon, occasionally awkward husband and father who slowly comes to think of himself as a master spy. But the film's greatest impact is saved for the third act, where without giving anything away, Wynne's world begins to unravel. Your jaw will be on the floor when you see Cumberbatch transformed into the emaciated, broken Wynne he eventually becomes, and your heart will break watching him cling to the tiniest sliver of hope.
He also does much of his acting in silence, in hushed tones and shifting glares. Attempting to present himself as just another empty vessel in a film filled with nondescript hotel rooms, one memorable scene has Neville returning to his temporary home behind the Iron Curtain, where he makes it a point to meticulously place his personal objects in very specific order. When he notices the dictionary on his desk upside down — a surefire sign the KGB is watching him — the revelation packs as many thrills and chills as the costliest Michael Bay action scene.
Making matters even more powerful is that this is a true story. Screenwriter Tom O'Connor found himself on the trail of Greville Wynne in the wake of the 2016 U.S. Presidential election, when the history of American/Russian relations once again became a hot topic. Although a decent amount of information was known about Oleg Penkovsky — considered the West's most valuable double agent during the Cold War — history knew very little about the British businessman who aided in his heroism. Navigating mountains of classified documents and details, O'Connor was able to extract newfound details about the little-known Wynne and piece together the blueprint for this movie, which concludes with powerful, actual footage of Greville Wynne himself.
Utilizing archive footage of President Kennedy (it's a difference worth commenting on that everyone in '60s America watches on TV, while folks in the Soviet Union listen on radios), The Courier is the sort of movie you sit watching some 60 years after we survived the Cuban Missile Crisis on the edge of your seat, wondering if we'll survive the Cuban Missile Crisis.
Thankfully, in part because of the insight Penkovsky's intelligence leaks provided to top government officials navigating those 13 pivotal days in October 1962, we did survive. But other dramatized scenes drive home how grim the situation was, how suspicion ruled the day, and how even the slightest appearance of disloyalty towards Khrushchev could earn a death sentence.
Draw me a picture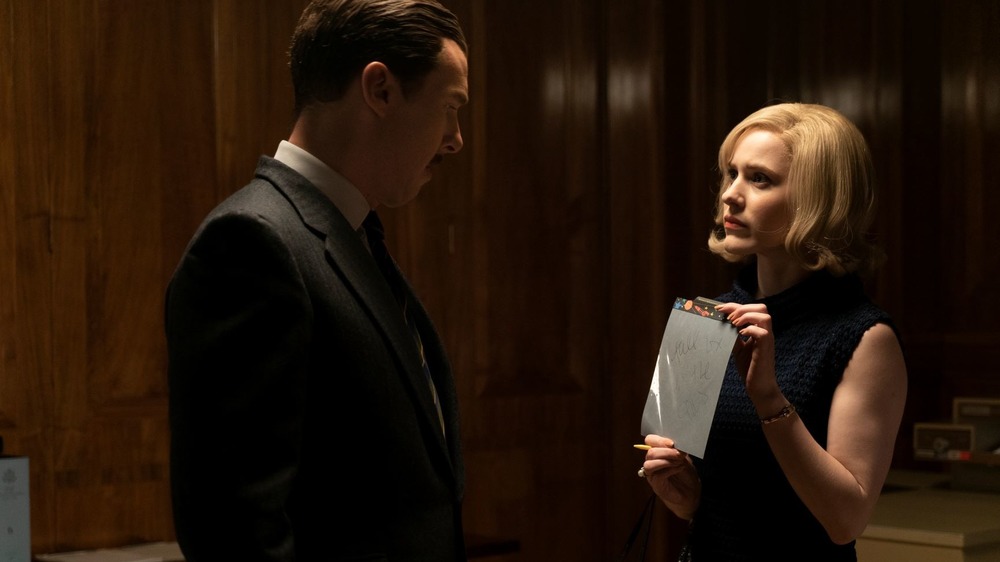 This pitch-perfect snapshot of a time the world would like to forget is due in large part to director Dominic Cooke's fast-moving, urgent filmmaking style and the film's period-specific eye for detail. It's also helped greatly by a cast that sells itself as convincingly as Greville Wynne over a three-martini lunch.
Merab Ninidze gives a tender, tense, agonizing performance as Penkovsky, a man who has made the difficult decision to choose humanity over country. As the noose of the Cuban Missile Crisis tightens and he sneaks out nuclear secrets captured by his tiny spy camera, Penkovsky learns that his wife is pregnant and dreams of a defected life for them in Montana, playing cowboy. The film memorably captures how these two men come to inspire each other, find safety in each other, and drive each other past the point of no return. The final scene between Penkovsky and Wynne, as they learn they've saved the world but must pay the price for doing so, is absolutely gutting.
It's funny how some actors just seem born for a certain time, and Rachel Brosnahan is both smart enough to lean into another '60s project and talented enough to be a vital cog in a film like this. Much like Maisel, she brings a whip-smart, defiant credibility to a proficient woman navigating a man's reality. It's insightful to watch as her character yields to the Brits when she needs to make them think they're in charge, then thrilling when it comes time to put her foot down and her own neck on the line.
Also worth mentioning is Buckley (as the wife who spends most of the movie convinced her husband's secrecy is the by-product of infidelity) and Wright (as the MI-6 operative who seems like he'd give you a handshake while stabbing you in the back with his free hand), two actors whose work isn't nearly as showy but is no less vital to the film.
By the time The Courier is over you'll be amazed by the journey, reminded of how fine an actor Cumberbatch is, and appreciative of real-life hero Greville Wynne, who may have saved us all. It's funny how so many blockbuster films are about a hero "saving the world," but in real life someone could have done exactly that and remained so unsung.