How Anthony Mackie Learned He'd Be Getting Captain America's Shield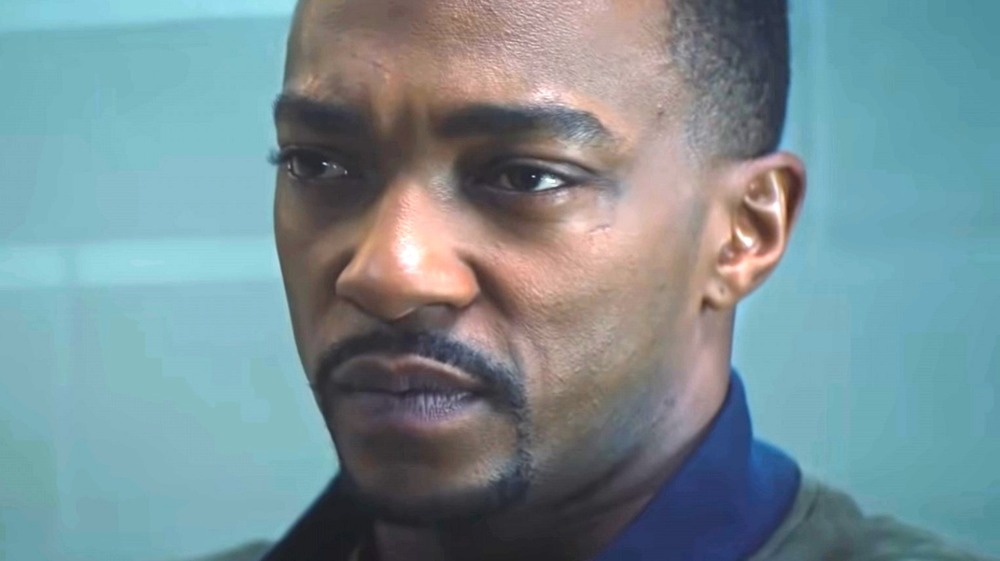 Marvel Studios/Disney
With WandaVision now over, Marvel fans are chomping at the bit for something new, and Disney+ is ready to give it to them. The Falcon and the Winter Soldier kicks off on March 19, 2021, and fans can't wait to see favorites Bucky Barnes and Sam Wilson teaming up for their own adventures.
When last we saw Sam, a.k.a. The Falcon, he was chatting with an aged Steve Rogers at the end of Avengers: Endgame. Rogers had made the decision to go back in time and live out the rest of his glory days with the love of his life, Peggy Carter, rather than return to the present and continue his stint as Captain America. It was a beautifully poignant moment for the character, and yet one that stunned viewers. Who now would take up the mantle as America's greatest hero? 
Fans weren't the only ones shocked by what happened next. In a recent interview with Empire, Anthony Mackie revealed how he learned that Sam would be the recipient of Cap's shield in a symbolic passing of the torch.
Anthony Mackie and Chris Evans bonded over the monumental moment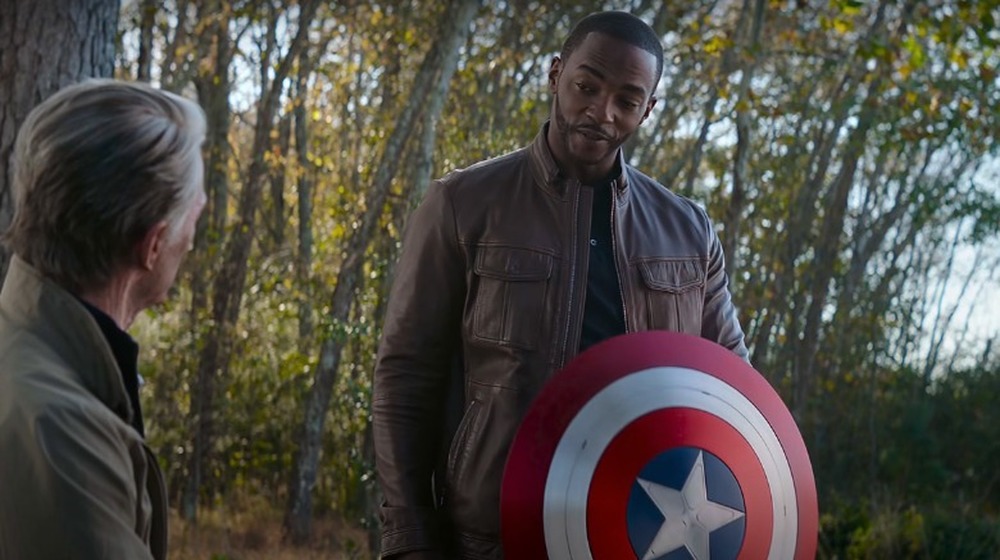 Marvel Studios/Disney
It's mostly common knowledge that Marvel likes to keep any info regarding their projects closely under wraps, even from the actors themselves — and for good reason. Tom Holland (Spider-Man: Far From Home) has been infamous for his loose lips, and there was the incident when Mark Ruffalo (a.k.a. Bruce Banner) accidentally livestreamed part of the movie at the premiere of Thor: Ragnarok.
Thankfully Mackie didn't spill the beans about Cap passing his shield onto Sam, although it was Chris Evans himself who told Mackie the news. Apparently members of the cast were together watching a football game when Evans pulled Mackie aside and showed him his copy of the script for Avengers: End Game. Mackie tells Empire: "He was like, 'Have you seen the final scene?' I'm like, 'No.' So he runs out, gets the script, and he literally sits me on the couch, and the whole time I'm reading it he's just pacing back and forth like, 'Oh my God, oh my God!' It was a fun, emotional moment that we shared with nobody else."
It's good to know that the actors get just as excited as the fans for such huge moments — although, as Mackie has previously pointed out, just because Sam has the famous vibranium shield doesn't mean he's taking on the Captain America moniker himself. Just who will be wearing the stars and stripes next, if anyone at all, is a question that might be answered in the The Falcon and the Winter Soldier when the first episode airs Friday, March 19 on Disney+.