How The Cast Of Raya And The Last Dragon Embraced The Movie While Recording From Home - Exclusive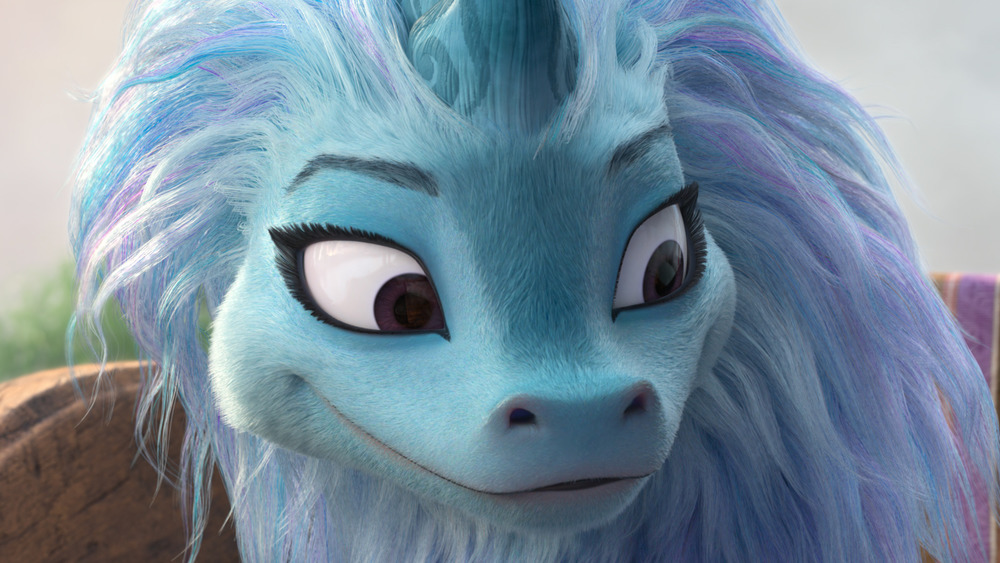 Disney
Raya and the Last Dragon had the unusual task of doing much of the heavy lifting on film production during a global pandemic, which shut down Hollywood for most of 2020. The animation, the voicing, and the post-production were all done from the homes of the extensive Disney team and all-star cast, which includes Kelly Marie Tran as Raya, Awkwafina as the last dragon Sisu, and Daniel Dae Kim as Raya's father Chief Benja, among others.
That's not an easy task, considering Raya and the Last Dragon had a crew of roughly 400 people. The voice recording alone took place across 50 remote locations.
In exclusive interviews with Looper, the filmmakers of Raya and the Last Dragon — directors Don Hall and Carlos Lopez Estrada, writers Qui Nguyen and Adele Lim, and producer Osnat Shurer — discussed what it took for the cast to record from home, and shared some funny moments from the digital set.
Awkwafina recorded her lines for Raya and the Last Dragon in a tent in her living room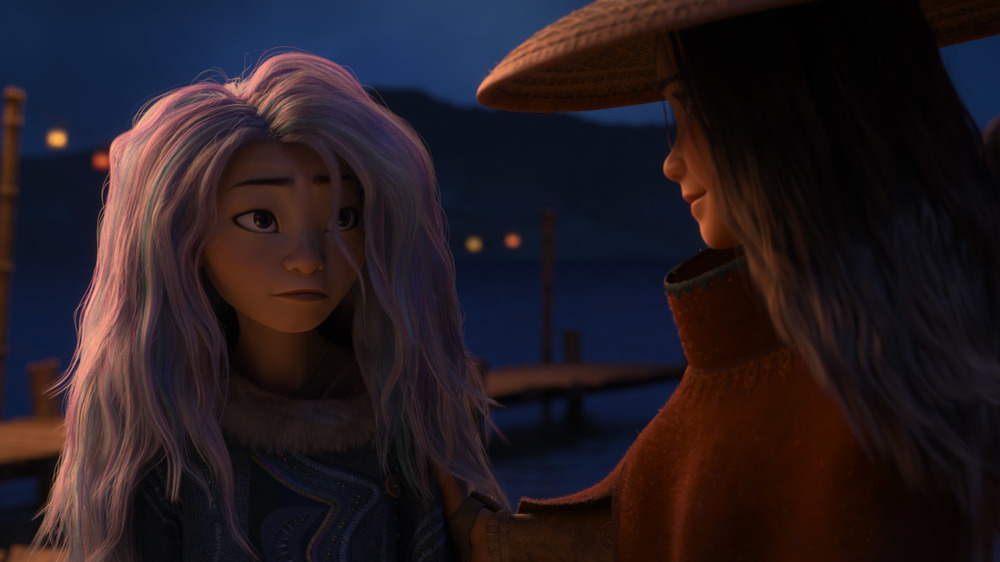 Disney
In addition to Kelly Marie Tran, Awkwafina, and Daniel Dae Kim, the cast of Raya and the Last Dragon includes Gemma Chan as Raya's nemesis Namaari, Benedict Wong as the formidable giant Tong, and Sandra Oh as Chieftess Virana. And they all had to adjust to a new normal, when recording their respective roles during a near-total lockdown in Hollywood.
"In addition to being brilliant actors and giving great performances, [the actors] had to record themselves — a lot of it was recorded in their closets," said Don Hall. "They were asked to be their own engineers and their own technicians. That's difficult when they're supposed to be just be focusing on a performance. But as a testament to each and every one of them, they were able to do it without complaining and just handled it because they love this movie so much."
So, were there any glitches along the way? It depends how you look at it.
"We sent Awkwafina a sound tent, which she set up in her living room," explained Osnat Shurer. "So she's in this big tent in the middle of her living room trying to record, and we're all on Zoom, and her cat decides that this is the time to enter the picture and contribute to the conversation. We were all in tears [laughing]."
Aside from a few minor hiccups, though, everything went smoothly, as you can tell by the poignant and hilarious performances the actors turned in for Raya and the Last Dragon.
"It was a dream," said Carlos Lopez Estrada. "Every recording session with each of them, they brought so much heart and intelligence and humor and creativity to their roles. Every session we would log out and just be like, 'Whoa, that was a profound experience.' The cast was so committed and, most importantly, they connected to the story on such a deep level. It made the whole process really inspiring."