Why Mays From The Walking Dead Episode 'One More' Looks So Familiar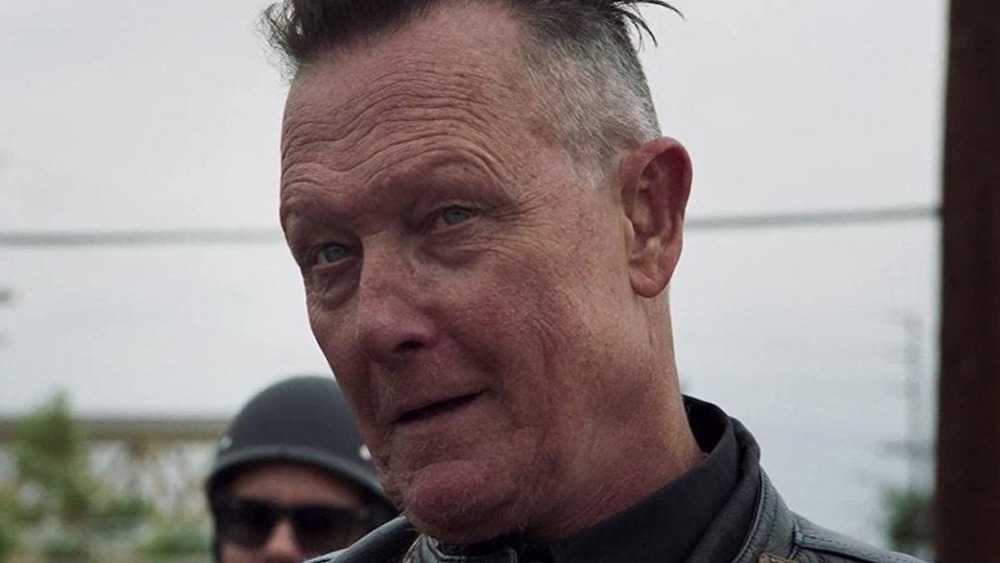 FX
The Walking Dead is 10 seasons in and still going strong. However, the popular AMC show will end after its 11th season, which airs in late 2021 and finishes up in early 2022 (via TVLine).
In the show's most recent episode, "One More," Aaron (Ross Marquand) and Gabriel (Seth Gilliam) come across a man alone in a closed-up warehouse. His name is Mays and he's played by Robert Patrick. Mays plays a vital role in the episode's arc, with his character's presence and Patrick's performance taking up substantial space in episode reviews, such as one from Den of Geek.
While viewers are watching the episode, they may start to get that he-looks-so-familiar feeling when looking at Patrick portraying Mays. And that makes sense, as Patrick has been a working actor since 1987 and his decadeslong career has included many high-profile performances. Here's a list of Robert Patrick's most notable roles.
He was T-1000 in Terminator 2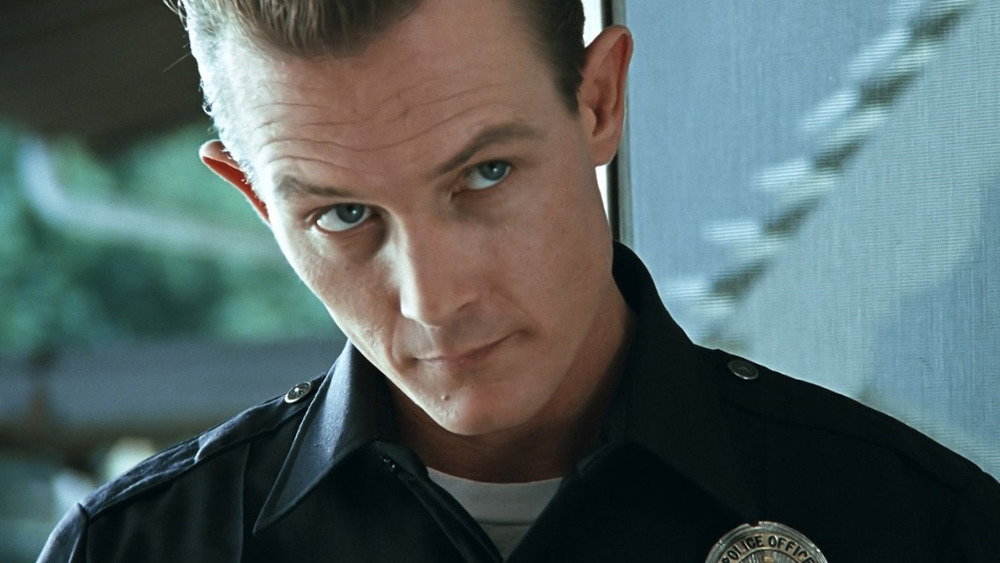 TriStar Pictures
James Cameron's The Terminator, from 1984, stars Arnold Schwarzenegger as a cyborg assassin disguised as a human. He travels from the year 2029 on assignment to track down and kill Sarah Conner (Linda Hamilton) because her unborn son will eventually save mankind from extinction in the future. Robert Patrick comes into play in the sequel, Terminator 2: Judgment Day.
The 1991 sequel, also directed by James Cameron, follows Sarah Conner (Hamilton), along with her now-ten-year-old son, John (Edward Furlong), as they are once again hunted by a Terminator. This time, the Terminator is a more advanced, shapeshifting machine called the T-1000 — played by Patrick — and Schwarzenegger's Terminator is now protecting Sarah and John.
In 2017, Patrick reflected on his time filming Terminator 2 in an interview with the Guardian. He talked about how this role really skyrocketed his career, stating, "One of the first times I became aware my life had changed was when I was in Chicago doing a screen test for a movie with Robert De Niro that I didn't get. And T2 had just come out and I was walking the streets of Chicago and people were just freaking out. Businessmen! And I'm like, "Sh*t, it's just me." But that's the power of that role."
He's shown up in popular TV shows besides the Walking Dead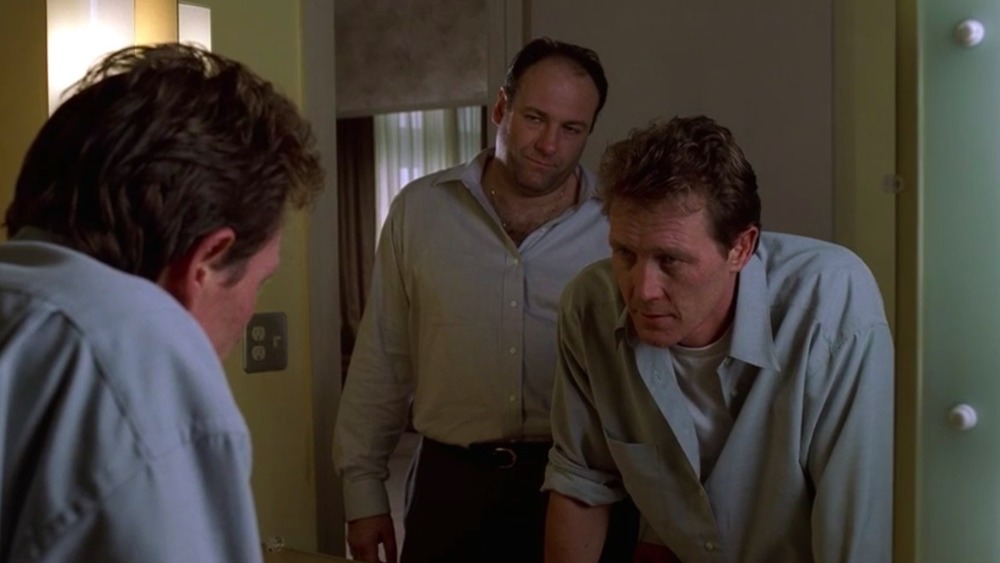 HBO
Throughout his career, Robert Patrick has made appearances on tons of TV shows with their own huge respective followings before showing up on The Walking Dead as Mays. In 2000, Patrick appeared on three episodes of The Sopranos, the highly acclaimed drama about mob boss Tony Soprano (James Gandolfini) and his family in the late '90s and early 2000s. Patrick plays David Scatino, Tony's childhood friend whose gambling compulsion is used by Tony for his own profit.
Patrick then had a longer, more significant run on The X-Files, from 2000-2002. The X-Files follows two FBI agents, Fox Mulder (David Duchovny) and Dana Scully (Gillian Anderson), who investigate strange and paranormal cases. Patrick plays John Doggett, another FBI special agent assigned to work on X-files cases. He appears in a total of 40 episodes.
Later, in 2012, he had a 14-episode arc on the HBO show True Blood, which is about the integration of vampires into a small Southern town in Louisiana. He played Jackson Herveaux, the father of the Alpha werewolf Alcide Herveaux (Joe Manganiello). Along with these more substantial arcs, Patrick has also had one-episode appearances on other notable shows such as NCIS, Chuck, Psych, Community, and Lost.
Patrick has also been a lead on several shows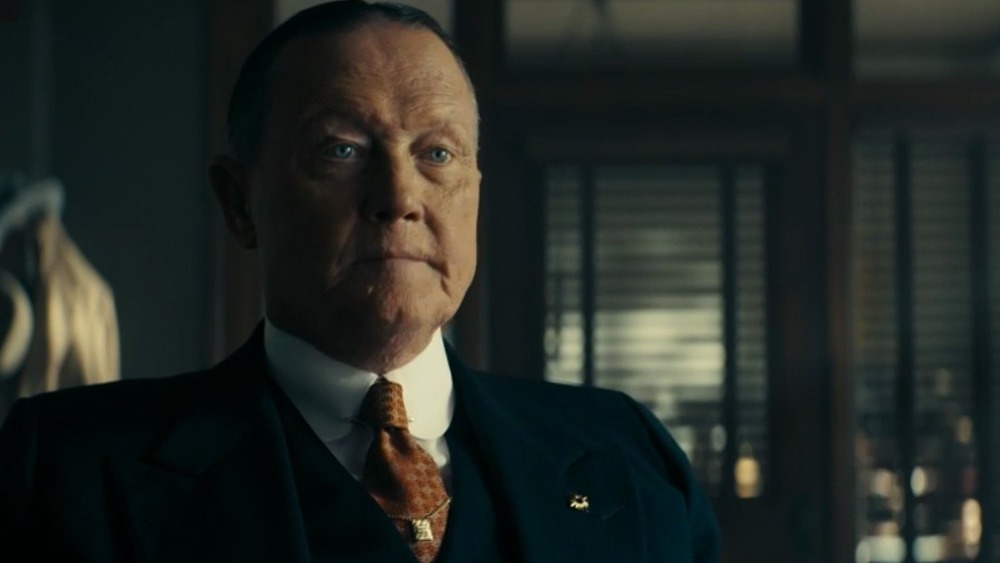 HBO
Along with the recurring arcs, Robert Patrick has had his fair share of lead roles on television shows over the years. For three years, beginning in 2006, Patrick was a lead on the CBS show The Unit, which focuses on the lives of a top-secret military unit's members. Patrick plays Brigadier General Tom Ryan, the colonel of the unit.
In 2014, he began his time on Scorpion, which lasted four seasons. Scorpion follows a highly intelligent group of people — trained in things such as coding, psychology, engineering, and more — as they take on tasks from various individuals or organizations, and sometimes even the Department of Homeland Security. Patrick plays Agent Cabe Gallo of Homeland Security, who used to be a Marine and an FBI agent.
Most recently, Patrick appeared in a prominent role on Perry Mason, which came out in 2020 on HBO. Matthew Rhys plays the titular Perry Mason, a private investigator hired for a kidnapping trial. Patrick plays Herman Baggerly, the grandfather of the kidnapped child.
Patrick's film appearances are extensive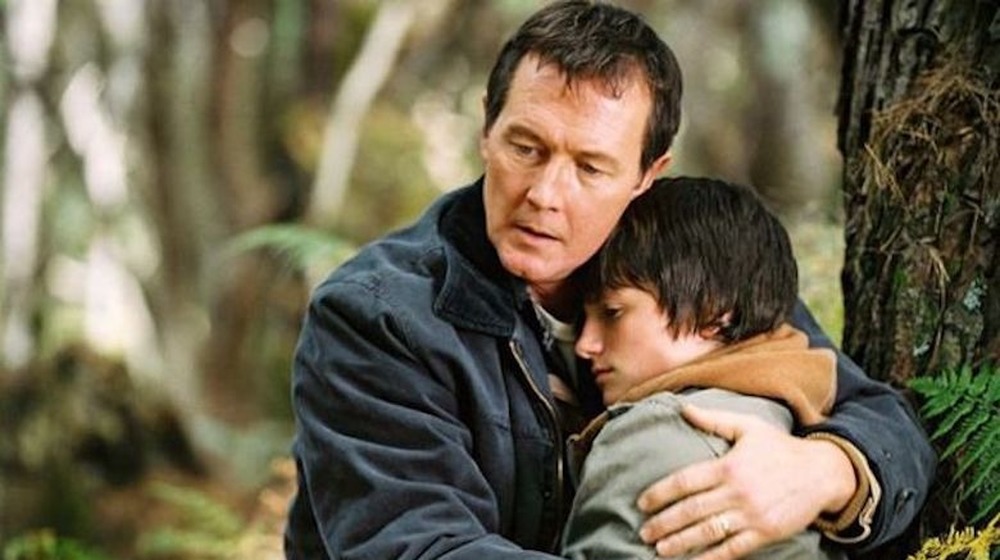 Buena Vista Pictures
Given all of the time Robert Patrick has spent in Hollywood as a working actor, he has, of course, accumulated quite a few film credits as well. Many of these credits are for supporting roles in action films, such as Die Hard 2, Cop Land, and The Marine.
He's also led a few action films, including Zero Tolerance and Hong Kong '97. In Zero Tolerance, Patrick stars as Jeff Douglas, an FBI agent assigned to pick up a member of a drug cartel called White Hand from a jail in Mexico. In Hong Kong '97, the actor plays Reginald Cameron, an assassin tasked with killing high-ranking Chinese officials.
Patrick's filmography doesn't stop at action films, although that genre dominated much of his time in the early days of his career. In 2007, he was in the family fantasy adventure film Bridge to Terabithia, starring a young Josh Hutcherson and AnnaSophia Robb. He plays Jack Aarons, the strict father of Hutcherson's character, Jess. In 2009, he appeared in Alien Trespass, a sci-fi comedy film, which is based on and parodies 1950s science fiction B-movies. And in 2013, he had a supporting role in the biographical drama Lovelace, which follows famous porn star Linda Lovelace (Amanda Seyfried) as she deals with abusive behavior within the porn industry and from her husband.
This is really just to name a few of Robert Patrick's many appearances. In the decades leading up to The Walking Dead, Patrick has accumulated plenty of film and television credits in roles of all sizes.