These Were The Only Episodes Of The Office That Jenna Fischer Wasn't In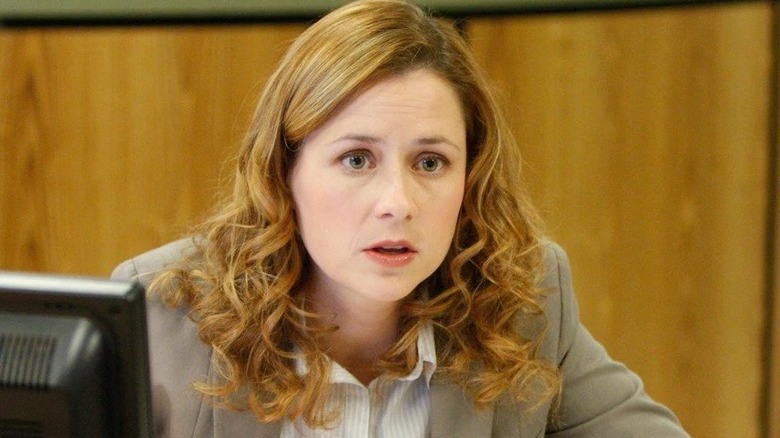 NBC
Any way you slice it, the American version of The Office is one of the most successful and beloved sitcoms of the 21st century. The series finale aired on March 13, 2013, yet The Office is still popular eight years later. It's regularly a top streaming option on Peacock, even when put up against shows that are airing new episodes in 2021. Today, former cast members host popular podcasts that give the inside scoop on the making of the show — Office superfans should check out An Oral History of the Office, hosted by Brian Baumgartner (who played Kevin), and The Office Ladies with Jenna Fischer (who portrayed Pam) and Angela Kinsey (who brought to life the cat-loving Angela).
Overall, the American version of The Office aired 200-plus total episodes, including more than a dozen two-part episodes (which some sites count as two separate episodes). But only five members from the show's ensemble cast appeared in every episode. Not even core cast member Jenna Fischer appeared in every episode. There were four episodes where Pam was absent — or seven, depending on how you define "absent."
Those super-fans might already know which episodes those were, but the rest of you can keep reading.
The only Office episodes that didn't include Pam Beasley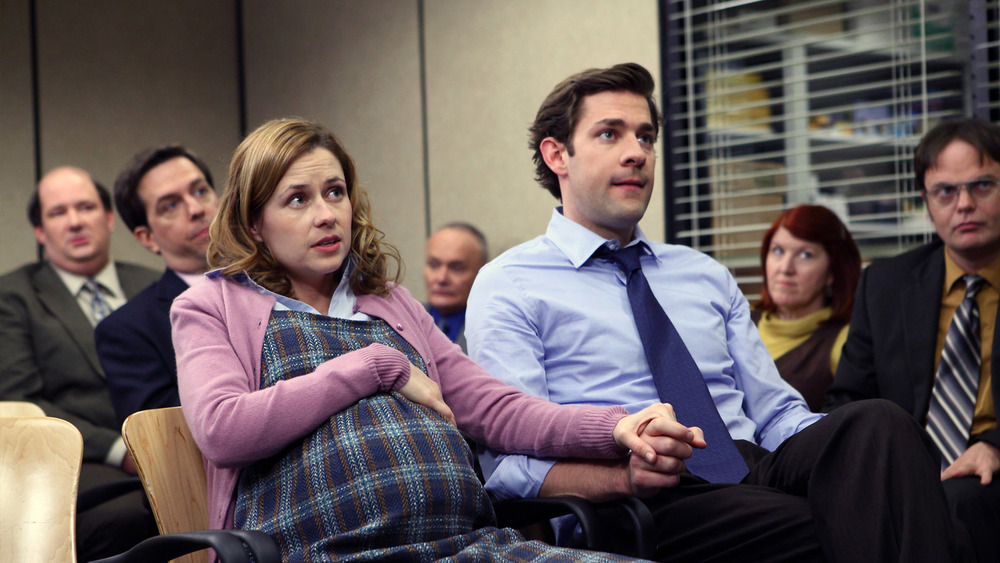 NBC
There were four episodes that didn't include Pam in any way, and they aired consecutively in the show's eighth season, which was broadcast from late 2011 to early 2012. The episodes were "Mrs. California," "Christmas Wishes," "Trivia," and "Pool Party." 
Most likely, Pam's absence can be explained by Fischer's real-life pregnancy. Season 8 began filming on July 25, 2011, and Fischer gave birth to her first son on September 24, 2011. It's highly plausible, though not officially or publicly confirmed, that Fischer was on maternity leave while those four episodes were being filmed. 
There were three other episodes where Pam didn't appear physically but did speak with Jim on the phone. The first such instance occurred during the season 5 episode "Business Ethics." That season included the story arc where Pam temporarily left Dunder-Mifflin to attend art school in New York City, and most episodes featured Pam in the Big Apple. Fischer did film scenes for "Business Ethics," but they were deleted, leaving only her voice in the final cut.
The other two voice-only episodes came in season 6: "St. Patrick's Day" and "New Leads." Pam didn't appear in them because she was on maternity leave. Those two episodes aired after the two-part episode "The Delivery," in which Pam gave birth to her and Jim's baby, Cecelia. Pam returned to work in "Happy Hour."
So, of The Office's 200-plus total episodes, Pam was completely absent from four of them, and didn't show her face in three others.