WandaVision Producer Spills The Truth About Those Halloween Costumes - Exclusive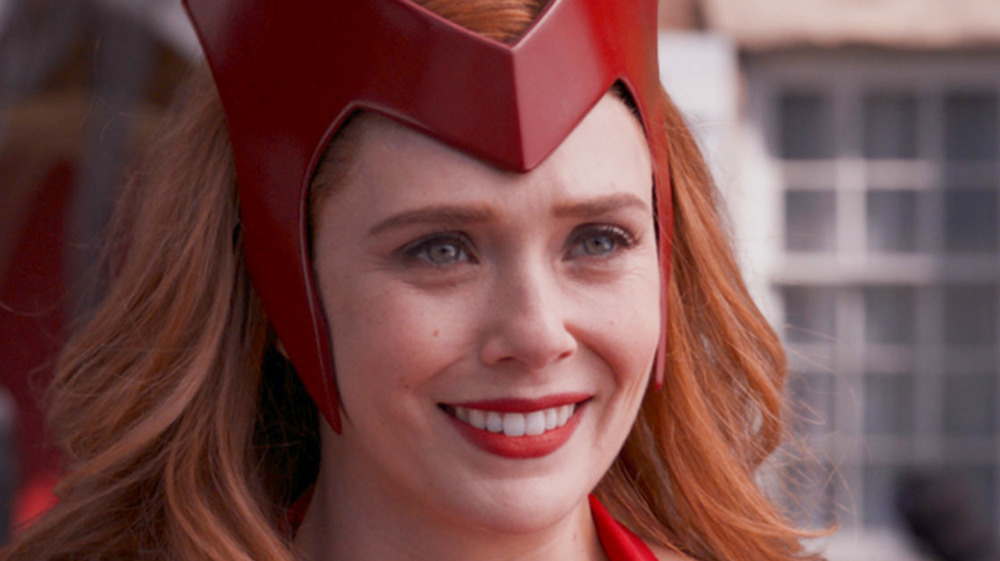 Marvel Studios/Disney+
After the conclusion of WandaVision, Looper spoke with producer Mary Livanos, who, finally untethered from any spoiler restrictions, could speak about the show freely. When Livanos mentioned that the show wrapped on Halloween — quite the bewitching coincidence — our conversation naturally turned to discussing WandaVision's Halloween episode, "All-New Halloween Spooktacular!" Of particular interest in that episode, the sixth of WandaVision's nine installments, were the costumes – Wanda (Elizabeth Olsen, her twin brother Pietro (Evan Peters), and her android husband Vision (Paul Bettany) each got to wear Halloween costumes of their comics-accurate gear. The costumes turned some heads after they showed up in the WandaVision trailer, and inspired a lot of analysis by the time the Halloween episode premiered on Disney+.
When asked about the costuming in the episode, Livanos said that incorporating comics-accurate get-ups for Wanda, Pietro (aka Quicksilver), and Vision was "a wish and a hope" that the team had "very early on." She called it "very fun to execute," and noted that it was something even the highest-ranking people at Marvel, namely Marvel Studios president Kevin Feige, wanted to make happen in WandaVision.
"Once we figured out that we wanted to do a Halloween episode, it was always a goal and a wish, particularly of Kevin's, to see them in those outfits and to make them feel homemade and funny, as ridiculous as they are in the comics," Livanos told Looper. "[It] was something that we wanted to do from very early on in the development phase."
The old costume, the new costume, and the newest costume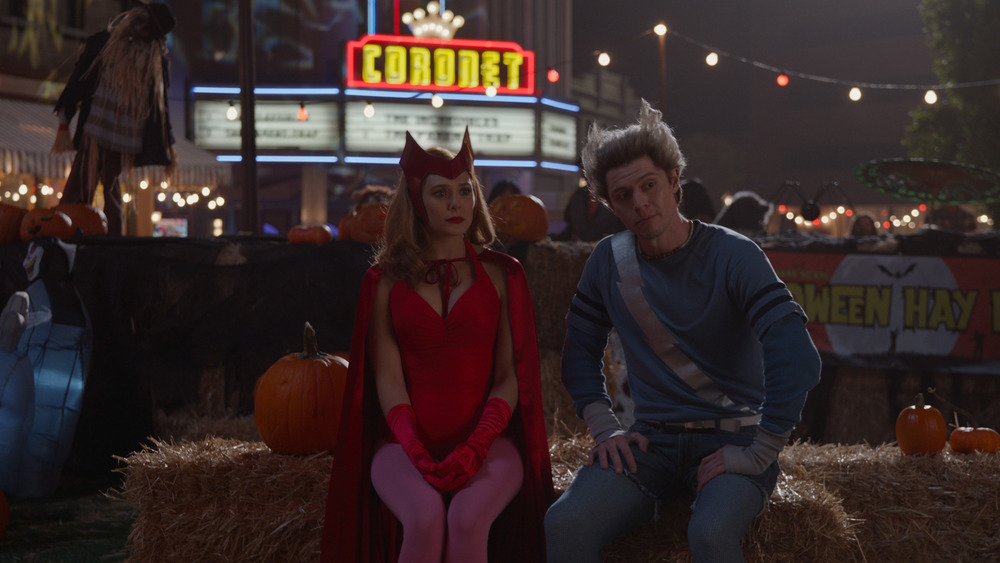 Marvel Studios/Disney+
Back in May 2016, Elizabeth Olsen revealed during an appearance on Late Night with Seth Meyers that when she was first cast as Wanda in the Marvel Cinematic Universe, a certain director gave her heads-up about what kind of costumes she'd be wearing. "[Joss Whedon] said, 'There's this character, Scarlet Witch, that I'm interested in for you to play.' And then he said, 'When you go home and Google her, just know that you will never ever have to wear what she wears in the comics,'" Olsen told Meyers at the time, joking that she wouldn't be confident wearing a leotard-style bodysuit and an enormous, flowing cape. 
But by the time WandaVision was underway, Olsen was excited for the opportunity. "I've heard Lizzie say that yes, a previous director promised her that she wouldn't have to wear that leotard with the pink tights. And she was relieved when she first heard that when she came on to be a part of the Marvel Cinematic Universe, but this was actually a fun opportunity for us to be able to execute those looks in a fun way that actually celebrated how hyped they are," Livanos explained. 
During our chat with Livanos, we also took a moment to discuss the new Scarlet Witch costume Wanda starts using at the end of the series. It's something of a variation on the original comics costume, even if it is clearly tweaked and more in line with MCU standards. Livanos loved it herself, and gives credit where it's due. "Andy Park, from our visual development department in-house at Marvel, did a fantastic job developing the new Scarlet Witch look without the cloak and with the cloak," said Livanos. "It was cool, I don't think we've quite ever seen a character with exposed arms and full skirt before. And so it was a new silhouette and look that we all became very excited about and I think Lizzie was delighted."
See Wanda and the rest of the gang in all the different costumes they wear by streaming WandaVision on Disney+ now.