The Incredibly Rare Car That Sold For Six Digits On Pawn Stars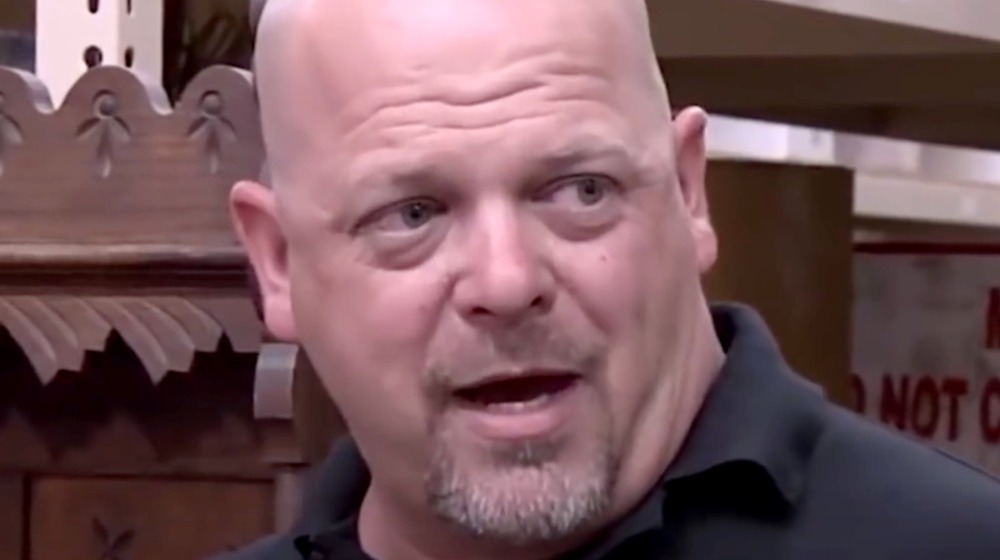 History Channel
In the History Channel hit reality show Pawn Stars, the team behind the Las Vegas-based World Famous Gold & Silver Pawn Shop deals with a wide variety of items, including jewelry, art, historic documents, old toys, and more. One particularly exciting staple of the show: antique cars. Pawn Stars head honcho Rick Harrison and his team have bought and sold a bevy of rare vintage cars throughout Pawn Stars' 18 seasons with the help of their automotive expert Danny Koker — who got his own show Counting Cars when it became clear how much of a hit vehicles were in the pawn shop world.
The cars they've handled have ranged in years, makes, and models — spanning the 20th and 21st centuries, Jaguars, Mustangs, Volkswagens, and more. Sometimes, the Pawn Stars men paid too much for a car, sometimes too little, and sometimes, as a writer for the niche site HotCars noted, they missed the mark on their decisions of whether or not to make a deal for a car brought to them. Nevertheless, they've racked up an impressive log of rare automotive finds, and in a recent YouTube video posted by the show, they highlighted five of their best classic car deals.
First on the list was an iconic vehicle with movie ties, which Rick Harrison purchased for six figures.
Pawn Stars landed a 1967 Shelby G.T. 350 for $100,000
A man named Paul met with Rick to sell his Wimbledon White '67 Shelby G.T. 350. As Paul told Rick, only 1,175 vehicles of that make and model were ever made. Built by automotive designer and race car driver Carroll Shelby's company Shelby American Inc., the model was first introduced in 1965 as a high-performance race car. It later gained renewed fame as the car featured in the 2000 Nicolas Cage action movie Gone in 60 Seconds, in which the G.T. 350 was dubbed "Eleanor." Pawn Stars noted that the "Eleanor" car sold for $1 million at a 2013 auction. Paul had purchased his G.T. 350 in Las Vegas 12 years prior and said that Eleanor's fame made all G.T. 350s more valuable.
Rick was clearly immediately smitten with the vehicle. He called the '67 the best version and noted that Carroll Shelby and his inner circle personally developed the vehicle. Rick said the car was the result of about 100 modifications made to the Ford Mustang that improved the vehicle's performance, handling, and style. "This is about as cool as it gets, and I would love to have it," Rick said to the camera in the Pawn Stars episode. He marveled at the car's pristine condition inside and out, as well as its stock of all the bells and whistles of the time, and Paul pointed out to him that Shelby even signed the glove box.
Despite Rick's admiration of the vehicle, after he brought in his car expert and they took it for a test drive, Rick went considerably lower than Paul's asking price. Paul wanted $125,000 for it. Rick insisted he wouldn't pay more than $100,000. Paul agreed, and though he may have come out on the slight losing end of the deal, he still walked away with six figures. In his exit interview, Paul seemed happy enough, and it's safe to say Rick was pleased with the deal, too, snagging such a rare, gorgeous classic as the Shelby G.T. 350.