What Is The Song In The Kohl's 'Spring Into Action' Commercial?
We may receive a commission on purchases made from links.
The Kohl's department store chain has a new commercial that is bound to leave viewers with an extra spring in their step. The ad, titled "Spring Into Action," features a little girl (Liliana Bonilla) who draws a colorful hopscotch board on the sidewalk in front of her house for passersby — and a grouchy deliveryman (Michael King) — to enjoy, and it's all set to one of those familiar songs that you just can't place. 
The ad was shot in a suburban neighborhood in Burbank, California, according to the blog Out of the Wilderness. The catchy commercial comes with the tagline "Spring with all You've Got," according to iSpot.TV, and the song which you will have trouble getting out of your head is titled "Sunny Side of the Street" by Jon Batiste.
The song, which is a cover of a 1930s jazz instrumental standard made famous by Tommy Dorsey in the 1940s and later performed by everyone from Doris Day to Nat King Cole, was released by Batiste on May 28, 2013, and is featured on his Jazz is Now album, per YouTube.
Jon Batiste is a Grammy-nominated musician and bandleader on a late-night talk show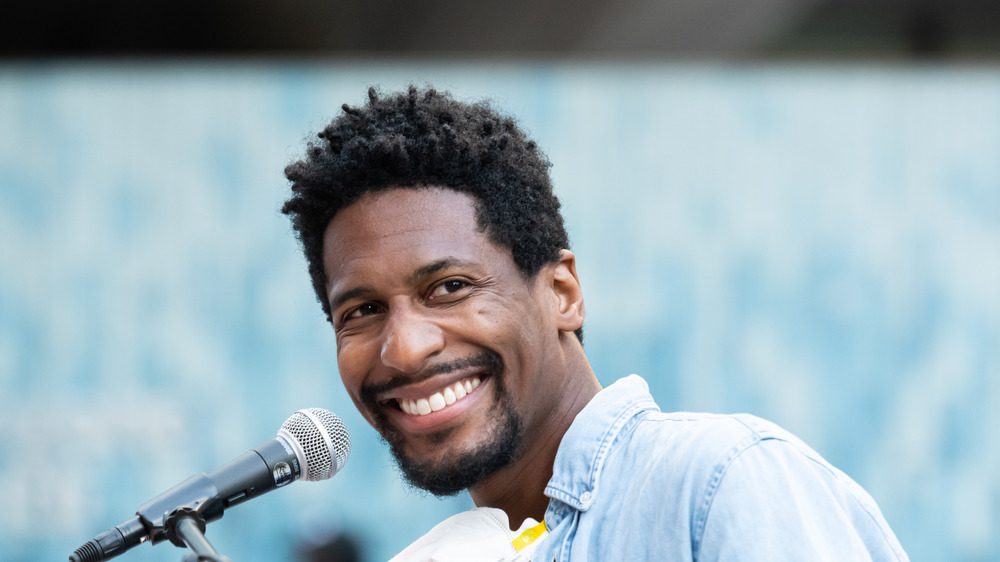 Noam Galai/Getty Images
Jon Batiste is a Grammy nominee and the longtime bandleader on The Late Show With Stephen Colbert. He grew up in a musical family, and by age eight, he was a percussionist in the clan's Batiste Brothers band. He later studied classical piano, according to Forbes. After attending the New Orleans Center for Creative Arts, he released his first album, Times in New Orleans, as a teen, and he received a bachelor's and a master's degree from the famed Juilliard School in New York City. Batiste is also the recipient of multiple prestigious awards, including the American Jazz Museum Lifetime Achievement Award and the Harry Chapin ASCAP Humanitarian Award, and he's the creative director of the National Jazz Museum in Harlem. He also appeared in the HBO series Treme, per IMDb.
Batiste is a master at covers. In addition to his take on "Sunny Side of the Street," more gems can be found on his Hollywood Africans album, which includes remakes of iconic songs such as Louis Armstrong's "What a Wonderful World," Charlie Chaplin's "Smile," and more.
Of his unexpected gig as a late-night bandleader, Batiste — who now plays 12 instruments after picking up "a few" more during lockdown for the COVID-19 pandemic – told InStyle he just couldn't say no to Colbert after having an instant connection with him. "He asked me to do it," the musician explained. "I said yes. I was 26 or 27 and only doing independent music. There were so many record deals on the table and music-industry people saying, 'We want to make you a star.' That was where I was trying to go, but then this TV thing came about. [...] I wasn't looking for the bandleader position on The Late Show, but it felt like everything was moving to bring us together."
Speaking of TV, the Kohl's commercial isn't Batiste's first foray into television ads. In 2020, he appeared in a commercial for Lincoln's Corsair, titled "Chart Your Course," which featured details on a contest for up-and-coming musicians.