How Alexander Ludwig Got Ripped For Vikings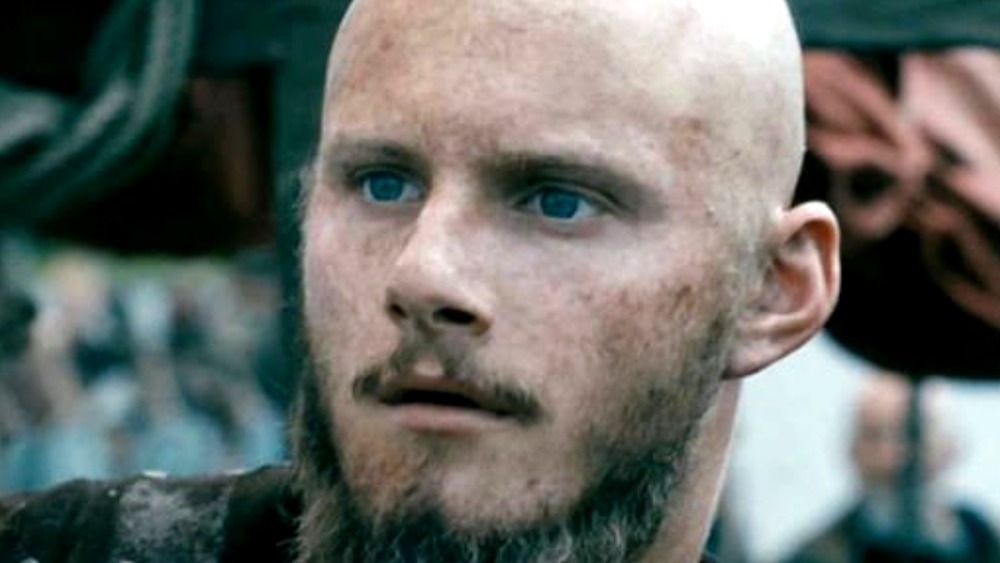 History
As its very premise requires, History's Vikings is full of burly berserkers and musclebound marauders. As such, early season mainstays like Ragnar Lothbrok (Travis Fimmel) and his brother Rollo (Clive Standen) are chiseled figures who are easy enough to picture dominating the battlefield, even when they aren't actively doing so. However, when it comes to Viking strongmen, even they'd have a hard time to find an answer to Ragnar and Lagertha's (Katheryn Winnick) son, Bjorn Ironside. 
Bjorn starts out as a youngster played by Nathan O'Toole, but when he grows into Alexander Ludwig's towering Viking chieftain, it's soon evident that the man means business. Throughout his tenure on the show, Bjorn is made to appear borderline unkillable, and the Canadian actor certainly looks the part. Whether he's hanging around in casual clothes or clad in full, kingly furs, Bjorn's physique looks like a mountain that's carefully carved to resemble a man. So, what exactly did the actor do to get in a shape that's quite literally fit for a historical king? 
Here's how Alexander Ludwig got ripped for Vikings.
Alexander Ludwig's fitness secrets are moderation, motivation, and The Rock
It would be easy to assume that a major TV star's workout program would be pretty grueling, but when Alexander Ludwig revealed his secrets to staying fit, some parts of his body-shaping schedule actually sounded ... pretty chill? As the star has told Muscle & Fitness, the hard part is maintaining his healthy diet of three meals and three snacks a day. "I try to stay under 2000 calories," Ludwig said. "Key word being try. It's hard when you love food!" 
As for the actual training, the actor tries to keep things interesting by maintaining a regular training schedule, yet not overexerting himself. "One thing I've found is that moderation is actually key, and consistency," the actor told Men's Health in 2020. "Back in the day I used to just try to kill myself with these workouts, but now I'm trying to just get to the gym every single day, and maybe one or two days off on the weekends." As anyone who has seen him on Vikings can attest, working out every day — while allowing for the occasional cheat day – has clearly worked for him. 
Still, Ludwig is fully capable of bulking up, too, when needs must. When he needed some massive gains in short time for his role as Dorn in Bad Boys for Life, he received help from none other than Dwayne Johnson — a man who knows a thing or two about workouts that totally transform actors for their roles. Ludwig casually asked Johnson for some sage advice ... and the superstar took some time from his busy schedule to send him a complete workout plan (via Cinema Blend).